What a Difference a 0% NIGO Rate Makes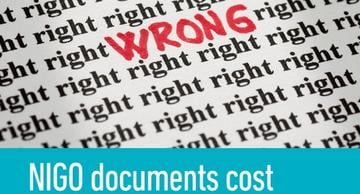 One of the main reasons regulated organizations digitize their customer-facing processes is for workflow efficiency and productivity. Manual paper processes result in a lot of errors. These Not-in-Good-Order (NIGO) documents are time consuming and expensive to correct, but regulated organizations don't have any choice – they have to be fixed. And fixing them is 3 - 4 times the cost of an error-free digital process, simply because of all the extra time and effort involved in going back to the customer for re-works.
PlanMember Securities eliminates NIGO errors
PlanMember Securities is a national, retirement services broker-dealer. A few years ago, PlanMember moved to a paperless document management system. The problem was, that didn't make them paperless! They still needed to print out forms for customers to sign. E-Signature was the missing link to keep everything digital. To solve that problem, they implemented a cloud-based forms-filling application called Laser App Anywhere (e-SignLive is integrated with Laser App).
PlanMember has 450 independent advisors on the road. That's a lot of people handling a lot of paperwork. Now all of their advisors can easily pull up a form, pre-fill it by pulling data from their CRM, and offer the customer the ability to e-sign, right on their computer. All of this happens in a few clicks – no more printing, faxing, or hand delivering paperwork. No more scanning documents back into digital format once they're signed, so they can be uploaded back into the system. And no more return visits to the customer to fix errors and omissions. Just the fact that the brokers no longer need to re-work documents with customers is a huge benefit to customer experience - not to mention cost savings.
Royal Bank of Canada eliminates NIGO errors
Bank Systems & Technology reports that the Royal Bank of Canada's wealth management investment sales force was losing more than 80,000 hours yearly by chasing documents and fixing mistakes such as missing signatures. With hundreds of mobile investment advisors across the country handling millions of paper documents while on the road, the potential for human error was great. To correct errors, the advisor would have to go back to the customer to collect missing signatures, for example, or re-work documents. Scanners didn't solve the not-in-good-order problem.  In 2012, the bank deployed e-signatures. The bank's e-signature ROI included:
Thousands of hours saved in sales administration, liberating advisors to focus on sales and relationship building activities
75% fewer document errors
$8,000,000 in annual administrative savings
Tangerine Bank eliminates NIGO errors
Tangerine began offering e-signature capability to customers during the busiest season of the year for retirement investments. Their use case was a transfer authorization form that customers sign to move registered investments to Tangerine from another bank. Over a 6-month period, the bank saw over 1,500 transfers submitted using e-signatures. Tangerine's customers embraced e-signature capability, with 65% choosing e-signatures over the paper process. And not one of those digital forms contained a single error. They had a 0% NIGO rate – something that simply doesn't happen with paper.
The bottom line
E-Signature technology solves document errors by providing greater control over how transactions are executed. With e-SignLive, documents cannot be submitted for processing if they are missing signatures. Built-in business rules ensure mandatory data fields are populated and signature blocks are completed. The bottom line is e-SignLive automates and enforces business, legal and regulatory requirements, while managing electronic transactions from start to finish – so that documents are executed correctly, the first time.
To calculate the potential cost savings from taking your process digital, download our ROI white paper.