Your Brand Matters in the Mobile World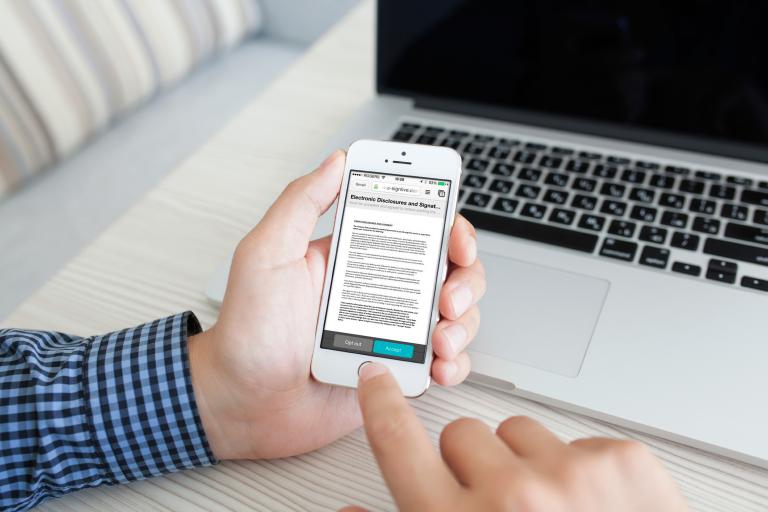 Mobility is on every company's radar as more transactions are completed on a mobile device. Take e-SignLive as an example. Of all the e-signing processed by our servers, close to half occurs on mobile devices. We expect mobile usage to increase steadily as consumers and professionals turn to their trusted mobile device to complete transactions.
Creating a consistent, seamless e-signing experience is becoming increasingly important as people move between computers, laptops, tablets and smartphones. They expect an omni-channel experience. This is especially true of millennials. According to SDL's global survey, "millennials touch their smartphones 43 times per day and 30 percent admit they touch more than four devices over the course of 24 hours."
Whether using a mobile browser or app, a good mobile experience allows the user to accomplish a task quickly and simply. However, there are two scenarios that can stop a mobile signing transaction in its tracks.
Sending the consumer to the App Store
If your organization already has a mobile app that your customers use (e.g., a mobile banking app), what's the best way to integrate e-signatures?
Do you send them to the App Store to download a separate e-signature app – and have them switch back and forth between the two?
Or do you integrate electronic signature capability directly into the existing app and white label the e-signature experience?
The former leads to a clumsy experience where your signer's are tossed back and forth between multiple apps and interfaces. The latter provides a seamless, fully branded mobile experience that reinforces the customer's trust in the digital transaction.
The e-SignLive mobile SDK makes it easy for mobile app developers to seamlessly embed e-signatures into a native iOS app. By enabling customers to e-sign directly through your existing mobile app, you enhance the way they do business with you and accelerate the process.
Brand disconnect
The second scenario that can put the brakes on a mobile transaction involves the branding disconnect that occurs when an unfamiliar brand (e.g., the e-signature vendor's name and logo) appears in the mobile UI – especially when the customer is expecting to see your company's brand instead.
Your brand matters in the mobile world. Whether with a bank, an online lender, retailer or any other site, mobile transactions should be seamless and transparent. Otherwise, the user has to stop and think about what the unexpected brand is doing there. As an example, if a customer is expecting an email from their bank inviting them to e-sign a mortgage application but instead they receive an email from an e-signature vendor (who is actually sending the email "on behalf of" the bank), the customer may become suspicious that the email is a malicious phishing attack.
Today, mainstream awareness of viruses and other online and email security threats is high. According to market research, if email recipients don't recognize the sender, more than 40% will send it to the Trash folder. No matter how credible the subject line, it is essential that the customer recognize the email as coming from the company they are transacting with.
Does your e-signature provider enable you to completely white-label every aspect of the e-signature process? If they are resistant or if branding customization is difficult with their solution, you may want to look elsewhere. Details make the difference when building a trusted mobile signing experience for customers.
If you're a mobile developer and want to learn how to white-label e-signing capabilities into your app, download the e-SignLive Mobile SDK along with sample code to get started today.