CRONTO Mobile App
The CRONTO Mobile App leverages the widespread adoption of mobile camera-phones and provides an easy to use, portable transaction authentication solution.
The user experience is extremely straightforward - simply point the mobile phone camera at the online banking screen, and all transaction details appear on the phone ready for verification. One click or tap to start the CRONTO Mobile App is all that is needed. As the transaction authentication code is generated on the device and is simply entered back into the browser by the user - the solution to be used at no cost at any time, mobile network is simply not required.
CRONTO App is customised to for each deployment to meet bank's branding and other requirements and delivered to bank's customers via application stores.
This client option provides a secure cost-effective mobile tool for strong transaction authentication anywhere, anytime, without the need of an extra device.
How it works? Scan to Sign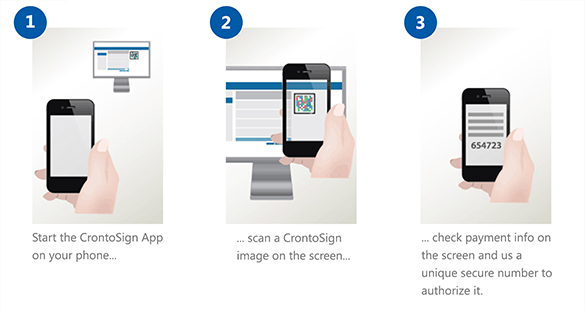 To learn more about our CRONTO solution, visit these pages: