Success with the up-front application and eDisclosure delivery has spurred greater interest in eClosing. Because the closing is complex, involving strict rules for notarization, recording and tracking of the eNote, this has historically impeded adoption of an all-electronic process. Our solution goes beyond e-signing to fully automate your mortgage and lending workflows – from signature through to closing.
Some of our Banking & Lending Customers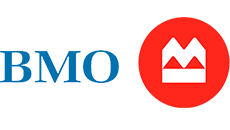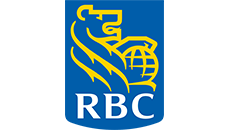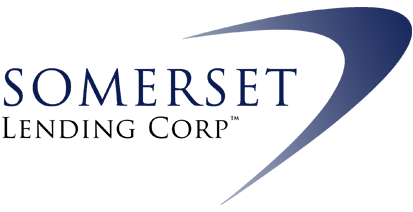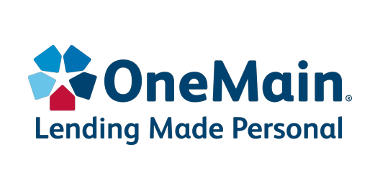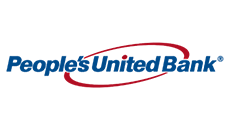 Easy to Use
Make it faster and easier for borrowers to accept disclosures and apply for mortgages, loans and leases
Enable borrowers to accept disclosures and e-sign mortgage and loan documents anytime, anywhere, on any device. OneSpan Sign is optimized for desktop and mobile signing right 'out of the box', and enables you to quickly configure and customize the solution for your needs. That includes white-labeling the solution for your brand at no extra charge.
Enable closing agents, attorneys and notaries to facilitate the closing process with borrowers at the closing table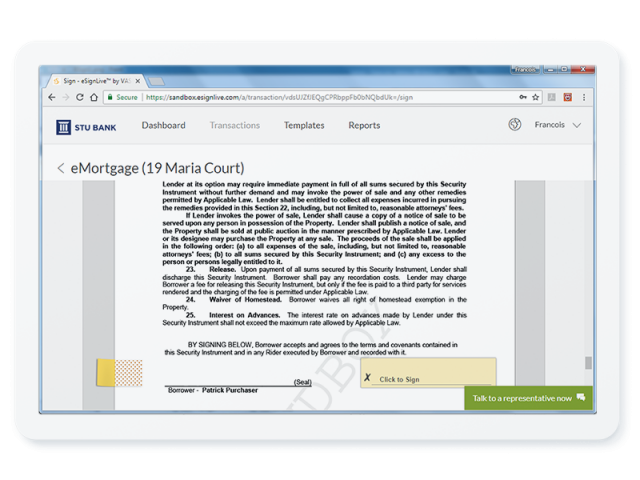 Accelerate the review, notarization and signing of the documents at the closing table. OneSpan Sign captures signatures, applies the notary's seal, and logs information about the closing process in the integrated eJournal. Documents are secured using the most comprehensive audit trails in the market.
Watch our eClosing demonstration showing how a borrower and notary can e-sign the mortgage note and security instrument.
Hybrid And Full eClosing
Improve customer satisfaction by adopting one of two types of eClosings.
As the name suggests, "hybrid eClosings" incorporate a mix of electronic and paper documents. This can be done face-to-face at the closing table. The title agent guides the borrowers through the process of e-signing all documents. Borrowers would click-to-sign either on the title agent's laptop or tablet, or on their own device. The Note and/or the security instrument can still be wet-signed paper documents.
The full eClosing includes the signing of the promissory Note and security instrument. To sign these electronically, title companies must address need for notarization. Documents can be notarized by a notary who is using an electronic signature in lieu of an ink signature.
Cloud Security
Keep your customer and company data safe with OneSpan's SOC 2-compliant, infrastructure and application security
Hosted on Amazon Web Services, OneSpan eClosing provides highly secure data centers with real-time replication of data across distributed locations to ensure continuous availability and optimal performance.
OneSpan eClosing also provides full document and database-level encryption using the AES 256-bit encryption standard. This ensures the security and ownership of the financial agreement throughout the lifecycle of the loan.
Compliance
OneSpan eClosing provides the most flexible deployment options and state-of-the-art data centers to ensure compliance with your company's risk and security protocols. Start with a cloud or on-premises deployment, then easily switch methods in the event your IT policies change.
Moreover, our solution captures detailed and secure audit logs of every action related to the management, assignment and transfer of notes and contracts – to and from eOriginal's electronic vault.
Scalability
Scale the OneSpan eClosing solution across your global enterprise, quickly and cost-effectively
Implement the solution as a shared service across your organization for a quicker time-to-market. Only OneSpan provides a single platform solution and integration framework, enabling  you maintain high security, compliance and performance as your needs grow.
Every instance of OneSpan eClosing is hosted on redundant and resilient cloud infrastructures, enabling us to deliver 99.99% uptime to our customers and users worldwide.
Our Expertise
Go live with a digital mortgage and lending expert who is deeply committed to your success
Our solutions are built on decades of experience helping banks and lenders achieve paperless processes, and we have a proven track record helping them to increase adoption and accelerate time-to-revenue. 
Implementation experience with high-volume, customer transactions:
20 years e-signature & e-closing experience
We pioneered the e-signature and eClosing markets more than 20 years ago and have vast knowledge of managing and protecting digital loan agreements.
15+ years digital lending experience
As a pioneer participant in industry standards associations, such as MERS, MISMO and the Electronic Signatures and Records Association (ESRA), we have a deep understanding of compliance requirements in financial services. In the past 15 years, we have helped banks and lenders manage and track the lifecycle of financial assets.
20+ years digital lending experience
OneSpan partners with eOriginal to help organizations meet regulatory requirements by archiving important signed documents in a secure electronic vault. eOriginal is the trusted leader in digital lending technology for the past 20 years, guaranteeing trusted transactions of digital financial assets for all parties.