The eSigning experience
Businesses are moving faster than ever and a renewed push towards digitization and remote solutions is accelerating the pace even further. Delivering a superior customer experience to your prospects and clients only becomes more important as organizations compete in the digital arena and customer expectations evolve.
The ability to eSign documents using electronic signature platforms, like OneSpan Sign, is the fast and secure way to get your documents signed anytime, anywhere, and on any device. E-Signature software is a core component to creating that superior customer experience.
Signers will receive an email inviting them to the platform to sign documents in electronic form. There's no learning curve, no apps or extensions to download. The signer can simply open the documents, read the agreement, and click-to-sign from their desktop computer, tablet, or mobile phone.
Once your signers complete their signatures, each party can access a copy of the documents as well as a detailed audit trail.
With electronic signatures, you can keep up with the speed of digital business, deliver a secure experience, and automate and streamline legacy paper processes.
How to eSign a document
Follow the video tutorial below to learn how to use the OneSpan Sign mobile app to securely prepare and send documents for signature request on the go. See how easy it is to prepare a document for signature!
To start, log into your OneSpan Sign account
Tap Create New Transaction and enter a meaningful name for your transaction.  
You have the option to upload your document from popular cloud storage services, such as Google Drive, DropBox, OneDrive, or use a document from your templates or library.
Now it is time to add signers to the document, including yourself. Add signers to the document by submitting their first name, last name, and email address to the document.
At this point you can also apply authentication checks to your document using authentication factors like SMS one-time passcodes or Q&A.
If your team is signing documents in the field or in-person, toggle the Enable In-Person Signing option. This will allow you to gather signatures in real-time during face-to-face scenarios.
With signers added, we will add signature blocks to the document next. Drag the Signature Field to the appropriate areas of your document.
If you need to capture data in your document, form fields such as Check Box, List, add Text Area, and Radio menu are also available.
The document is now ready for signing! Tap Send!
To learn how to eSign a document, continue with the tutorial that best matches how your signers will access the e-signature solution:
Step-by-step e-sign workflow
Step 1: Access
The first step to any electronic signature workflow is to deliver the document(s) to be signed and provide access to the signing ceremony to your signers. One typical method of access is to deliver the invitation for signature through email. The signer would receive an email message with a link to the electronic signature platform where the rest of the signing process can occur.
However, there are alternative means of delivery and access. The method most beneficial to your organization will likely be influenced by whether you are creating a remote or in-person signing process. For in-person signing scenarios, an employee or company representative will typically leverage an enterprise application portal or dashboard on a company device, such as an iPad or tablet. The representative can then guide the signer through the rest of the process.
Alternatively, a remote process can leverage:
Web portals
Mobile apps
Links embedded in third party applications
QR codes or shortened URLs
And more
Step 2: User Identification and Authentication
When delivering a document for signature, it is important that only the correct person applies their signature. This is doubly important in remote use cases where there is no face-to-face interaction between the organization and the signer. Therefore, your electronic signature workflow must include an authentication step to ensure that your signers are who they say they are.
The authentication methods used in your workflow will vary depending on whether the signer is a known or unknown customer to the organization. If the signer is known to the organization, there will already be a record of the signer's identity and credentials on file. Authenticating a known signer is then a matter of comparing credentials presented in the signing ceremony with the information already on file. Or, depending on their means of accessing the ceremony, there may not even be a need for further authentication.
Authenticate existing customers with:
    Login credentials
    Email authentication
    Question and Answer
    Knowledge-based authentication (KBA)
    SMS authentication
    Digital certificates and smart cards
An unknown customer must be authenticated and doing so requires solutions such as face comparison, one-time passcodes, or identity verification. The goal is to ensure the authenticity of the credentials and match the live person to the identity documents. 
Step 3: Present the Documents
In the third step, the signer has an opportunity to read and review the documents requiring signature. This can be done in OneSpan Sign on whatever device the signer prefers including Mac and desktop computers, iPhones and Android smartphones, tablets and iPads, and more.
Step 4: Forms and Data Capture
Depending on the use case, there could be electronic signature workflows that require the signer to provide select information in addition to providing their signature. The OneSpan Sign administrator can use a drag and drop document builder to add various data fields to documents prior to sending the document out for signature. Here, the signer can provide this information.
The data capture options include:
    Text box
    Check box
    Custom fields
    Radio button
    Drop-down list
    Conditional Fields
Step 5: Document Upload and Update
Some workflows may also require the signer to upload supporting documents and attachments as part of the signing process. This is common in insurance use cases, for example, where the carrier's field agents often have their own documents, such as a driver's license, to add to the application packet.
Step 6: Signing
Perhaps the most straightforward step in the electronic signature signing process is the signature itself. Users can leverage their preferred method of signing and consent to the terms of the agreement. There are several types of signature methods available through OneSpan Sign
    Click-to-sign
    Click-to-initial
    Accept only
    Digitized handwritten signature capture
    Smartcard signing
Step 7: Document Delivery
The final step in the workflow is to tamper-seal the document and deliver it to either the next signer or return it to the organization for storage and archiving. Depending on the use case, it may make sense to offer electronic copies in the form of a PDF file or signed print copies of the signed records. Audit trails, in addition to the signed document, can also be stored and archived.
eSignature Legality
Electronic signatures are legal in over 60 countries and, in many, have the same weight and legitimacy as a wet-ink signature. Whether the Electronic Signatures in Global and National Commerce Act (ESIGN Act) and UETA in the United States or eIDAS in the European Union, each country has their own legislation detailing the regulations around electronic signature. Though specifics vary from country to country, there are generally three recognized forms of electronic signature:
Simple eSignature: A simple signature is a catch-all term for any type of electronic signature that is not an advanced or qualified signature.  
Advanced eSignature: An advanced e-signature (AES) includes authentication and security standards as determined by the local regulations. This is the most common form of electronic signature.  
Qualified eSignature: A qualified electronic signature (QES) includes the same security standards as the advanced e-signature with extra requirements. Typically, the qualified e-signature will also require validation from a third party certification authority. This level of signature is usually reserved for the most complex, most consequential agreements.
To learn more about electronic signature legality in your country, visit our eSignature Legality Guide.
OneSpan makes it easy to sign
Secure and Reliable: With a wide range of authentication and digital identity verification options available and a signature tool built on military-grade digital signature technology, you can ensure your signers are who they say they are before they gain access to sign the document.
Start Signing Today: Download the OneSpan Sign mobile app, available on the Apple App Store and Google Play Store, and start signing in minutes.
Document Compatibility: OneSpan Sign supports uploading numerous file types including: .doc, .pdf, .odt, and .txt. Plus, with the use of the OneSpan Sign Print Driver, you can send transactions to OneSpan Sign from any Windows application. Whether Microsoft Word documents, Excel, Google Docs, or PDF documents, you can directly and easily send the transactions for signature.  
eSign How, Where, and When You Like: Sign on any device, anywhere, anytime, including online or offline. This can include creating a hand-drawn online signature or uploading an image of your signature.
Robust Connector Options: Using our SDKs and open APIs, connect OneSpan Sign to the apps you use every day like Salesforce, Pega, Guidewire, and Laserfiche.
Flexible Pricing: Choose from the Professional Plan for user-initiated processes or the Enterprise Plan for system-generated processes.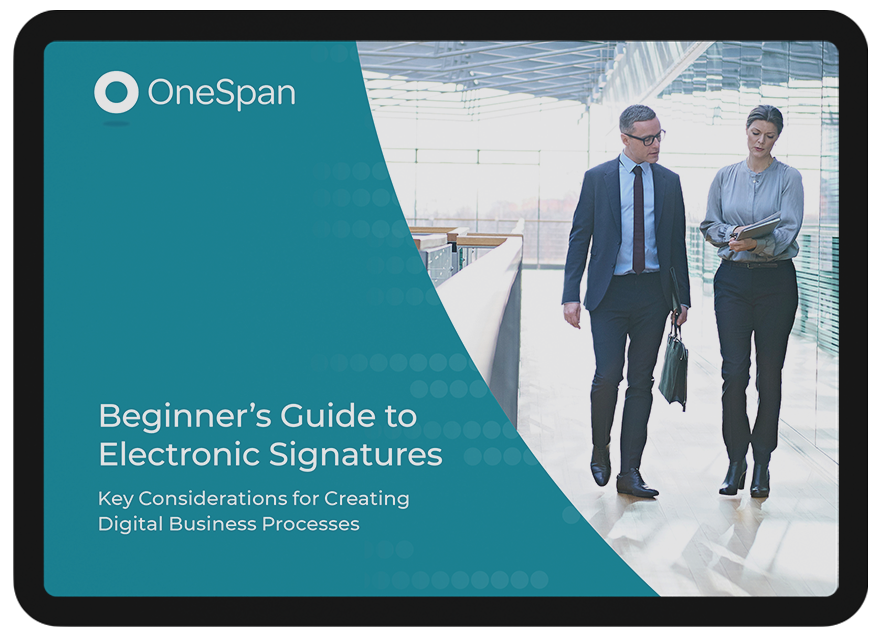 The Beginner's Guide to Electronic Signatures
This essential briefing introduces important legal concepts and key considerations when creating digital business processes with e-signatures.
Download Now