How it Works
Eliminate all manual processing-related errors and costs by enforcing business rules and integrating electronic signatures with your front- and back-end systems
OneSpan Sign helps eliminate paper-based processes by digitizing your signing workflows.
Our solution manages every aspect of the signing process to ensure your electronic contracts are enforceable, compliant, and secure.
Easy Integration
Add e-signing capabilities to your website, mobile app, and core systems using our powerful REST API and SDKs
Our powerful REST-based open API and SDKs come packed with everything you need to ensure rapid development and deployment. This includes support for common programming languages (including Java, .NET, APEX, Android, and iOS), an out of the box UI, sample code, complete documentation, an active developer community, and much more.
User Experience
Provide customers with the most seamless e-signing experience, while keeping the spotlight on your brand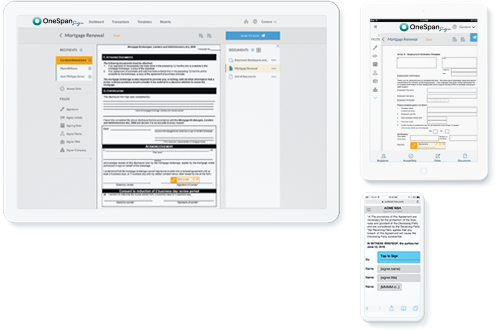 OneSpan Sign is optimized for desktop and mobile signing right 'out of the box', and enables you to quickly configure the solution for your needs. You can also fully customize the workflows and UX to create a unique customer experience. That includes white-labeling at no extra charge.  
Compare a White-Labeled Signing Experience with No-White Labeling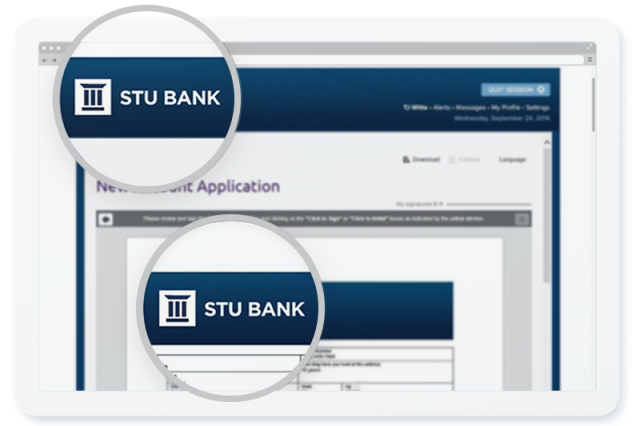 White-Labeled
OneSpan Sign's brand doesn't appear in any of the interfaces or email notifications.  Your brand remains in the spotlight to ensure the most seamless user experience. This helps drive high adoption and transaction complete rates.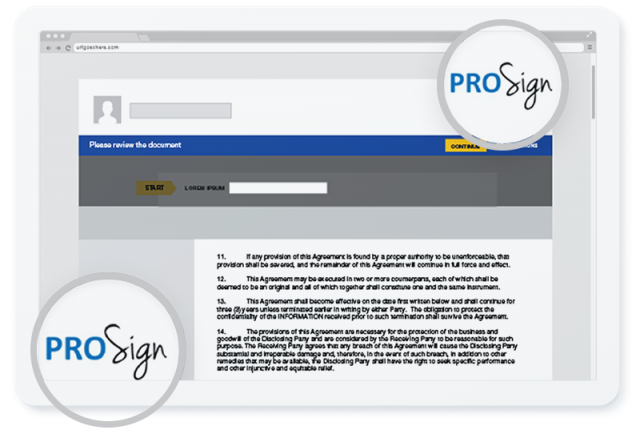 Not White-Labeled
With some e-signature vendors, their brand is part of the user experience creating confusion and risk of customers dropping off. What's more, emails sent from the vendor's servers can expose your organization to risks such as phishing.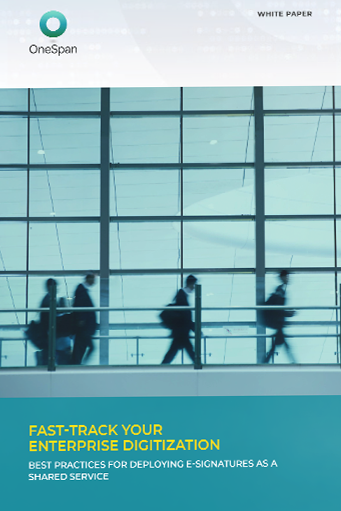 Deploying E-Signatures as a Shared Service
In this report, five leading banks and insurers ranging in size from 5,000 – 270,000 employees share their best practices for deploying e-signature as an enterprise service.
Download Now
Advanced Security
Secure your documents and each person's signature using military-grade, digital signature technology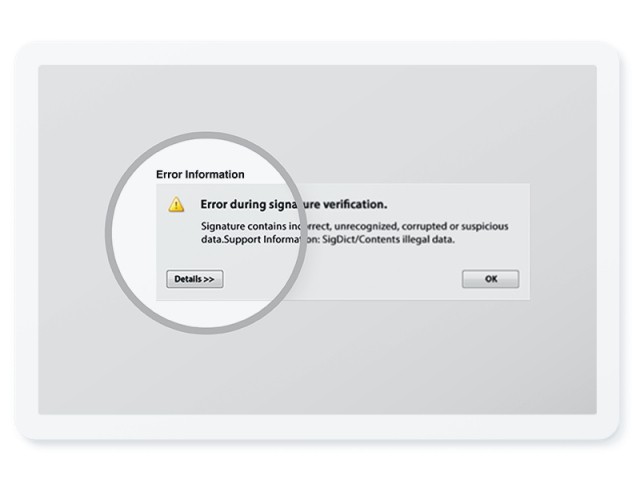 OneSpan Sign guarantees document integrity by applying a digital signature and tamper seal after each person has signed, and then automatically detecting if a change is made in between signers. And unlike other providers, OneSpan Sign embeds the audit trail directly in the document, enabling you to instantly verify it with just one click.
Compare OneSpan Sign's Security with the Competition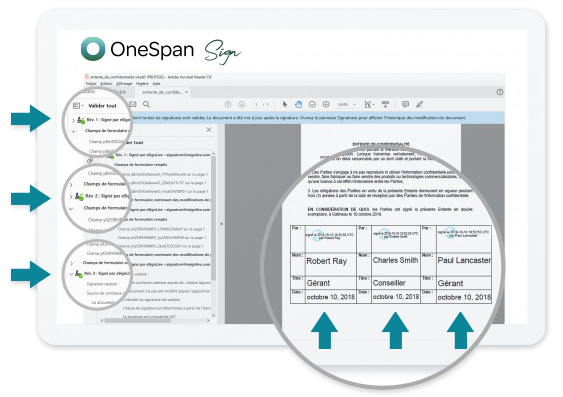 Digital Signature for EACH & EVERY Signer
OneSpan Sign secures each person's signature in the document using digital signature technology so that if a change is made in between signers, their signature is visibly invalidated. This deters fraud and provides a more reliable audit trail. The audit trail is directly embedded in the document, resulting in a single file that's easier to verify and manage.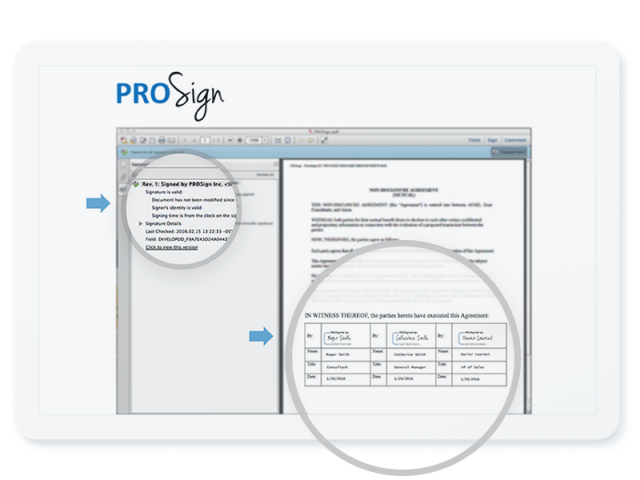 Digital Signature for ALL Signers
Some other e-signature solutions only apply a tamper seal wrapper at the end of the signing process, enabling the document's content to be modified without detection in between signers. What's more, their audit trail is only available as a separate file, forcing you to store two files and making it longer to verify.
Built on leading infrastructure services from Amazon, IBM and Microsoft to ensure high application security
Keep your company and customer data safe using Advanced Encryption Standard (AES) 256-bit encryption. OneSpan Sign complies with ISO/IEC 27001, ISO/IEC 27017, ISO/IEC 27018, SOC 2 Type II, HIPAA, FedRAMP and other stringent industry security and privacy requirements. See the summary of the auditor's report at the Trust Center.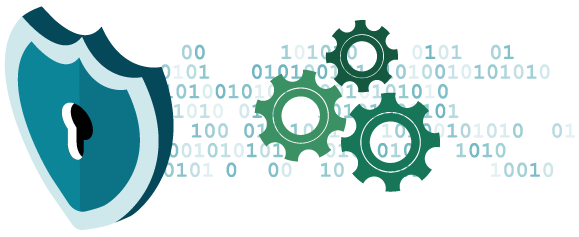 Compliance & Legal
Prove your compliance and deflect legal disputes with our audit trail
Captures identity verification, authentication, and e-signature events of the entire agreement process in a single, unified audit trail.  Our audit trail provides a more complete picture of the transaction with strong identity assurance to demonstrate compliance for remote processes.
Flexible Implementation
Deploy on a public or private cloud or on-premises – let your use cases, compliance requirements and IT policies decide
Code once. Deploy anywhere. OneSpan Sign provides the most flexible deployment options and global data centers to ensure compliance with your company's risk protocols and in-country data residency requirements. Start with one deployment method, then easily switch methods in the event your IT policies change. You can even combine public and private clouds and on-premise deployments.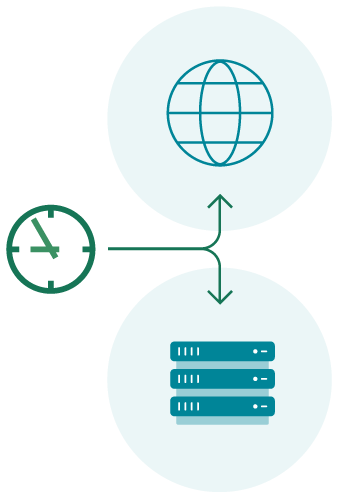 Implement electronic signatures as a shared service across your divisions and global operations for a quicker time-to-market. OneSpan Sign provides the most scalable platform and integration framework, enabling  you to easily re-use the same code across different lines of business, use cases, channels and geographies.
OneSpan Sign is hosted on redundant and resilient cloud infrastructures, that enables us to deliver 99.99% uptime. That's why 15 out of the top 20 banks in North America trust OneSpan Sign's performance and availability for their high-volume, customer transactions.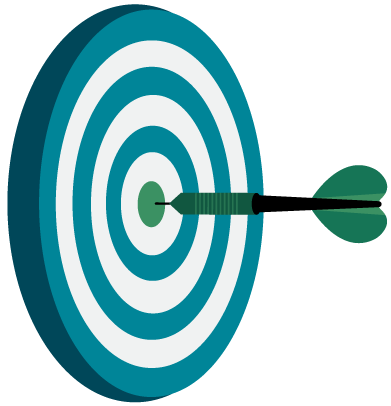 Cost
Get transparent pricing with no nickel and diming, no hidden fees, and no surprise price increases
Unlike other electronic signature providers, you won't see an astronomical price increase at the end of your contract. We work closely with you to review your consumption needs and help you scale your model in the most cost-effective manner. What's more, if your needs and volume change before your contract is up, we'll re-assess the terms so that you maintain a cost-effective solution – today and tomorrow.
Our customers use OneSpan Sign for…
Delivering an Optimal Customer Experience
BMO recognized the importance of empowering its customers to use their smartphones for more than simple banking transactions. As part of its digital transformation initiative, BMO implemented an enterprise-wide e-forms and e-signature shared services platform to provide a contextual and responsive user experience across its account opening processes. Prospective customers can now open a bank account in minutes using their smartphones.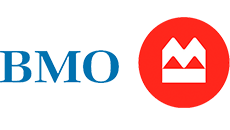 Significant drop in error rates
Scanning errors decreased by 92%
Missing files reduced by 66%
The bank saved $98.2 million annually
Improving Operational Efficiencies
OneMain wanted to give customers the option of applying and closing loans online. The need was urgent. In the wake of the 2008 financial crisis, the company had consolidated some of its operations, and online competition threatened its market share. Convenient virtual lending would allow the lender to hold on to good customers in regions where it no longer maintained branches and help it reach new customers online.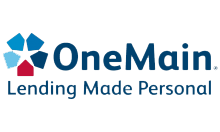 Achieved 99.1% customer adoption
No missing signatures – workflow rules capture all 35
signatures/initials required
Save 20 to 30 minutes of manual handling per loan
Save $500,000 in toner costs per year
Get started with OneSpan Sign electronic signatures
Put us to the test, and see how you can start saving time and money today