Data Protection in the Cloud
Data residency in the cloud is a challenge of global proportions and can be a compliance nightmare for businesses that have limited visibility into where data resides and how data is managed. Today's organizations are increasingly looking to support borderless digital business scenarios. As cloud adoption continues to grow at unprecedented rates, there is a need to ensure that data is protected and complies with an organization's local data residency and privacy laws. Regulated and compliance-driven industries such as banking, insurance and government often require transparency and control over where transactional data resides.
E-Signatures Across Borders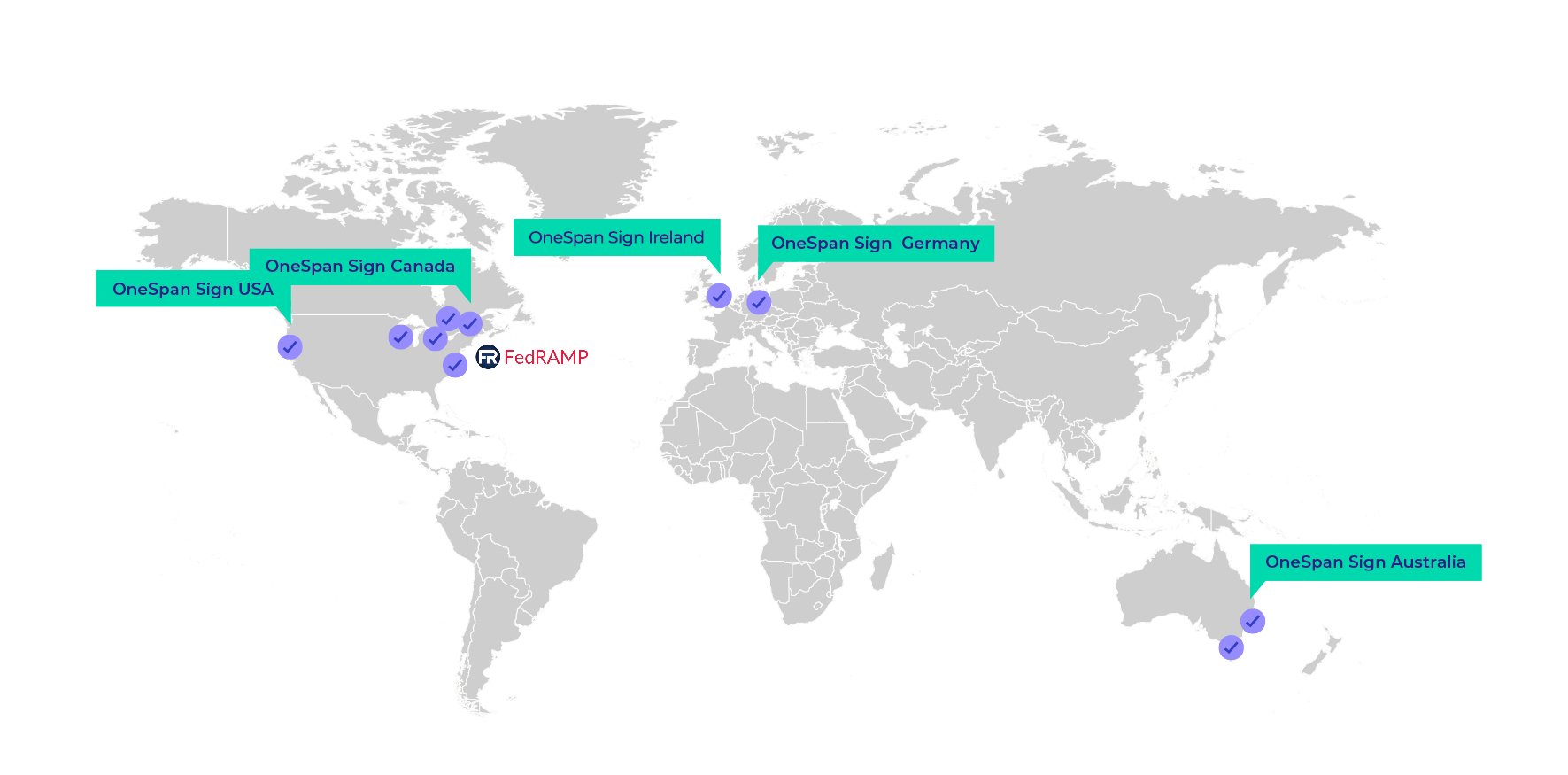 By leveraging the global data center networks of our technology partners IBM Cloud, Amazon Web Services and Microsoft Azure, OneSpan Sign offers both public and private instances of OneSpan Sign in more global cloud locations than any other e-signature vendor in the marketplace:
United States
Canada
Ireland
Germany
Australia
Other countries - on request
OneSpan Sign can also spin up new public and private cloud instances anywhere in the world in a matter of days. This not only helps fulfill in-country data residency requirements, but also enables organizations to quickly scale up and expand their operations globally. And if your organization needs to manage the solution on your own infrastructure for maximum control, we enable you to deploy OneSpan Sign in a private cloud or completely on-premises behind the firewall.
"It is really important to understand where data is stored, and to classify any data that is subject to regulatory or export control. Enterprises need to put into place a corporate plan that reviews data compliance, government access laws and security requirements prior to negotiations with service providers."
— Brian Lowans, Gartner Analyst
Benefits
OneSpan Sign's ability to meet data residency requirements extends to the third-party apps we integrate with. For example, our OneSpan Sign for Salesforce app provides organizations with the flexibility to connect to any global instance of OneSpan Sign. We're the only e-signature solution in the market to provide this level of global flexibility. Visit our apps & connectors page to learn more about third-party apps for OneSpan Sign.