Looking to build a flexible security infrastructure that is easily accessible by customers and employees from anywhere and at any time? Digipass 260 opens the door. The small and lightweight Digipass 260 offers secure remote access and authentication features. On top of that it has a streamlined design, which can be customized according to your marketing needs.
It's the ideal password-protected personal identification device for banks, enterprises and organizations needing an effective and cost-efficient, high-volume solution. In addition, Digipass 260 enables digital signatures for transactions.
Strong two-factor authentication
The Digipass 260 solution is based on strong two-factor authentication. To gain access to applications and services you must:
remember a Personal Identification Number (PIN), and
possess a hand-held Digipass 260.
The PIN code is entered into Digipass 260 which then calculates a dynamic password. This one-time password enables secure authorized access into the network.
Intuitive user interface and advanced design
Tough, shock-resistant materials make Digipass 260 a reliable part of any total enterprise security solution. Its ergonomic keypad and simple graphic interface are so easy to use, no technical training or user manual is needed.
Universally recognizable display icons walk you through the simple steps and there's always an option to return to the previous screen or restart from the beginning.
Maximum flexibility
Digipass 260 can be customized to your specific applications. Security parameters such as PIN length, number of PIN trials, type of cryptographic algorithm, lengths of challenge and response, are all programmable. Result: you get an optimum balance of user-friendliness, cost efficiency and security.
Low cost puts it at the top of its class
In the academic world, e-transactions usually concern an exchange of information, not money. Nevertheless, the importance of security must not be diminished. OneSpan's Digipass 260 can provide educational institutions with highly secure solutions for guarding against breaches of confidentiality and unauthorized access to data.
Further, OneSpan's technology wins high marks for offering high functionality and flexibility at a low total cost.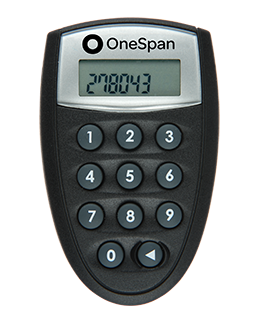 Making internet transactions more safe
Digipass 260 technology enhances the security of your webbased services. Whether you are using Digipass 260 dynamic passwords to log-on to a restricted website or create digital signatures to sign a financial transaction, you have greater control over who is trying to perform what activity.
Key features
Customizable lens
Internal real-time clock
Intelligent battery management with expected battery life of 10 years*
After a programmable number of invalid PIN attempts, device locks automatically
Remote de-blocking
Dual function on-off/erase button
Limitation settings can be time-based or based on a maximum number of operations
Electronic signatures guarantee integrity of transmitted data
PIN in user-changeable
Size: 75 x 46 x 13 mm
Weight: 28 gr
* for devices produced as from 2011
Cryptographic functions
Conforms to the Data Encryption Standard (DES or triple DES) and Advanced Encryption Standard (AES)
One-time password, challenge/response and e-signature functionality
Supports applications all with their own AES/ DES key
CERTIFICATION AND COMPLIANCE
Short storage temperature
-10°C to 50°C;
90% RH non condensing
IEC 60068-2-78 (damp heat)
IEC 60068-2-1 (cold)
0°C to 50°C;
90% RH non condensing
IEC 60068-2-78 (damp heat)
IEC 60068-2-1 (cold)
4 kV contact discharges
8 kV air discharges
3 V/m from 80 to 1000 MHz
Compliant with European directives
CE: 89/336/EEC or 2004/108/EC
RoHS: 2002/95/EC
WEEE: 2002/96/EC