HIGHLIGHTS
Digipass 750 Comfort Voice provides acoustic or speechbased feedback enabling visually impaired people to securely log on and conduct transactions with the same ease of use as other users.
Inclusive authentication for visually impaired people
Visually impaired people are confronted with inaccessible authentication methods and face additional security risks such as aural or visual eavesdropping. Visual eavesdropping takes place when anyone near the user catches glimpses of sensitive information displayed on the screen. Aural eavesdropping may occur when input and button selections are being aurally played back allowing eavesdroppers to overhear PIN codes and security pass keys.
Digipass 750 Comfort Voice enables visually impaired or blind people to log on and transact online with the same security as any other Digipass device. All data is encrypted and sent over a secure channel to eliminate risks such as man-in-themiddle attacks or man-in-the-browser attacks.
Designed for accessibility
Regular hardware devices may have unreadable fonts, poorly lit displays or the expiration time for using the passcode may be too short. Digipass 750 Comfort Voice addresses these challenges with an intuitive device that is based on profound research. In addition to offering a large backlit display to enable large fonts, the device comes with a set of headphones and an internal speaker for voice guidance when browsing through the menus or performing actions.
To eliminate the risk of aural eavesdropping, the voice output is suppressed during the process of PIN code entry. Furthermore, the device features a large keypad with a sound playback when keys are tapped and is equipped with dedicated function buttons to turn the volume up or down and repeat or pause the voice output.
Digipass 750 Comfort Voice can be used in both connected and unconnected mode. When connected to a computer, all transaction details will be automatically displayed on the display of the device, accompanied with speech feedback for verification before signing. Users don't have to retype passwords in the online application to log on or sign a transaction, which significantly enhances user experience.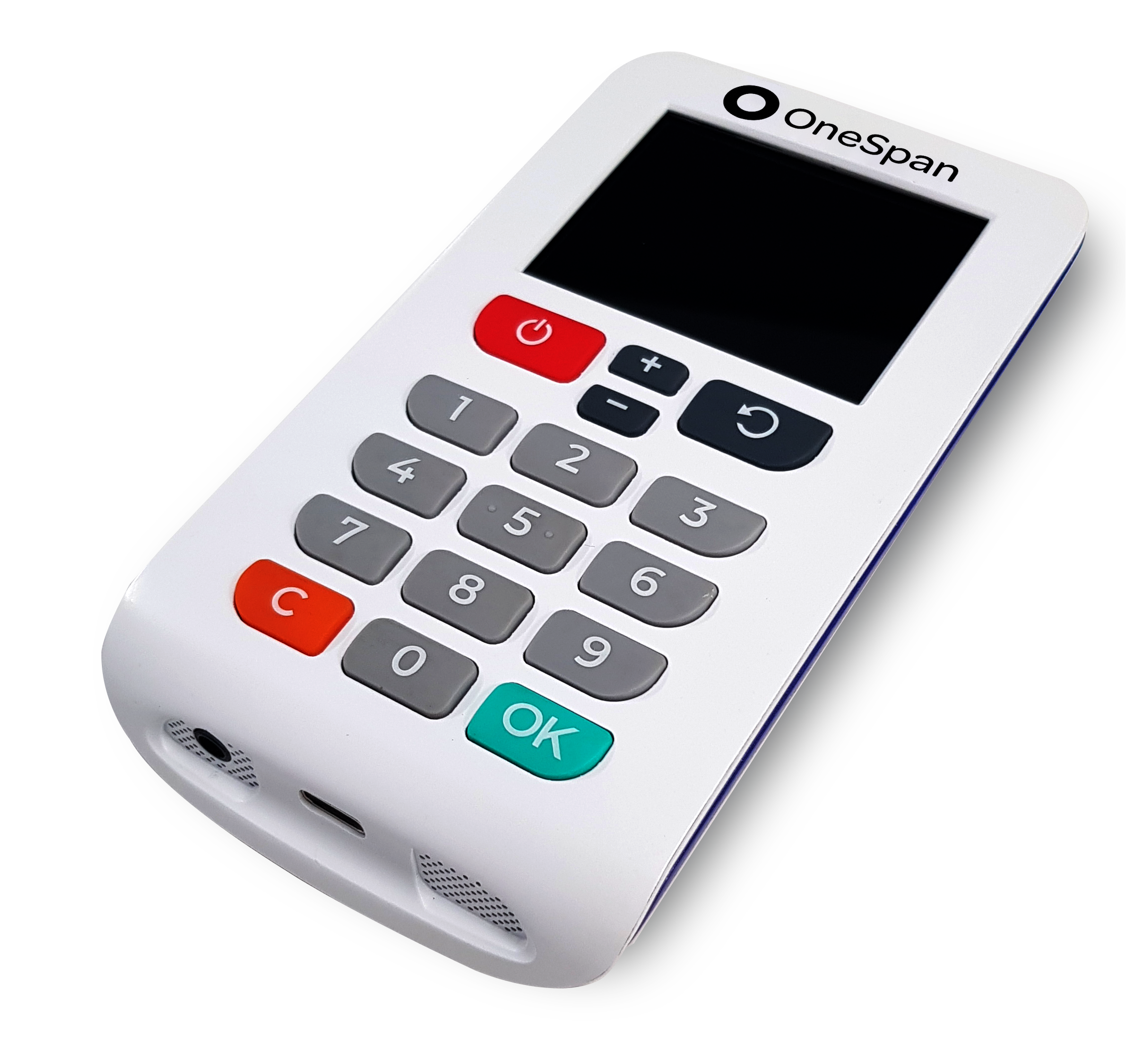 Unconnected mode: Challenge/Response, Response (OTP)
Connected mode: Transaction Data Signing (WYSIWYS), Challenge & Response
2,44" TFT color display (240 x 320 dots)
131 mm (L)
74 mm (W)
19.6 mm (H)
118 g including batteries
Max. 5 languages with voice recordings
UBS-C port
USB-C to USB-A cable included
Voice playback and audio response
Internal speaker or included headphones
3 replaceable AAA-batteries*
0° C to 45° C
85% RH non-condensing
EC 60068-2-78 (damp heat)
IEC 60068-2-1 (cold)
Complies with RoSH and WEEE Directives

* Device must not be used with USB rechargeable batteries.