HIGHLIGHTS
FIDO U2F certified
Intuituive user experience
Customizable
Portable
The number and complexity of passwords required of users today means shortcuts are inevitable, and password shortcuts weaken security. The FIDO Alliance (Fast IDentity Online) recognizes the need for a higher level of online user security and is driving new standards to achieve this goal. In support of this important effort, OneSpan introduces a FIDO U2F ready device that is fast, easyto-use, portable and delivers strong two-factor authentication for PCs and mobile devices.
Digipass SecureClick is a FIDO U2F BLE (Bluetooth Low Energy) device that enables users – with the single push of a button – to securely complete access to their online applications. The Digipass® SecureClick is a BLE (Bluetooth Low Energy) token, however, it is FIDO U2F certified when used in conjunction with our Digipass Bluetooth Bridge that allows to use the USB transport channel. One simple solution means users can connect anywhere to everywhere easily, quickly and securely without the burden of having to remember multiple passwords. Digipass SecureClick is also extremely portable. The size of a small coin, it can easily be attached to any key ring or similar portable accessory.
The ultimate user experience
Digipass SecureClick is designed for a seamless and positive user experience, requiring a password and one push of a button to authenticate users to an application. After launching an application on a tablet or smartphone, the users simply enter their password and press the "GO" button on Digipass SecureClick and the authentication process is executed. No other action required.
Digipass Bluetooth Bridge
For PCs that do not support BLE, OneSpan offers our Digipass Bluetooth Bridge with USB dongle. When you insert the dongle into the USB port of a computer, (effectively pairing the Digipass SecureClick with the Digipass Bluetooth Bridge), you can use the Digipass SecureClick like a FIDO U2F USB device.
Transport channel encryption
Digipass SecureClick establishes encrypted communication between the Digipass SecureClick and the BLE device (e.g. laptop, mobile device). As a result Digipass SecureClick delivers positive, secure, and lightning fast user connectivity, combined with encrypted communication to protect even the most sensitive mobile transactions.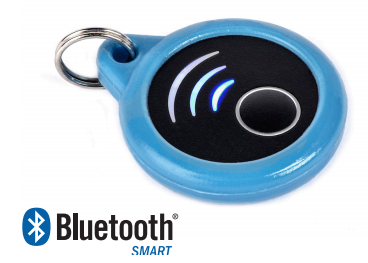 Easy to service power requirements
For enterprise buyers who need reliable products that reduce total cost of ownership, Digipass SecureClick is equipped with a replaceable battery and, when used to a maximum of 10 authentications a day, has a lifespan of more than two years.
Brand friendly customization
Supporting your business brand is critical, so we're able to customize your Digipass SecureClick accessory with your organization's logos and colors.
FIDO U2F BLE device
Works with the Digipass Bluetooth Bridge (FIDO U2F USB)
2 years with 10 authentications per day
Replaceable battery (CR2012)
Diameter: 25 mm
Thickness 3.9 mm
Supported Operating systems
iOS, Android, Mac osX, Windows 8.1 & higher*
* Please check the availability of the FIDO U2F client on those OS
COMPLIANCE SPECIFICATIONS
10 to 50°C; 90% rH non-condensing
IEC 60068-2-1
IEC60068-2-78
-10 to 45°C; 85% rH non-condensing
IEC 60068-2-1
IEC60068-2-78
10 to 75 Hz; 10m/s²
IEC 60068-2-6
1 meter free fall at 6 sides
IEC 60068-2-6
EN 301 489-17 V2.2.1
EN 301 489-1 V1.8.1
Immunity (radiated and ESD)
EN 301 489-17 V2.2.1
EN 301 489-1 V1.8.1
Radio performance testing
Compliance to European directives (CE marking)
2011/65/EU (RoHSII)
2012/19/EU (WEEE)
1999/5/EC