HIGHLIGHTS
App Shielding with runtime protection includes:
Overlay Detection
Jailbreak & Root Detection
Anti-Code Injection
Anti-Key Logging
Anti-Screen Reader
Anti-System Screenshots
Anti-Screen Mirroring and External Monitors
Anti-Re-Packaging Protection
Debugger detection
Runtime Protection– Integrity Check
Emulator Detection
Obfuscation
Businesses develop and market their own mobile apps at a feverish pace, driving a significant increase in the attack surface and related fraud. At the center of this threat are hackers who release malware that exploits mobile OS vulnerabilities. App Shielding with runtime protection by OneSpan equips businesses with strong, natively integrated app security that dynamically detects and mitigates these attacks.
Secure sensitive data
App Shielding by OneSpan proactively protects against zero-day and other targeted attacks, allowing mobile business apps to run securely, blocking foreign code from executing or shutting down the application if a threat to data exists. Integrating App Shielding with runtime protection into mobile apps ensures the complete integrity of the apps and fully protects sensitive business and personal data from cybercriminals.
Integrated protection
App Shielding wraps around the application code to protect against foreign code injection. Even if a device becomes infected with malware, including system components such as screen-readers or key logging on Android, runtime protection technology will detect and prevent that code from running.
Strengthen application security
App Shielding provides an extensive list of features that are easy to integrate and invisible to the end user. As a result, App Shielding allows businesses to extend and strengthen application security, protect customers and meet aggressive application development timelines.
Mobile Security Suite
App Shielding with runtime protection is available as an optional feature in OneSpan Mobile Security Suite. Mobile Security Suite is the most comprehensive mobile in-app protection solution of its kind, seamlessly integrating identity/authentication, secure storage and communications, obfuscation, whitebox cryptography, runtime protection and more into any mobile app.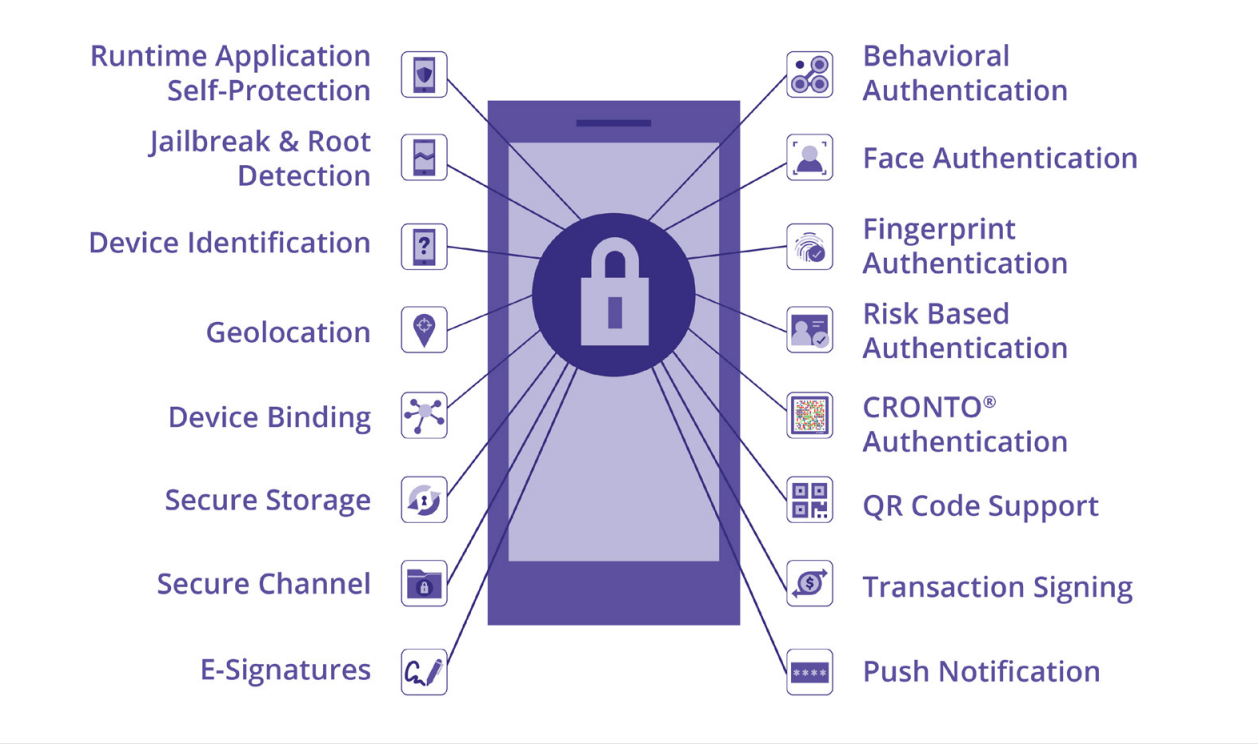 How it works
App Shielding with runtime protection ensures the integrity of mobile apps in three ways: Protect, Detect and React. It protects the trusted mobile application by preventing reverse engineering techniques via code obfuscation and anti-repackaging technology.
It actively detects malicious key logging, screen readers, repackaged applications, debuggers and emulators, and jailbroken or rooted devices. It can then be configured to react to prevent malicious activities by shutting the app down or enabling customized actions based on business policy.