#1 Higher completion rates
The reason OneSpan Sign is the industry's best-kept secret is because it's the white-labelled solution of choice for some of the world's most trusted brands.
White labeling puts your brand front and center, optimizing the signing experience and delivering up to 23% higher completion rates.
#2 Security at the core
OneSpan Sign's security features lead the industry:
A complete range of ID proofing & authentication options, to protect your clients and assets
Digital signature technology encrypts each person's signature
Tamper-evident: document & signatures are visibly invalidated if changes are detected between signers
A single, unified audit trail is generated for the step-by-step identity verification, authentication, and e-signature events in the transaction
Audit trail permanently embedded in the document for easy verification and storage
1-click verification of document validity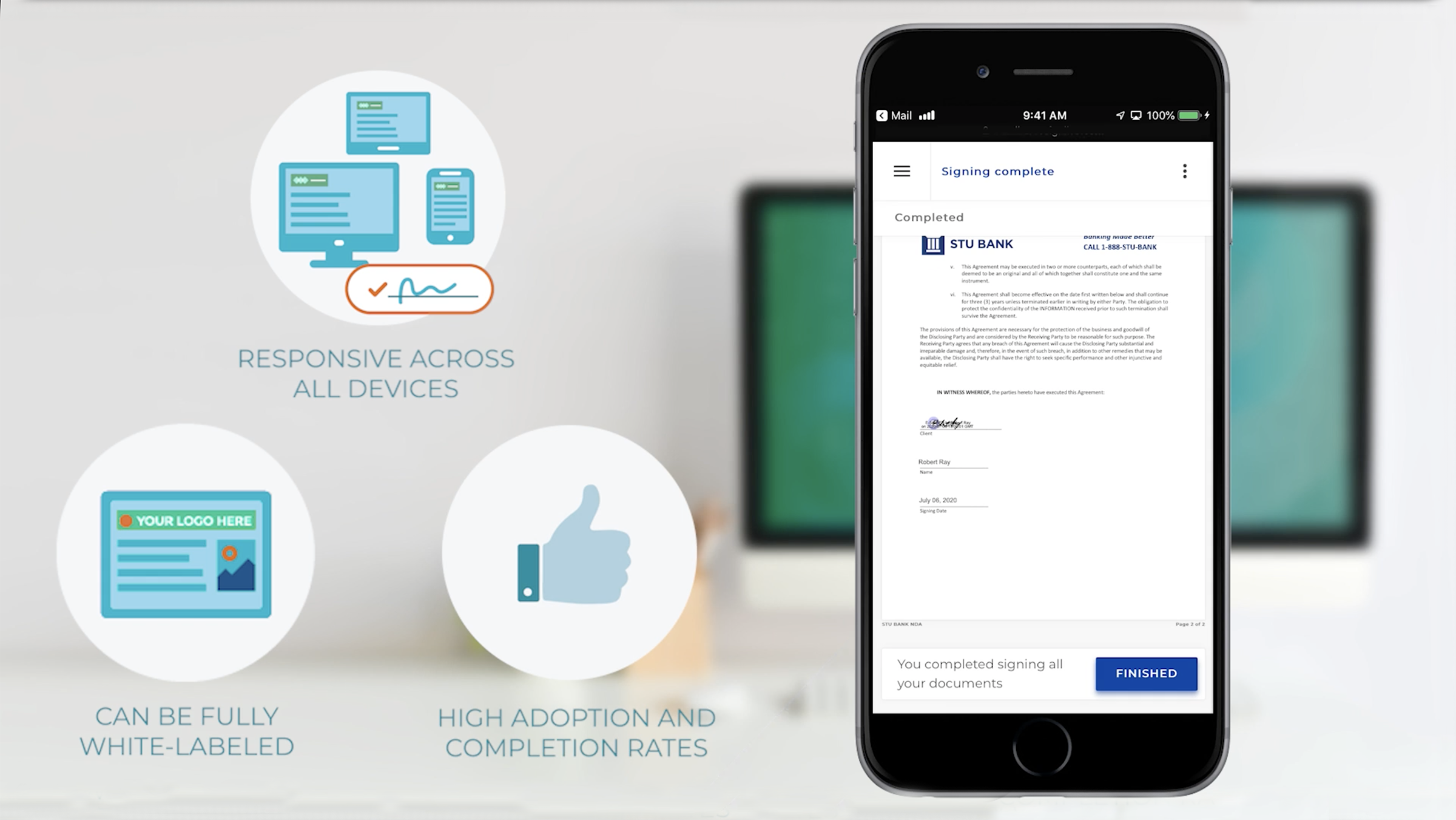 #3 Fair and flexible pricing
We offer one of the most flexible and competitive pricing models on the market:
Choose consumption tiers based on your need
Save up to 75% compared to traditional e-signature vendors
We will buy out your existing enterprise contract  (Up to 12 months – some restrictions apply. Contact us for details.)
#4 Easy to use
Whether you're a sender or signer, OneSpan Sign is easy for everyone to use. According to G2, it outranks DocuSign for ease of use, ease of set-up, and ease of admin.
On desktops, laptops, tablets, and smartphones, our solution provides a seamless user experience to help you quickly and securely send and sign documents.
#5 Built to grow with your needs
No matter what your requirements are, OneSpan Sign has you covered:
A globally available solution
The flexibility to sign in any channel — whether online, on mobile, or in-person — for convenience and higher completion rates
Flexible workflows and signature capture options, to ensure high completion rates
The scalability to effortlessly grow with your requirements
#6 Reduced fraud
OneSpan Sign's white-labeling capabilities provide an added security layer that helps protect your customers against phishing attacks by putting your brand front and center—no sudden introduction of a technology vendor's brand mid-way through a high-value online transaction.
#7 Globally available and compliant
Our solution is hosted in world-class data centers in North America, Europe, and APAC, backed by bank-grade security.
Our data centers meet the strictest regional and industry requirements, and align with key certifications globally. Our platform meets strict regional and industry requirements, and aligns with key certifications globally, including FedRAMP, Type2 SOC2, and ISO/IEC 27001/27017/27018.
#8 All signature levels
OneSpan Sign helps you achieve all levels of signature (simple, advanced and qualified) to meet your requirements. ​We have established integrations with a growing network of trust service providers (TSPs) across the globe.
Our TSP partners are on the EU Trust List, enabling cross-border recognition of your electronic signatures in all EU member states.
#9 Our focus on you
We're consistently ranked as #1 in customer satisfaction and have a 93% satisfaction rate for Quality of Support on G2. With exceptional customer retention rates, we provide white-glove treatment and make your success our priority. Above all, we ensure that you feel like a valued customer – today and tomorrow.
#10 High-impact results
Some OneSpan Sign results: