Switch to OneSpan and we will pay off your contract
Save up to 75% over DocuSign, increase completion rates, and strengthen security
Unhappy with your electronic signature solution? Move to OneSpan, the digital agreements company and e-signature provider to some of the most security-conscious organizations in the world.
When thinking about your current vendor:
Are you fed up with unfair price increases at contract renewal?
Are you confident in their security approach?
Are your completion rates falling short?
Are you getting the support you need?
Make the switch. We'll pay off the remainder of your enterprise contract, up to 12 months.
Some restrictions apply. Contact us for details.
Please fill out all fields
An * indicates a required field
What customers are saying
[OneSpan Sign] was less than half the price of DocuSign.
Customer Experience Director
Auto Insurer
Decades of Proven Experience
Electronic signatures are not a new concept. Around the world, legislation like the Electronic Signatures in Global and National Commerce Act (ESIGN Act) in the United States and eIDAS in the European Union have ensured the legal validity of electronic signatures for years. Growing out of the paperless office movement, electronic signatures have been a vital tool in digitizing manual, paper-based processes, creating new efficiencies, and ensuring remote capabilities for large and small businesses alike.
Since the beginning of the COVID-19 outbreak, those remote capabilities have become an essential part of business as consumer behavior changed. In-person trips to the bank branch, doctor's office, car dealership, or other typical interactions were limited, driving customers to embrace remote digital processes. Organizations that previously leveraged electronic signatures are expanding their deployments, and organizations that haven't are looking for the right solution to meet their needs.
In the effort to evaluate e-signature software, organizations should be encouraged to look beyond the largest vendor in the space. Here we make the case why OneSpan Sign is the superior DocuSign alternative and explore how the solution can meet a wide range of use cases in even the most regulated industries.
| | | |
| --- | --- | --- |
|   | OneSpan Sign | DocuSign |
| Unlimited transactions per user​ | | |
| A single, unified audit log ​ | | |
| Native virtual signing room ​ | | |
| Out-of-the-box digital signature and tamper-seal for each signer | | |
| API users can fully remove the vendor's brand (white-labelling) | | |
| Supports multiple workflows (e.g., templates, bulk send, document visibility, reminders, optional signatures) | | |
| Advanced data processing (e.g., standard and custom tags, advanced forms, conditional fields) | | |
| Dashboard with real-time status | | |
| Multiple authentication options | | |
| Remote and in-person signing | | |
| iOS and Android apps | | |
| Simple, Advanced, and Qualified E-Signatures | | |
| eNotary | | |
| Audit trail and electronic evidence | | |
| Authoritative copy management | | |
| Global data centers with enterprise-class availability (SOC-2, HIPAA, ISO 27001) | | |
| Open API/SDKs with sandbox access and developer community | | |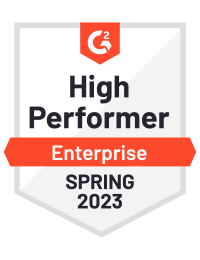 G2 User Satisfaction Ratings Report
Don't just take our word for it
Enterprise users rank OneSpan Sign higher vs. DocuSign in the capabilities that matter most to enterprise. When it comes to ease of use, quality of support, and custom branding, we lead the way.
See the full report
Experience in Regulated Industries
It's essential that your electronic signature provider have experience operating in highly regulated industries like banking, financial services, insurance, and healthcare. In these industries, security, identity, and compliance are critical, and ensuring your provider has expertise in these areas can help you remain compliant with all relevant regulations.
Innovation and Thought Leadership
Though electronic signatures are not a new concept, the technology is rapidly evolving to respond to the needs of the market. OneSpan is innovating to meet these needs with new products like OneSpan Virtual Room and OneSpan Notary. Virtual Room provides a secure virtual space where your agents and advisors can complete high-value agreements with customers. OneSpan Notary transforms the way notaries and clients get agreements completed, quickly and securely.
 
What customers are saying
Flexibility
One of the key benefits of OneSpan Sign is its flexibility to meet an organization's growing needs. Typically when an organization deploys electronic signature, they do so for a specific process or use case, and then over time, they expand the solution to digitize other processes or support other lines of business, channels and geographies. Ensuring the electronic signature solution can accommodate such expansion is an important part of evaluating solutions.
To that end, OneSpan Sign offers flexibility in the following ways:
a. Multiple deployment options, including public and private clouds
b. Ability to integrate OneSpan Sign into your online and mobile applications using our open API
c. Multiple identification and authentication methods to validate the signer's identity:
i. Email
ii. SMS
iii. Q&A
iv. Government ID verification with global coverage
v. Biometric comparison
vi. Knowledge-based Authentication (KBA)

For a full list of authentication and identification options, visit our webpage.
White-labeling
With rising use of remote and digital processes, ensuring your customers are comfortable and trust the security of the process is essential. Many electronic signature vendors only offer limited custom branding options, such as adding a logo or aligning the color scheme to your brand design. White-labeling in OneSpan Sign goes further. It allows you to completely white-label the experience with your branding. From beginning to end, your customers will interact with your brand and only your brand, thereby building on the trusted relationship you already have with your customers. What's more, trust directly contributes to adoption, especially in regulated industries. As the complexity and importance of an e-signature contract increases, the willingness for customers to use and adopt the e-signature platform depends on that customer's trust in the organization.
White labeling also has the added benefit of protecting your brand and your customers. It can deter phishing scammers from exploiting your customers with targeted social engineering campaigns.
Document Security
Like DocuSign, HelloSign, and many other electronic signature vendors, OneSpan Sign uses digital signature technology to encrypt and tamper-seal business documents and signatures. These seals prevent unauthorized alterations to the document terms or signatures. However, the way in which the tamper-seal is used impacts the overall document security. DocuSign tamper-seals the document only at the end of the signature process after all signers have signed. This creates an opportunity for tampering to occur as the document is passed to each signer. To ensure the maximum security and integrity of your documents, OneSpan Sign tamper-seals after each signature is added to the document and offers a mechanism to easily verify the integrity of the document.
Professional Business Plans
For professionals and businesses who want to get started in minutes. Upload, send for eSignature, and we'll take care of the rest.
Professional Plan
22USD
Per User / Month (billed annually)
Volume discounts available.
Let's talk.
Send documents for eSignature
In-person and remote signing
Email and Q&A Authentication
Advanced authentication ($)
iOS and Android mobile apps
Integrations with Salesforce, SharePoint, Workday, and more
Simple, Advanced, and Qualified E-Signatures (QES)
Enterprise Platform Plans
For enterprises that want the flexibility to subscribe to a Transaction Cloud Platform model that offers either user-based or transaction-band pricing. Or for developers to start building for free and go live in days.​
Our unlimited developer sandbox lets you test our API and SDKs for free. Sandbox accounts do not expire and have enterprise-level features enabled.
To go live with your solution, contact us.
Enterprise Plan
NEW
Based on your choice of user OR transaction volume
Everything in Professional Plan, plus:
Flexibility to choose user or transaction-based pricing​
Unlimited transactions per user​
REST API & fully supported SDKs
Enterprise account administration
Full white-labeling and branding
Real-time reporting and analysis
Integrations with eVault systems 
Flexible deployment options (SaaS, private cloud, on-premises)
User & developer community access
Get the customer service you need for e‑signature success​
At OneSpan, we're devoted to serving and supporting our clients. It's part of what makes us stand out. That's why OneSpan has earned a Net Promoter Score of 83, compared to DocuSign's score of 71.1​
​OneSpan also earned a 94% satisfaction rate for Quality of Support on G2 Crowd.1 That satisfaction rate is not just about our global language and technical support. It's not  about our professional service expertise either, or our active developer community. That satisfaction rate simply comes down to our dedication to providing help, whenever and however our clients need it.
Feature Set
OneSpan Sign offers a rich feature-set that supports our customer's document signing needs. You can view all our features on our OneSpan Sign Product Features webpage, but some notable functionality to help build your workflows, facilitate ease of use, and ensure proper document management includes:
a. Serial and parallel signing
b. Reusable templates
c. Drag and drop document builder
d. Automation
e. Document visibility and contract management
f. Recipient permissions, reminders, and expirations
g. Conditional fields
h. Access delegation
i. Enterprise administration
j. Bulk send
k. Reports
l. Integrations with Salesforce, Microsoft SharePoint, Dynamics 365, Office 365, Pega, Laserfiche, Guidewire, Box, and more
Global Solution
In the July 2022 Gartner® Market Guide to Electronic Signature, OneSpan is listed as a Representative Vendor2, which we believe demonstrates our place among the global leaders in electronic signature.
OneSpan Sign scales across geographies, use cases, and channels and integrates with the apps your organization uses everyday. OneSpan Sign ensures secure digital transactions by supporting Advanced Electronic Signatures (AES) as well as Qualified Electronic Signatures (QES) while also providing comprehensive support for working with Trust Service Providers (TSPs) that issue digital certificates.
Explore your electronic signature solution options
Whether your organization is just beginning to explore electronic signature or have leveraged e-signature solutions like Adobe Sign, PandaDoc, DocHub, RightSignature, SignNow, EverSign, SignEasy, or SignRequest, it is important to do your due diligence. It's a wide market, and OneSpan Sign stands as a leader among signature platforms, e-signature software solutions, and DocuSign alternatives.
Explore how OneSpan Sign can help your business automate the delivery and execution of contracts, and other types of agreements in the Beginner's Guide to Electronic Signature ebook.
Get in touch with one of our e-signature experts to learn more about how our solutions can help with your electronic signature needs

1 G2 Crowd Grid Report for E-Signature - Spring 2022
2 Gartner, Market Guide to Electronic Signature,  July 6, 2022 , James Hoover, Tricia Phillips​
https://www.onespan.com/resources/gartner-market-guide-electronic-signature​
Gartner does not endorse any vendor, product or service depicted in its research publications and does not advise technology users to select only those vendors with the highest ratings or other designation. Gartner research publications consist of the opinions of Gartner's research organization and should not be construed as statements of fact. Gartner disclaims all warranties, expressed, or implied, with respect to this research, including any warranties of merchantability or fitness for a particular purpose.
GARTNER is a registered trademark and service mark, and PEER INSIGHTS is a trademark, of Gartner, Inc. and/or its affiliates in the U.S. and internationally and are used herein with permission. All rights reserved. Gartner Peer Insights content consists of the opinions of individual end users based on their own experiences with the vendors listed on the platform, should not be construed as statements of fact, nor do they represent the views of Gartner or its affiliates. Gartner does not endorse any vendor, product or service depicted in this content nor makes any warranties, expressed or implied, with respect to this content, about its accuracy or completeness, including any warranties of merchantability or fitness for a particular purpose.
The information contained in this page is for information purposes only. OneSpan does not accept liability for the contents of these materials or for third parties materials mentioned in this page.