10 Things to Consider When Choosing an E-Signature Vendor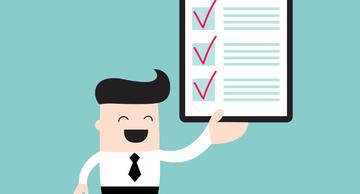 You have a mountain of paper with a million sticky notes waiting for you and the quest begins to chase people to sign important contracts and non-disclosure agreements. Like most in your organization, you're tired of manual, paper-driven processes. You've heard that e-signatures are an efficient and cost-effective way to manage the "paper problem" and the signature process, so you decide to champion the idea of implementing an e-signature solution in your organization to replace the archaic process of faxing, scanning and mailing documents for signature. You have approval to implement an e-signature solution for your organization, so what should you be looking for in an e-signature vendor in order to drive adoption among your internal stakeholders and customers?
While e-signatures have gained popularity with many vendors popping up in the space, these solutions are not all created equal. When evaluating your options, it is important to consider how the technology will add value in automating your organization's signature process needs. We went ahead and did some of the leg-work for you. Here are 10 things to consider when selecting an e-signature vendor:
Are e-signed documents legally protected?
In highly regulated industries and for high-value transactions, you want the most legal protection to avoid customer disputes. Although e-signatures are ESIGN and UETA compliant and give electronic signatures the same legal weight as traditional wet signatures, e-signed documents need additional evidence in order to be repudiated in court. Look for an e-signature solution that has process evidence to capture the steps a customer took to e-sign a document. Also consider an e-signature solution with embedded audit trails that keep a detailed log of time stamps of the customer's steps when e-signing a document.
Are e-signatures secure?
Documents and e-signatures should be protected using digital signature technology which creates a digital fingerprint of the document and can be used in the future to verify the integrity of the electronic record. When looking for your e-signature vendor, make sure your vendor offers a solution to protect your documents so they cannot be tampered with easily, and if they are tampered with in the slightest, the e-signature will be visibly invalidated.
Are e-signed documents safe in the cloud?
E-signatures are commonly deployed as SaaS solutions. When it comes to e-signatures and the cloud, choose an e-signature vendor that has a robust cloud infrastructure and the ability to protect the confidentiality, integrity and availability of your data. Coupled with a robust cloud infrastructure, look for an e-signature vendor that has achieved security certifications like SOC 2, which illustrates that the vendor meets the highest standard for cloud security and data protection. This will give you peace of mind that your e-signature solution is secure and protected against unauthorized access.
Is it easy to use?
The key driver for user adoption is to have an e-signature solution that is easy to use. Obstacles such as installing software/apps/plug-ins, forcing users to login with credentials and confusion about how to e-sign documents may turn your users off and will most likely abandon the e-signature process. Choose an e-signature solution that will simplify the e-signature process for both your internal stakeholders and your customers.
Does the e-signature solution support different signature capture methods?
There are various ways to sign a document. Initialing a document, simply clicking to sign the document, or allowing your customers to create a handwritten signature on their own mobile device, gives you flexibility on how you want your signers to e-sign your documents. Look for an e-signature solution that supports different signature caption methods that fit your e-signing needs.
Is the e-signature solution customizable?
Consistent branding at all touch points is a key driver of building trust to your brand among your customers. It is important to deliver a consistent branding experience throughout all customer-facing channels so your customers do not feel confused about your brand. When considering an e-signature vendor, make sure the e-signature solution allows you to customize your organization's branding in the solution to provide a seamless experience, encouraging brand trust and high adoption rates among your customers.
Is the e-signature solution mobile-friendly?
With customers on the go and heavily relying on their smartphones and tablets for everyday transactions, consider an e-signature solution that allows your customers to e-sign documents from their mobile devices. Look for an e-signature vendor that optimizes the signing process on all mobile devices and platforms, giving your customers a user-friendly, tailored experience when e-signing documents.
How flexible is the e-signature solution?
You want an e-signature solution that ties in with the current processes and workflows of your organization. Look for an e-signature solution that can integrate with the CRM systems and collaboration tools your organization uses. Some e-signature solutions also have Sandbox environments and SDKs to help you integrate e-signatures with your organization's document generation, content management and other systems for true straight-through processing.
Does the e-signature vendor understand my business?
All e-signature solutions are successful at helping organizations eliminate the paper-process of obtaining wet signatures, but some vendors may fall short when it comes to specific-industry knowledge of their prospective clients. In highly regulated industries such as the financial and insurance industries, it is important to partner with an e-signature vendor that has expert knowledge of the laws and regulations of your industry, understand your use cases, and how e-signatures will meet your industry needs.
10. Does the e-signature vendor have a favorable reputation in the industry?
Doing research before committing to an e-signature solution is highly recommended. Find out what your peers are saying about e-signature solutions already implemented in their organization. Choose to work with an e-signature company that has a long standing and favorable reputation among its existing clients. Peer-to-peer review sites like G2 Crowd can help you evaluate e-signature vendors and how they can bring the value of e-signatures to other organizations.
To learn more about e-signatures, click here to download our comprehensive beginner's guide to electronic signatures.