4 Ways Robo-Advisors Benefit from E-Signatures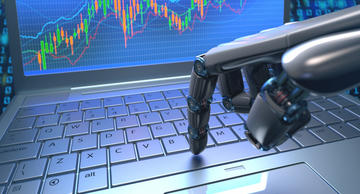 So-called "robo-advisors" are beginning to shake up the online investment world. While the term may evoke images of C3PO managing your investments, a robo-advisor isn't really a robot. It is an online wealth management and planning service that uses specialized software that does the job of advisors, deciding what type of investments (typically ETFs or low-cost mutual funds) make up a portfolio and then tinkering with those investments over time based on the client's risk profile and goals. Most firms that offer robo-advisor services employ actual humans that clients can engage with by email, phone, chat and even face-to-face.
Robo-advisors in wealth management have been quick to attract investors – especially millennials who want and expect "anywhere, anytime" services. Non-banks and fintech firms such as Wealthfront and Wealthbar have designed their services for today's digital and mobile consumer. But big banks and other major financial institutions are taking notice and want a piece of the growing millennial market. BMO and its SmartFolio product, for example, was the first of its kind in Canada to offer robo-advisor type services to its clients. The automated approach to investing and rebalancing, as well as the ease of paperless account administration is appealing to investors of all stripes.
Advisor-client relationships are changing
Today, many onboarding and upselling processes still rely on paper. But fintech start-ups and other service providers are challenging the status quo and designing experiences with digital and mobile in mind. The shift from frequent in-person meetings to a more collaborative, multi-channel customer experience is facilitated by technology and inherently changes the relationship between the advisor and client. This makes digital asset management even more appealing – particularly for consumers born in the digital era. But less face-to-face contact means advisors have to work extra hard to deliver personalized experiences to clients to maintain trust and loyalty.
How robo-advisory services can benefit from e-signatures
Today, clients simply expect a paperless process – right down to providing an electronic signature in the account opening or sign-up process. They want to be able to access their account anytime and from anywhere they want – whether that's online or using their smartphone or tablet using an app. Whether you're a fintech start-up or a traditional bank entering the robo-advisor market, e-signatures can help:
Reduce costs with digital onboarding. Say goodbye to paper and lengthy account opening processes. E-signatures allow you to bundle all the necessary onboarding documents, deliver those documents to the client for signature and ensure that information is entered correctly – the first time. Many of the digital onboarding and client acquisition platforms that you know and may already be using (e.g., Appway, Avoka, etc.) offer pre-built integrations with e-signature solutions like eSignLive.
Improve compliance. After the onboarding process is complete, e-signed documents and detailed audit trails are securely stored in your system of record of choice (e.g., SharePoint, Box, Documentum, etc.) and made available to your records management and legal/compliance personnel for downstream processing.
Improve advisor efficiency. Stiff competition means finding new ways of enhancing advisor productivity. Implementing an e-sign process through a centralized service or system that automates the onboarding process results in cutting back on administrative work and manual processes such as printing, mailing, faxing, scanning and archiving client documentation.
Increase customer satisfaction and loyalty. Customer experience is king. According to a report by the CEB TowerGroup, customers who report having a high-effort experience are 87% more likely to switch firms than those customers who report having a low-effort experience. Using digital tools like electronic signatures can help provide a personalized and frictionless onboarding experience – both for new clients, as well as existing clients applying for new products and services.
Robo-advisors and other emerging online wealth management services have had a profound impact on the market. They provide an opportunity for investors who want to take advantage of low-fee investment products using an automated approach to managing long-term wealth. Millennials in particular however expect their service providers to offer more relevant and convenient ways to engage with them to earn their loyalty and trust.
eSignLive offers a range of pre-integrated solutions, as well as developer toolkits, for adding e-signatures to your onboarding and client engagement processes. Download the "Reducing Obstacles and Building Loyalty via Electronic Signatures" brief from the CEB TowerGroup to learn how to improve the onboarding experience and eliminate account opening obstacles.