5 Reasons to Add E-Signatures to SharePoint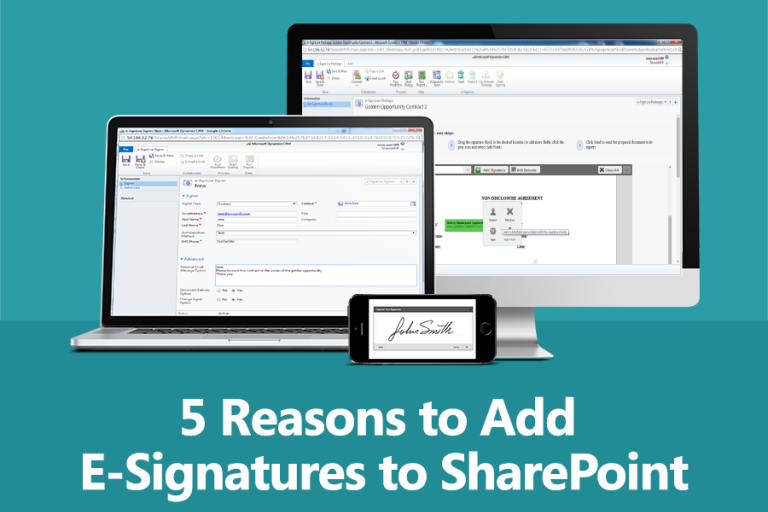 When COLLAB365, an online community for Microsoft enthusiasts, ran their latest survey to see how members use SharePoint, they asked a question that many organizations struggle with:
"How do you get people to sign off on project documentation in SharePoint?"
Nearly half (44%) of respondents indicated they use a digital workflow to collect signatures, but one-third are still printing to paper. This is a common scenario across all sectors, despite deep investments in enterprise digitization.
Digital is at the core of any process, transaction and decision. Many of the business processes and documents distributed through SharePoint require signatures. Contracts, HR documents, modifications to policies and procedures, financial documents, project plans, technical specifications – these all have to be approved, authorized or accepted. In certain cases, this requires a legally binding signature. Especially when contracting with external parties in the digital world, which amplifies the need for authentication, security, and an enforceable means to capture intent.
An e-signature connector or add-on brings robust document signing and enhanced workflow capabilities to SharePoint workflows. With a pre-integrated e-signature connector, documents that are stored in SharePoint libraries can be routed for e-signing inside of SharePoint. Once a document has been e-signed, it is automatically stored back into SharePoint along with a detailed audit trail – making it possible to go from a manual, paper-based workflow to fully digital. 
Let's take a deeper look at the top reasons organizations adopt a purpose-built, e-signature solution for SharePoint:
Compliance
Data Sovereignty
Security
Strong Authentication
Signer Experience
Compliance
When regulated organizations undergo a compliance audit, they are often asked to prove the exact business process they followed. This applies to external-facing contracts as well as internal controls. As part of this, auditors also look for a record of every time key documents were touched, when and by whom. Whether you are a pharmaceutical distributor shipping controlled substances, a government agency undergoing a financial audit, or an auto manufacturer tracking compliance with safety regulations, there is increasing pressure to fully document decisions. If your company has not systematically tracked and recorded all signing actions and maintained reliable records, you risk not being able to demonstrate compliance.
Robust e-signature solutions like OneSpan Sign for SharePoint and OneSpan Sign for Nintex SharePoint solve this by automatically capturing a comprehensive audit trail of everything each signer saw and did during the signing process. This includes moving to the next document or web page; clicking on a button; applying a signature; and downloading completed copies of documents. The date and time is recorded for each action, as is the signer's IP address. Because the audit trail is embedded directly in the e-signed PDF, it creates a self-contained portable record, ensuring that the signed documents travel securely through SharePoint. Moreover, you should be able to verify signed documents offline – independent of the e-signature solution – to validate the integrity of the document and signatures at any point.  
Data Sovereignty
As organizations support borderless digital business scenarios and move to the cloud, there is a growing need to ensure that data is protected and complies with local data privacy laws. Concerns about data residency are prompting companies to look for an e-signature add-on that is hosted in global data centers. For example, in Europe OneSpan Sign runs on data centers in the UK and Germany.
Security
Digital signature security is another area where e-signatures enhance SharePoint. Whenever a document is e-signed, both the data contained in the document and the electronic signatures are protected with this encryption technology. The digital signature creates a hash or digital fingerprint of the document and that is used to verify document integrity. If the document is tampered with, the electronic signature will be invalidated.
Best-in-class e-signature solutions use digital signature technology to encrypt the document's contents each time someone signs. This creates a tamper-evident record for each signer, which ensures the audit trail is accurate and that there is no confusion as to who signed, in what order, and when. Many signing processes involve multiple signers and if a change is made to the document between signers, it will be detected. This helps protect your employees, partners, and customers from fraudulent behavior.
Strong Authentication
Authenticating users and transactions are top priorities for companies conducting business online and via the mobile channel. When capturing signatures electronically, organizations need to take steps to verify the signer's identity, and they need to tie that authentication to the e-signed record. Having a wide range of authentication methods and the ability to configure them according to your use cases makes it easier to provide signers inside and outside your organization with a fast, seamless and secure experience.
Common authentication methods include:
Single Sign-on (SSO)
Digital certificates to create Advanced and Qualified E-Signatures (OneSpan Sign meets eIDAS requirements)
PIN sent by SMS text to the signer's phone
Q&A authentication (also known as "secret challenge questions")
ID verification and authentication services such iDIN and OneSpan's Digipass®
Signer Experience
Customer, partner, and employee experience is at the heart of digital transformation. Organizations want to make it easy for all of these parties to collaborate and do business. Unfortunately, this is often easier said than done – simply offering a digital process is not enough to guarantee a great e-sign experience. To do that, an e-signature solution should provide the flexibility to support any requirement you have, no matter how simple or complex.
Common examples include:
A responsive mobile signing experience on any device
Signer workflows (e.g., signing order, in-person vs. remote, delegation)
Flexibility in the type of signing method (hand-scripted, click-to-sign, click-to-initial)
Multiple languages
White labeling (Your brand – not the vendor's – should appear in the notification emails and UI. This creates a trusted experience between you and your signers.)
Getting started
Adopting e-signatures in Microsoft SharePoint or Nintex SharePoint is quick and easy and does not require programming resources. Sign up for a trial of OneSpan Sign for SharePoint, and you can start sending documents out for signature today.
[1] https://collab365.community/collab365-survey-44-respondents-will-not-implement-sharepoint-hybrid/