5 Ways That DEF CON Totally Pwned Black Hat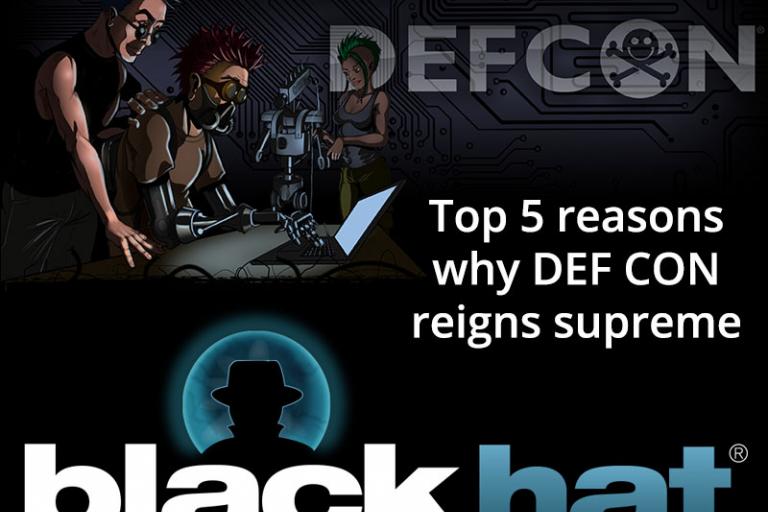 The world's most influential IT security gatherings just concluded and it was bigger and badder than ever. It is magnificently convenient that the two most important conferences, Black Hat and DEF CON, happen the same week in the same city.
For two confabs serving the same industry, you won't find two more distinctly dissimilar events anywhere else. While the overlap in audience is huge (it seemed like every attendee at Black Hat was in the DEF CON 24 badge pick up line) the differences are many and each conference has its supporters and detractors. Both are incredible events, but I like playing favorites, so here goes with my top 5 reasons why DEF CON reigns supreme.
First, the autonomous hacking competition hosted by DARPA was epic, ground breaking, and 20 or so other superlatives that should be added. The contest brought machines into the Capture the Flag arena that was previously the domain of human hackers. This was machine against machine with $3 million up for grabs. We witnessed the future of IT defense and the future of hacking attacks. This was an historic moment in IT security, perhaps the most significant one yet.
Second, DEF CON is a coop-type event by and for the soldiers of IT security. DEF CON takes no sponsorship money, keeps a completely independent agenda, and costs attendees just a tenth of Black Hat (thank you to the 300 DEF CON volunteers, called Goons, that make this possible). The event organizers are in it for love and not money. Their mission, "…joy of discovery, irreverence, and novel, if impractical approaches."
Third, DEF CON has something for everyone and absolutely too much for any one. I finally threw the program book away and just went into exploration mode. If you engage with even a fifth of what DEF CON has to offer, it means you probably didn't sleep. From workshops, presentations, Villages, talks, and endless special events, it is a month of experiences crammed into about three days.
Fourth, it is the hacker Olympics. They come from all over the world to demonstrate their skills in front of their peers. They hack hardware and software in networks, servers, cars, airplanes, ATMS (the new ones that use EMV cards), Samsung Pay, prison doors, medical equipment, electronic locks, safes, and even mundane items such as airport lounges. The ingenuity is inspirational and it helps us all to build better defenses.
Finally, it is the most fun you can have while still working a 12-hour day. The people truly are the conference. And even with something like 20,000 attendees, there is a still a profound feeling of community. People dress how they want, talk without filters, and drop the pretense that pollutes the other 361 days of the year. It is beautiful in its simplicity.
Please tell me your favorite, and I hope I see you in Vegas next July.