Banks are Stepping Forward as Tech Innovators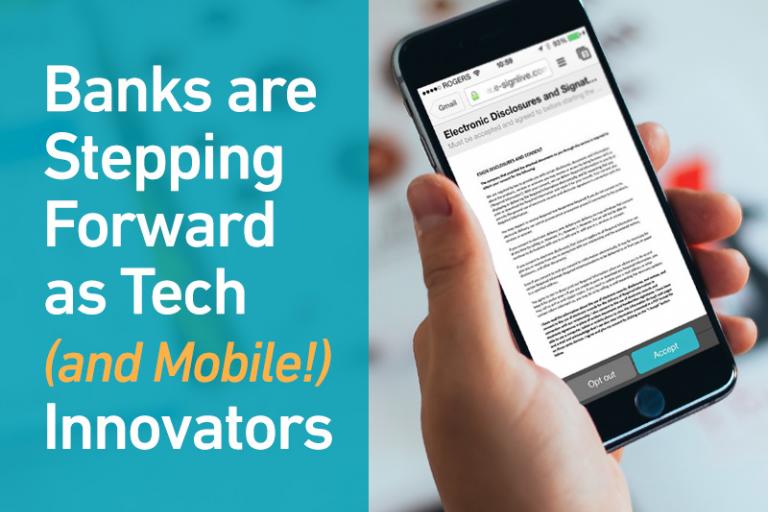 Five years ago, innovation in banking meant modernizing the back office to support paperless processing. That has since spilled over into the front office. Technology adopted as part of customer experience initiatives now enables increasingly digital workflows in the branch. An example is U.S. Bank's use of in-branch e-signing for deposit account openings.
Technologies like e-signatures have raised awareness about the need to enable a greater number of remote digital and mobile transaction options. If customers can execute a transaction digitally in the branch, why wouldn't they also have the option to do it remotely on a tablet or smartphone?
Electronic signature technology is redefining customer experience and empowering customers far beyond the branch. Sure, the east coast customer on business travel to Cape Town can continue to check balances and pay bills through a mobile browser. But because customers' financial lives are about so much more than this, the same customer should be able to execute transactions like opening a new joint investment account or signing a mortgage renewal, from any location, in a secure and convenient manner. Maybe the customer will have to leave town unexpectedly when they had planned to visit the bank to sign paperwork. Life is like that. Instead of postponing the meeting, the bank that steps up with a convenient remote or mobile alternative wins the customer's loyalty.
We are seeing a trend among progressive banks. They are successfully engaging customers by offering multichannel signing experiences – even in transactions traditionally limited to brick-and-mortar branches because of a regulatory requirement for hand-scripted signatures. As an example, banks that offer remote onboarding and account openings by accepting cursive e-signatures through personal mobile devices position themselves as tech innovators who are easy to do business with.
This also makes it easier for banks to attract customers who want to switch financial institutions. Many onboarding processes will require a handwritten signature at some point, either to satisfy compliance requirements or to create a signature card. That is not to say new customers won't want to come to the branch. But for the one in five customers who prefer opening an account online to visiting the branch, it's all about having the choice. There will be situations where having the ability to hand-sign directly on a smartphone's touchscreen is more convenient. (Maybe I don't have time to make a trip to the branch. Or, maybe traffic is bad at the time the banker is available. Or, maybe I'm having trouble syncing schedules with my spouse so we can both meet at the branch at the same time.)
Banking shouldn't be complicated. Innovative technology like e-SignLive's Mobile Signature Capture replaces complexity with simplicity, so customers can accomplish what they need to, independent of location. To learn more, read a new white paper that explains how banks and financial institutions are using Mobile Signature Capture to enable remote onboarding, account opening and related processes.