Boosting Business Productivity with E-Signatures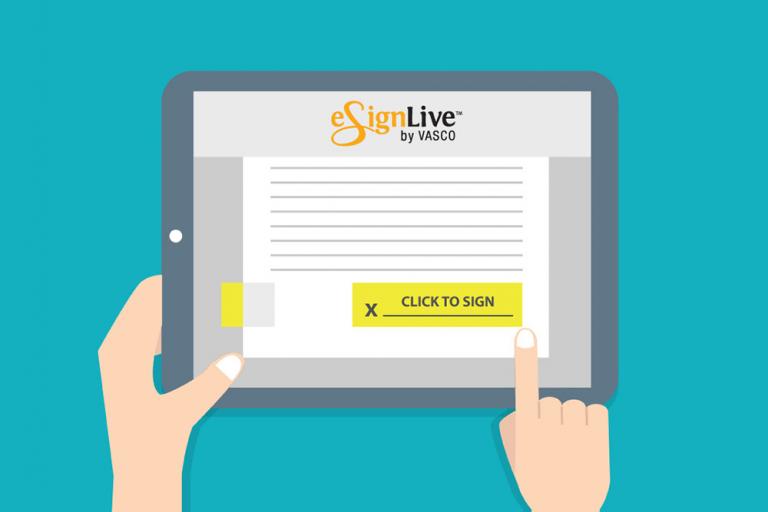 Originally published on the G2 Crowd Blog   Whether you're a small business or a big Fortune 500 company, chances are you've experienced the paper problem. Let's face it, paper slows down a business and its employees. Paper-based processes can lead to errors, are expensive, and distract employees from focusing on value added activities in an organization. Today's organizations need to be agile in order to have a leg up on their competition and are embracing digital-enabling technologies like e-signatures to be productive and help move their business forward.
AIIM, The Association for Information and Image Management, recently conducted a survey on the progress of the paperless office. The survey revealed that 57% of respondents said they are committed to digital transformation, and going paper-free is an essential starting point. 79% agree that all businesses should have an e-signature mechanism.  
An increasing number of organizations are warming up to the idea of e-signatures because they recognize the following benefits:
Cost savings
Staff efficiency and productivity
Stronger compliance
Shortened approval times
Improved customer experience
  What's more, e-signature technology has evolved to meet the needs of organizations by supporting a wide array of capabilities such as user authentication, audit trail management to capture the signer's activity during the e-signature process, and the ability to integrate with an organization's existing business applications, just to name a few.  
E-SIGNATURE USE CASES
Over the years, we have seen many organizations reap the benefits of using e-signatures. We'd like to share a couple of use cases on how some organizations have improved their productivity with eSignLive e-signatures:  
Increased efficiency and productivity:

U.S. Bank, a top ten commercial bank in the United States, has more than 17.5 million customers and 60,000 employees. Across the organization's more than 3,000 branches, millions of transactions take place each month. With eSignLive, U.S. Bank eliminated its error-prone manual paper process and increased employee efficiency. Employees no longer spend the majority of their day processing paperwork. Instead, they leverage more time on sales and delivering a better customer experience, impacting U.S. Bank's top line.
Reducing costs:

The State of Vermont's Department of Information and Innovation (DII) manages the delivery of IT products and services to all of the state's government departments. The DII signs approximately 240 vendor contracts monthly. Each contract is circulated for review, negotiation, revisions, completion and signature among internal and external stakeholders. Since adopting e-signatures, the DII has digitized their contracting process and eliminated a $30 round-trip courier fee per contract, resulting in significant cost savings.
Shorten approval times:

Premier, a healthcare performance improvement alliance of approximately 3,400 U.S. hospitals and 110,000 other providers, incorporated e-signatures to easily transact with their vendors and internal stakeholders. Premier witnessed accelerated sign-off times on contracts and amendments, from 10 days to 1 day. Premier also gained a competitive advantage by offering flexibility to executives to e-sign contracts from anywhere, at any time, on their mobile devices.
Deliver a better member experience:

Cal Poly Federal Credit Union serves employees, alumni, students and other members of the California State Polytechnic College. The credit union is using eSignLive to automate member-facing and internal processes including loans, board approvals and human resource documents for new hires. The CEO was thrilled by how easy and cost effective it was to get started with e-signatures. "With eSignLive, distance and busy schedules no longer impede securing a loan. Our members love the convenience and think we're rock stars," says Barbara Bean, President and CEO of Cal Poly Federal Credit Union.
Looking toward the future, e-signatures are on an upward trend and show no sign of slowing down. Organizations in Banking, Insurance and Government have been using e-signature solutions for years to help simplify the process of obtaining signatures from their stakeholders and have realized the productivity benefits. So what are you waiting for? Take the leap and digitize your workflows with e-signatures today! Sign up for a 30-day free trial of eSignLive.   Visit the G2 Crowd Grid for E-Signature to find the right e-signature solution for your business.