Building the Foundation for a Successful E-signature Transformation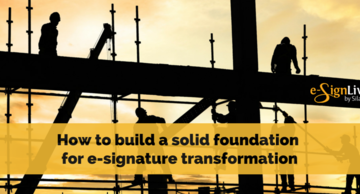 Foreword by Mary Ellen Power, Vice-President of Marketing for e-SignLive by Silanis. 
We are very pleased to present our newest contributor on our blog, John Fraser. With over 20 years of experience in technology, and seven focusing on e-signature implementations for banks, credit unions and healthcare organizations, he has helped organizations large and small to successfully transform their paper processes to digital. We hope that his unique insights from real world experiences will help you find answers to your most pressing questions.
Building the Foundation for a Successful E-signature Transformation Electronic signatures are transforming banking.  With the right solution in place, e-signatures enforce compliance and regulatory rules by providing real-time visibility into transactions and gathering reliable evidence of what transpired during the signing process.  When workflow rules are in place, processes get executed correctly and documents are immediately centralized.
E-signatures can also transform the customer experience. Business can be done securely and conveniently, anywhere, anytime – in the branch, online or remotely.   Banks can offer customers the ability to go through banking documents with one-click e-signatures that normally would have taken numerous hard-copy signatures.  Minimal effort pays dividends on the overall customer experience.
But to get the maximum benefits from an e-signature solution, it is not necessary, and not always wise, to go "whole hog" on the transformation.  While at U.S. Bank, we created a signature process that was deployed to 3,200 branches and 12,000 tablet devices to support electronic signing.  But it happened overtime, not overnight.
E-signatures can be revolutionary. But to be successful, proof of concept and pilot implementations are very useful.  These steps provide a guide for determining how much customization is required to meet the institution's goals and which use cases should be excluded from the e-signature workflow process. The time spent up front also allows the bank to identify the advocates who will champion the technology. These early adopters will incite adoption across departments and cross-functional teams.
This series of blog posts provide insights into an e-signature implementation for banks of any shape or size. For that matter, they would prove useful in virtually any business setting, including healthcare, financial services, and manufacturing.
About the author:
John Fraser has more than 20 years of experience in technology and 8 years dedicated to e-signature. He has been featured at more than 20 conferences over the years and has been interviewed by American Banker, G4TV, Bank Innovation, the Minnesota Business Journal and more! As a technology leader, he has designed, implemented, and managed various e-signature solutions from industry leaders and uses entrepreneurial leadership to now advocate for business and technology users alike.