Canadian Connection: E‑Signatures for Consumers and Corporations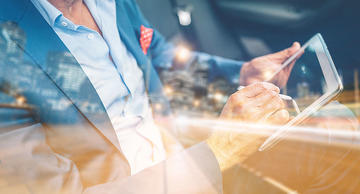 We regularly host webcasts on topics such as digital transformation, modern authentication, and e-signature best practices. If you missed our recent webcast, "E-Signatures in Canada: A 45-Minute Workshop," hosted by ITWC, here is the 4-minute summary. The full presentation is available on-demand.
2020 posed many challenges for Canadian businesses and consumers. From closing a deal to establishing a line of credit, many struggled with the prospect of having to conduct business remotely, via entirely digital channels. Customers now expect the ability to transact anywhere, at anytime, at their convenience, and e-signatures have emerged as more than just a tool to facilitate signing digitally. E-signatures can not only help organizations transform workflows but also create a digital framework to build operational efficiencies into typically paper-based processes. These new, overhauled digital processes will better contend with the necessities of conducting business in a post-pandemic world.
In a poll of Canadian organizations taken during the webinar, attendees were asked: What impact has the pandemic had on your business and/or role? Unsurprisingly, 52% remarked on an increased demand in online/mobile channels with an additional 26% answering that the reduction or elimination of in-person channels had the greatest effect on business. While the challenges faced by each industry were unique, all were similarly united in trying to figure out how to survive the crisis and continue to meet the demands of customers, despite the changing nature of service delivery via remote channels. Digitization was the answer.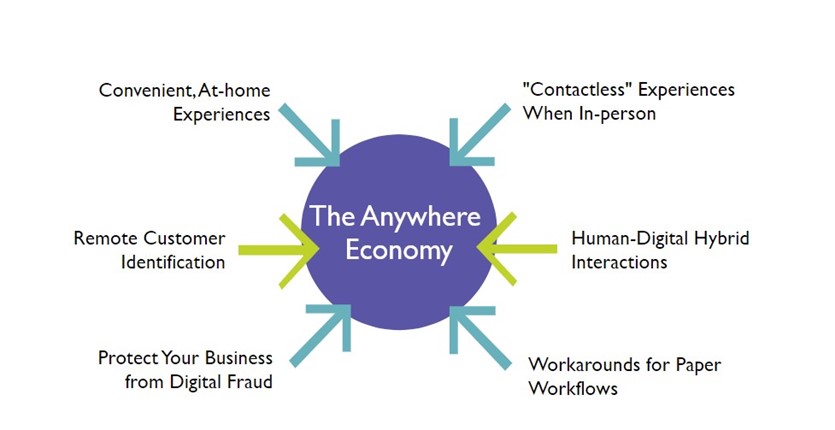 The Anywhere Economy
The concept of the Anywhere Economy isn't a new one. In 2019, offering convenient at-home experiences was more of a market differentiator. Now, it is a must-have. With the elimination of in-person meetings, manual approval processes, and wet-signed documents, accelerating the completion of remote transactions and interactions in a user-friendly fashion has become a necessity for Canadian consumers. Traditional working methods have been changed completely. With remote methods of verifying customer identities, human-digital hybrid interactions, and "contactless" experiences when in-person is inevitable, businesses need to be flexible and proactive in anticipating customer needs and habits when adapting to the digital channel.
Organizations should also focus on the benefits digitization brings to their customers as well as their employees and partners. Digital workflows that leverage e-signatures and automation technology reduce both the time and costs of manually processing documents, eliminate processing errors and the need for work-backs, and help pave an accelerated path to going paperless.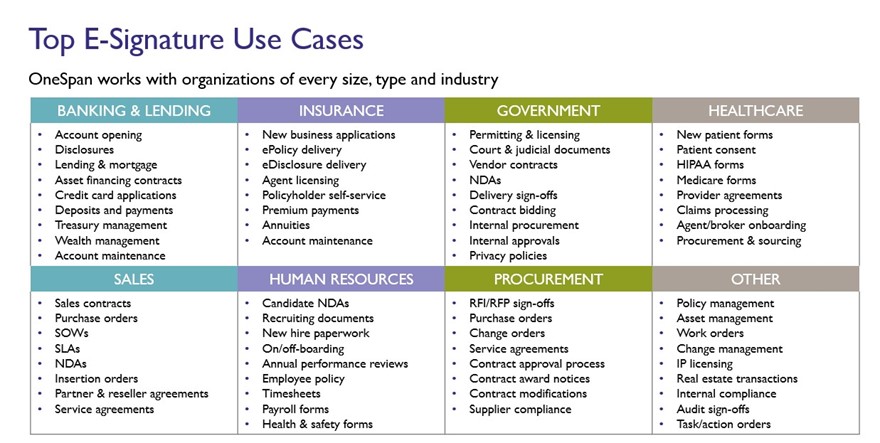 Going Digital – How to Get Started with E-Signatures
You may have a particular use case picked out to launch your initial e-signature project. Keep in mind that the benefits increase exponentially when you anticipate the big picture. Look towards a future expansion of e-signatures throughout your organization. Once the foundation for e-signatures has been integrated and value is established in one line of business, it can be extended to other departments, moving from B2E, B2B, and B2C use cases with increasing transaction volumes.
To help determine the right place to start with e-signatures within your organization, the following are some trends in the top e-signature use cases that Canadian industries are prioritizing this year.
HR Code of Conduct Forms (B2E)
HR processes are a great way to get started with e-signatures, migrating from cumbersome, paper-based processes for new employee onboarding, policy forms, and code of conduct updates. Lengthy and repetitive document preparation time, in addition to the need for follow-ups and reworks, are major pain points experienced by human resource departments regardless of industry. Building a strong rapport with employees is crucial to retention, so expediting these processes is important for the long-term health of your workforce.
With an employee base now mostly working from home, printing, scanning, mailing, and filing paperwork has become a logistical nightmare. Integrating e-signatures and automating processes can streamline workflows, allowing your HR department to operate more efficiently. Templates can cut preparation time for frequently used documents, and the bulk send-out feature allows the same document to be sent to multiple recipients, simply by uploading a CSV form with employee names and pertinent contact information. The integrated dashboard displays which transactions have been completed and which are still in progress, another useful tool to help track the status of documents still pending signatures.
Sales Contracts (B2B)
If you are still utilizing paper contracting in your sales cycle, chances are your sales team is being bogged down in administrative work rather than spending their valuable time on customer outreach. Digitizing sales quotes and contracts with e-signatures and using features like layouts, pre-set templates, and data capture options like radio buttons, drop-down lists, and text blocks all help eliminate lengthy and repetitive steps and save time in the preparation of frequently used documents. Furthermore, OneSpan Sign's existing integrations with Salesforce and Microsoft Dynamics 365 allow sales teams to complete the entire contracting process without having the need to exit these systems.
Insurance Claims (B2C)
Automated e-signatures integrated into a company app or portal can vastly expedite the signing processes for customers. If a policy holder has already logged into their account on an insurance company website, a transaction can be initiated using a self-service claim form which has already been set up on the backend. The user can then view and sign the necessary documents immediately, bypassing the need to send the documents externally via email. The More Actions menu can further be customized to provide the customer with the ability to decline signing a transaction, for reasons such as an error or typo in the document, or toggle between languages of the user interface.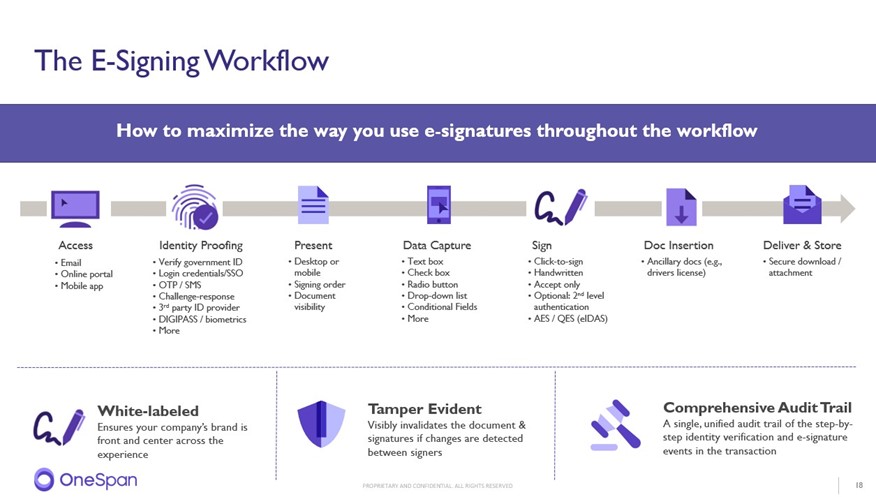 Conclusion
The electronic signing process is more than just collecting a signature. By digitizing every step in the process, from identity proofing and added layers of authentication to document delivery via diverse channels and comprehensive audit trails and secure storage, e-signature workflows result in great efficiency gains, fostering greater trust in online transactions for higher customer satisfaction.  
To learn more about e-signature use cases and best practices, please watch the recording of our joint webinar, "E-Signatures in Canada: A 45-Minute Workshop." For more on how OneSpan can support digitization projects, please read our "E-Signature Readiness Checklist."