The Digital Branch: A Top Priority for Retail Banking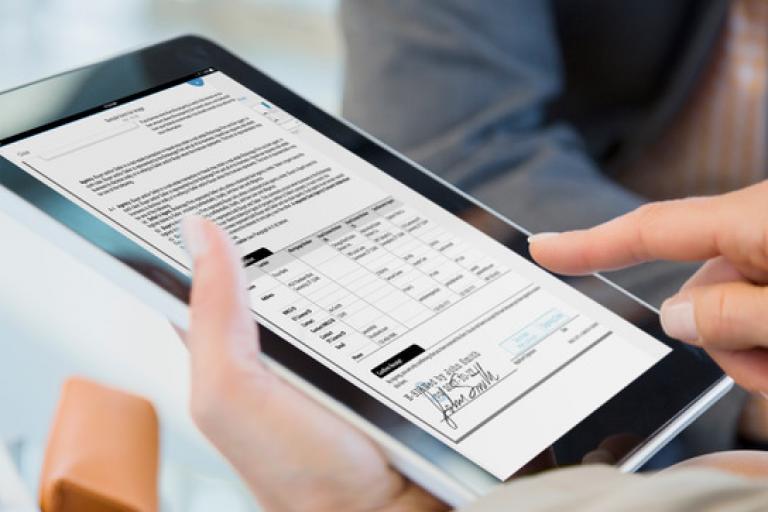 In retail banking, interest in e-signature is at an all-time high. According to CEB, now Gartner, electronic signature is one of the top investment areas for retail banks:
"Fifty percent of retail banking executives expect spending on digital signature solutions to increase over the next two years, making this technology one of the top investment areas for retail banks in 2017. [...] Over the next 12-18 months, achieving paperless processing in activities such as account opening, account servicing, and operations is a priority for 68% of retail banking executives."1
That mirrors what we are seeing in the market. Over the last 18 months, there has been a considerable increase in branch deployment activity, with three North American banks rolling out e-signatures for customer transactions in the branch. Between these three banks alone, there are more than 8,000 branches introducing customers to paperless signing, via a click, tap, or hand-scripted signature drawn on a touchscreen.
Across our customer base, 14,000+ retail locations have now either implemented e-signatures or are in the process of doing so – on the cloud or on-premises.  
The Biggest ROI is in Retail Banking
While many in financial services associate e-signatures with remote and self-serve channels, the paper trail proves that the biggest ROI is in the branch. A recent study from Celent confirms this through the experience of BMO Bank of Montreal. According to the BMO: Digital Transformation in Personal Banking report:
"Assigning a piece of paper the value of 0.08 cents […]

the reduction of paper in its retail branches

would save $98.2 million a year."
Additionally, according to estimates from CEB, now Gartner, "the average bank employee spends nearly two hours per day on paper-related tasks, including printing documents and obtaining handwritten signatures on many of those documents from customers. The estimated labor cost incurred by a single bank branch to store and manage those documents—including scanning, archiving, and retrieving—could reach up to $30,000 per year."2  
Qualitative Research Reveals Best Practices 
For many national and regional banks, credit unions and brick-and-mortar lenders, the question is no longer whether to implement e-signatures in the branch, but how. How do I get started? How can I learn from others who have already done this? What potential pitfalls do I need to be aware of? 
If hindsight is 20/20, early adopters of in-branch automation have learned important lessons along the way. We set out to capture their advice and best practices, to inform the industry's next wave of retail roll-outs. More than 10 interviews were conducted between Q2 and Q3 2017 with business and IT stakeholders from U.S. Bank, BMO Bank of Montreal, OneMain Financial, one of the top four banks in the United States, ARGO Data, the OneSpan Sign Professional Services team and others. They answered pragmatic questions like:
• How did you determine which product to digitize first?
• Who were the primary stakeholders?
• What are the minimum infrastructure requirements?
• Do the branches need to be redesigned?
• How did you prepare for a successful roll-out?
• What was your project timeline?
• What are your best practices for training, communication and adoption?
All of the data collected was used to validate the learnings and practices compiled by OneSpan over 10 years of retail point-of-sale deployments. We compared it to learnings from earlier interviews with RBC Royal Bank, BMW Financial Services, one of the top 10 largest banks in the U.S. by assets, and others. Our findings are available in the Best Practices for Deploying E-Signatures to the Bank Branch white paper, where our customers' and partners' firsthand knowledge informs the guidance on how to apply and deploy e-signature technology to different value chains.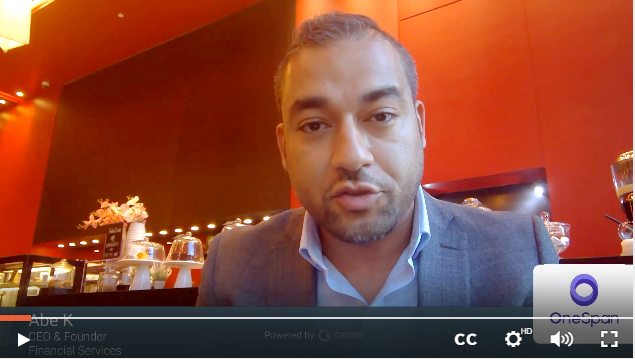 Summary of Key Findings
• Select the right product to start with: Choose one that will provide rapid ROI, with enough impact and visibility to encourage expansion of e-signature to other channels and areas of the bank. The best way to approach this is through a data-driven exercise. See page 3 for the methodology to prioritize processes for e-signature.
• Focus on minimum viable product (MVP): Have the core team consult with all stakeholders to define the MVP. Best practice is to start simple, iterate over time and build out additional functionality in increments. Capture all requirements, then categorize based on must-have versus nice-to-have. This will make the initial launch easier to manage.
• Visualize the transformation: Show internal stakeholders the before-and-after scenario. Share a concrete use case and introduce personas. (e.g., "Here's Jessie, a student. Here's Mark, a retiree.") This approach works well because it gives people a clearer understanding of what a signing ceremony is and how it can improve the customer experience. Put the technology into real-world scenarios that people can relate to.
• Involve the right stakeholders: Involve Legal & Compliance early on. They often become one of the biggest supporters of e-signature, due to the fact that controlled digital workflows eliminate risk, errors and the blind spots in paper processes. In addition, there are eight other groups of stakeholders within the bank who will be critical to the success of the project. See page 5 for a description of each group's role and contribution.
• Work with your existing infrastructure: We are constantly asked about the minimum technical infrastructure that must be in place, to even consider e-signatures. There are only four (possibly five) baseline components. See page 7.
• Adequately support change management efforts: Many banks have achieved impressive adoption rates in their e-signature processes. While consumers are ready to adopt e-signatures, retail interactions are largely mediated. That means staff must learn a new way of doing business – which may surprise some as the bigger challenge. In this paper, we recommend eight key measures to maximize adoption.  
A 20-minute Read 
Of all the advice and best practices in this report, the most important is to focus on the MVP requirements, take a progressive approach and iterate in stages. Define the target digital branch experience, implement the technology, measure and improve. Many banks have already done this and their learnings can simplify and accelerate the process for you. This 14-page report is a 20-minute read.  
1 Source: CEB Retail Banking, E-Signature Solutions Market Update
2 Ibid.