Dynamically Create and Sign Documents with Drawloop and e-SignLive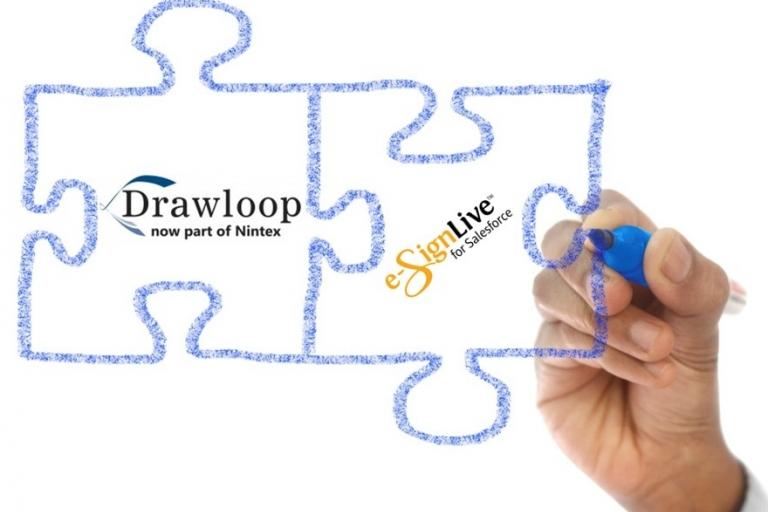 Many organizations are using document generation software to automate the process of creating documents such as sales contracts, proposals, and license agreements. Document generation software reduces time and errors by eliminating the need to manually recreate the same set of documents. Drawloop, a leading document generation application in the cloud, helps organizations achieve a digital process by dynamically merging any Salesforce data into any combination of document templates.
e-SignLive and Drawloop have been working hard this summer to launch the highly anticipated integration of e-SignLive for Salesforce with Drawloop's LOOP Document Services platform. The integration aims to help organizations achieve a fully digital process in Salesforce for customer-facing transactions by automating document generation workflows and signatures. Together, Drawloop and e-SignLive create a closed-loop process for generating, routing, signing and storing completed documents and associating those with the corresponding Salesforce record. Instead of focusing on manually getting signatures for frequently used sales contracts, organizations can now focus on processing sales quickly and improve their customer satisfaction among their clients.
The e-SignLive for Salesforce integration with the Drawloop LOOP Document Services is currently available for e-SignLive for Salesforce users. Check out how the integration looks like:
In Salesforce, select a Recipient, a Dynamic Document Package (DDP), and e-SignLive as the Delivery Option. Click Run.
Your recipient will receive an email notifying them they have a package to sign. The recipient clicks the "Go to Documents" button to access the signing ceremony.
Download the e-SignLive for Salesforce app from the Salesforce AppExchange and see how easy it is to get documents e-signed from Salesforce. If you're interested in integrating Drawloop LOOP Document Services with e-SignLive for Salesforce, contact us today.