E-Signature Best Practices for Credit Unions [Webcast]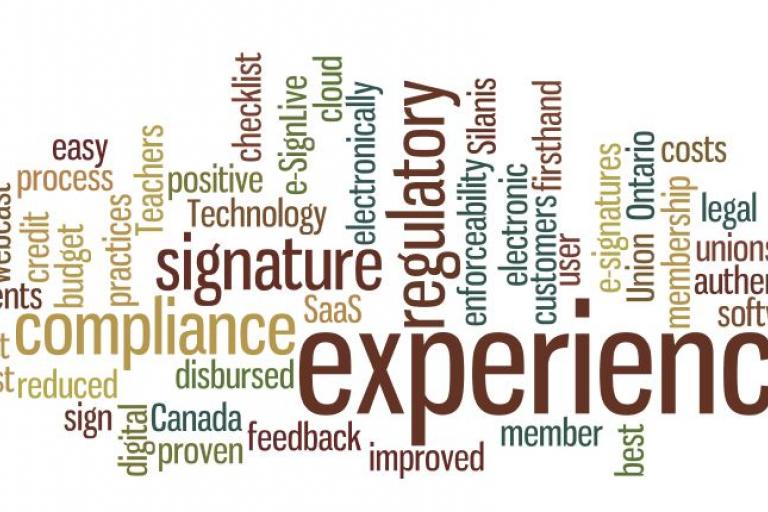 In our upcoming webcast featuring Teachers Credit Union, we will be diving into e-signature best practices for credit unions, based on the firsthand experience of one of our customers. For a bit of background, Teachers Credit Union serves 18,000 members across Ontario, Canada. When its management wanted an easier way to send paperwork to its disbursed membership, they opted to launch a virtual branch initiative that would allow the credit union's members to electronically sign digital documents. Since launching the use of e-signatures, the technology has proven itself extremely beneficial and member feedback has been overwhelmingly positive. Teachers' story is too good not to share – that's why we're hosting the webcast and bringing in Teachers' Vice President of Sales, Service & Operations Kathy Clark and Silanis' Director of Marketing Andrea Masterton. Together, they will share how the credit union implemented e-signatures for loan applications and in the process improved the experience for its members, reduced business costs and improved regulatory compliance for the organization. Part of what Kathy will cover in her presentation will be the process Teachers' undertook to implement e-signatures, speaking from its initial due diligence research, through to deployment, and now where they stand after over a year in production. Kathy will also reveal some of the key concerns and obstacles encountered along the way and how they were addressed, including:
Regulatory compliance
Legal enforceability
Identifying and authenticating members
Maintaining their proven process
Ensuring an easy user experience
A modest project budget
And for those looking to bring electronic signatures into their organization, the webcast will close with an e-signature best practices checklist for credit unions. There's still time to register for this webcast on e-signature best practices for credit unions – don't miss out!