Surviving Today and Thriving Tomorrow – How E‑Signatures Help Drive Business Forward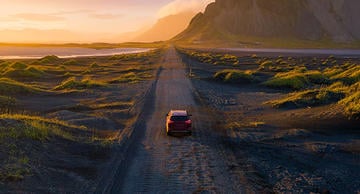 We regularly host webcasts on topics such as fraud prevention, authentication, and digital security best practices. If you missed our recent webcast, Keep Business Moving Forward with E-Signatures hosted by AIIM, here is the 5 minute summary. The full presentation is available on-demand.
 
It's no secret — businesses across verticals have been dramatically impacted by COVID-19. In the realm of digitization, the pandemic accelerated the "nice-to-have" technologies into "must-have" technology. As institutions set strategic goals for 2021, now is the time to embrace the disruption and use digitization as a competitive advantage. Market demand will no longer tolerate the friction of paper, handwritten signatures, and business processes without remote functionality.
Early in the pandemic, the challenge was tackling the readiness of organizations' core processes. Most important of which were crisis management and response, remote workforce enablement, and maintaining overall continuity of service for remote customers. It was essential to keep business units functioning cohesively at a distance. Online portals, mobile apps, and other remote channels became a lifeline for communicating, onboarding, and transacting, with digital engagement emerging as the standard mode of interaction.
Nine months later, with the initial shockwaves of the pandemic subsided, we are now operating in an environment that not only allows digital leaders to question the old ways of doing things but provides the opportunity to be at the forefront in transforming their enterprise for future-proof readiness.
An Air of Change
Signatures are often the last bastion of paper-bound workflows. Due to the perceived hurdles of mastering a new electronic signature solution, training a workforce on an unfamiliar protocol, or compliancy concerns, there is a reluctance to spearhead change in times of upheaval.
In reality, e-signatures provide a compelling capability that can be launched quickly and easily for a multitude of use cases. Workflows can be designed around specific requirements ranging from the volume of transactions to the number of people involved in a signing process.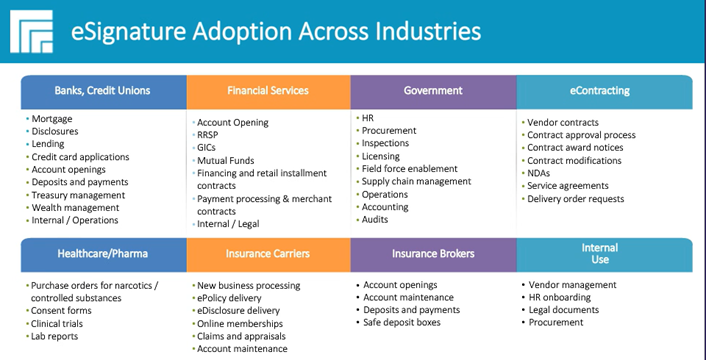 Across verticals, the benefits of digitizing processes can be applied to numerous lines of business. For banks and credit unions, this could mean account openings, credit card applications, mortgages, and treasury management. Insurance carriers could see gains in policy and disclosure delivery, claims and appraisals, and account maintenance. In healthcare and pharmaceuticals, it could be applied to purchase orders, patient consent forms, clinical trial waivers and lab reports. And for government agencies, the potential use cases for an e-signature solution run the gamut from contracting and procurement, to anything requiring remote interactions with citizens and employees.
From Drivers to Adoption
Supporting a more mobile, agile, and digitally-enabled workflow makes it easier for consumers to do business with your organization. Three main drivers spur the bulk of digitization efforts:
Enhanced customer experiences
Improved efficiency
Strengthened compliance
With the integration of e-signatures, customers are provided the ease and ability to sign anytime, anywhere, and on any device. For an employee workforce, digitized documents reduce processing times, costs, and the incidence of errors and re-works. For an enterprise as whole, detailed audit trails enforce business rules and safeguard transactions in the event of a legal dispute.
How to Get Started with Electronic Signature
Often, the challenge in going fully digital is deciding what to automate first. Internal employee-facing processes frequently have the lowest barrier to entry and require a lower initial investment. These are the easiest and most cost-effective places to start with an e-signature pilot. Digitizing internal processes leads to easy wins and can then help leverage enthusiasm and support within an organization in a push for wider adoption.
Following this incremental approach can help in building a pipeline for future use cases to then scale across the enterprise. Turning attention next to customer-facing processes, for example, can have the biggest impact on revenue and a large ROI.
Next Steps to Electronic Signature Implementation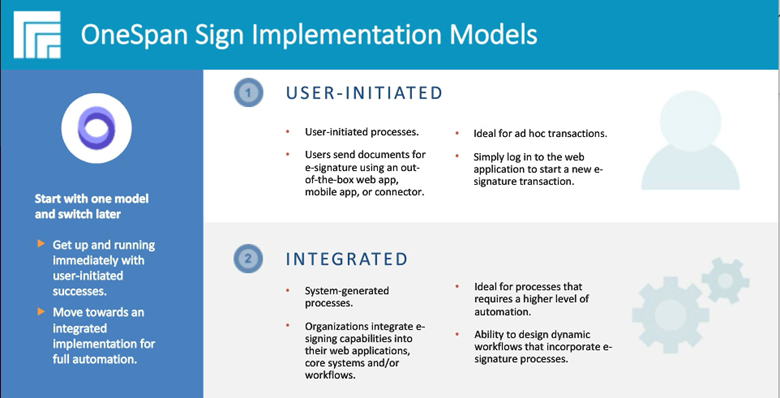 Once digitization use cases have been established, different deployment methods can be implemented in order to best integrate the use of e-signatures into workflows. Each is equipped with its own advantages and best practices.
Documents can be uploaded, signed, and sent in minutes using an out of the box web, mobile app, or connector. This model satisfies the most common internal signing and e-contracting use cases, like verifying internal documents, HR forms, and processing changes to existing accounts. The set-up time required is almost immediate and most can be deployed within days.
For system-generated process managing a high volume of transactions, an integrated approach is highly customizable. It provides the ability to design dynamic workflows integrating e-signature capabilities into an organization's existing core systems. The goal is full automation from start to finish. No manual work is required for employees, as documents necessitating e-signatures are system-generated in accordance to preset rules or templates. This solution opens the door for eventual scalability across the enterprise.
Regardless of the approach taken, both methods offer a simple and intuitive interface and culminate in improved operational efficiencies, reduced processing time and errors, and radically elevated customer experience and satisfaction.
Case in Point: The 8 Minute Mobile Account Opening with Bank of Montreal
The Bank of Montreal (BMO) was faced with a challenge. With over 1.6 billion sheets of paper in their ecosystem — enough to span the distance to the moon and back when laid out — it was calculated that by going paperless, BMO could save $98 million annually. A digital transformation initiative was undertaken to address the huge paper inefficiencies, which also saw large productivity costs due to rework errors and additional manual filing and processing time.
In response to the increased usage of mobile phones as the preferred channel among their consumer base, BMO developed a mobile account opening application with integrated e-signatures. The intuitive and convenient 8-minute mobile account opening process resulted in not only an improved overall customer experience but also reduced the number of forms required from 44 down to 26. It also reduced the overall steps involved from 25 to only 13. This seamless, optimized process further automated employee workflows, drastically reducing the need for manual data entry, filing, and archiving.
Top Takeaways
Despite latent hesitancy in transitioning to e-signatures due to lingering resistance to change, the technology is ever-evolving. The reality is, businesses today cannot go fully digital without the support of e-signatures. By starting with small use-cases and building up to the eventual goal of enterprise-wide scalability, the associated productivity gains, operational savings, and improved customer experience can be transformational.
To learn more about being a credit union success story, please watch the recording of our joint webinar, "Keep Business Moving Forward with eSignatures". For more on how OneSpan Sign can be deployed to support digitization projects during this time of crisis, please read more on Beyond Business Continuity.