eMortgage Library: Top Resources for Digital Mortgage Transformation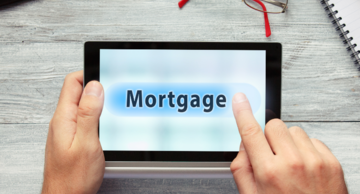 The digital mortgage is gaining momentum. Banks, lenders, credit unions, title companies and investors are adopting technologies like eSignature, eDisclosures and eClosings (with eNotary, eVaulting and eRegistry with MERS) to automate the mortgage process.
These are hardly new terms or technologies. What's new is the shift in focus from digitizing the upfront application and consumer disclosures, to eClosings. Today, the many stakeholders across the mortgage industry are automating the process end-to-end. Doing so involves a lot of moving parts - and a lot of learning. If your organization is looking to automate residential mortgage lending, here is a list of the most valuable  resources from our eMortgage library:
Guidance from Legal Experts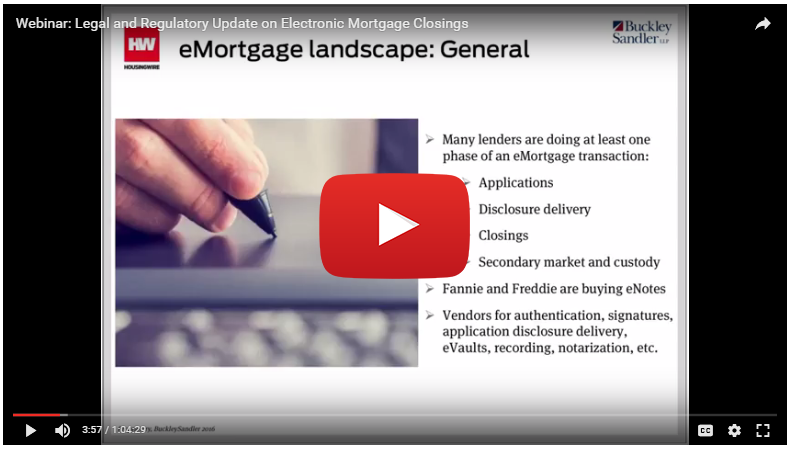 Presented with Margo Tank, Partner at BuckleySandler LLP, this November 2016 webcast covers:
Legal and regulatory requirements for e-closings
Recent court rulings on electronic notes
What the GSEs say
Implementation options for a phased transition to digital closings
Solution requirements for vaulting, MERS registration and more
Electronic Delivery of Mortgage Disclosures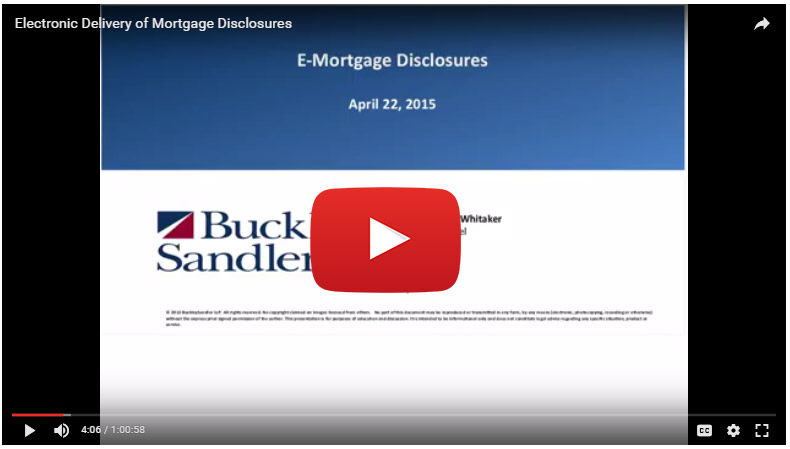 Presented with David Whitaker, Senior Counsel at BuckleySandler LLP, is one of the most experienced legal authorities on e-signatures, e-disclosures and the ESIGN Act. In this webcast, he shares best practices for satisfying legal requirements when moving to electronic delivery of mortgage disclosures.
Digital Mortgage 101
Adoption Trends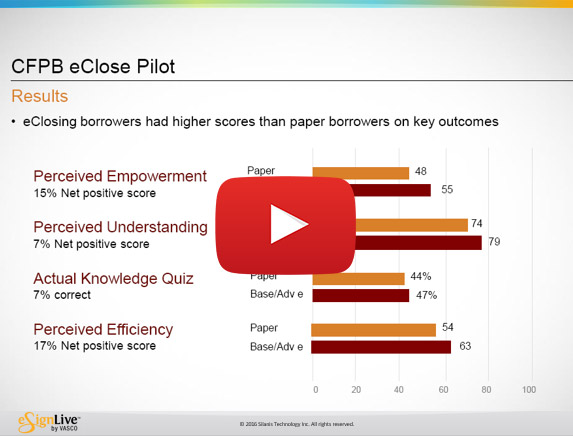 This webinar features a live demo of the eMortgage workflow. A must for any credit union looking to offer members a digital mortgage experience.
Select Banks & Lenders Offering Digital Mortgage
Solutions 
eClosing Suite Demo video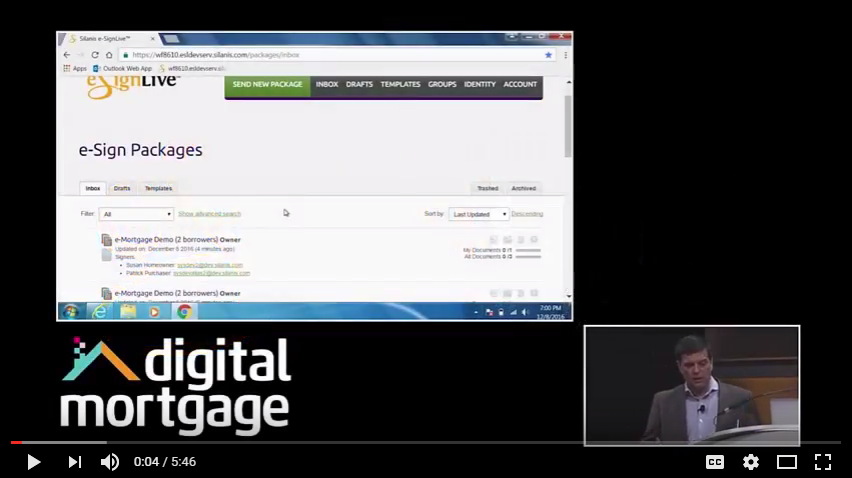 See an in-person eClosing scenario and learn:
How the borrower and notary can electronically sign the Note and Security Instrument
How the lender can access the loan documents in the cloud-based eVault
Get the highlights in a one-page overview.  
Testimonials
"The ability to get signatures on all docs for Mortgage Brokers is huge. Every investor has their own required docs and with this system, you can get signatures on all docs, not just your loan origination software-required docs. Not to mention, you can send a loan package out and have signatures in 15 minutes." - Rob Koellner, Mortgage Loan Officer, Fort Collins, Colorado
"We help customers streamline their paper processes, so adding electronic signatures to our platform addresses a real need for banks, credit unions, mortgage bankers and brokers. We liked eSignLive's ease of integration into INK-it as well as the strong electronic evidence and audit trail eSignLive offers." - Dennis Boggs, EVP of Business Development, Calyx Software
"Our clients use e-Signatures within our platform to complete a variety of documents and they've found much quicker turnaround times for their borrowers to complete documents and return now that they don't need to print, scan and return. Being able to review from their phones is even better!" - Lee Noble, VP Business Development, Lendesk
"Our customers began asking about e-signatures for loan applications and counseling. With eSignLive's powerful API, we are able to customize the interface for our customers. It is a seamless way to achieve our mission to provide greater productivity, flexibility and control for our clients." - Sanjeev Dahiwadkar, President and CEO, IndiSoft