eSignLive Makes G2 Crowd's Best Software for Enterprise Sales Teams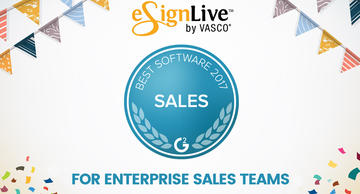 We are thrilled to kick-start the new year on a high note by being recognized in G2 Crowd's Best Software for Sales Teams list for 2017. Sales professionals showed their love for eSignLive by ranking us as the best e-signature solution for enterprise sales teams. Marty Duffy, Director of Research at G2 Crowd commented, "eSignLive's users consistently commended the product in 2016. Enterprise users recognized the tool as a stand-out product to be used by sales teams. It received the highest average score for ease of use, quality of support, and meets requirements in e-signature (enterprise)."
eSignLive is no stranger to G2 Crowd, a leading business solutions review platform that leverages more than 130,000 unbiased user reviews to drive better purchasing decisions. We have maintained industry Leader status in six consecutive reports, since the first e-signature grid was published in 2013. Customers continuously praise us for outstanding customer satisfaction, giving us the highest Net Promoter Score (NPS) of 84.  
Sales Contracting and E-Signatures
According to Aberdeen, best-in class companies who have adopted e-signatures are ahead of the digital curve and can demonstrate measurable sales performance advantages directly associated with e-signature technology. These organizations have reaped the benefits of closing deals faster, increasing revenue, cutting costs and raising employee productivity by adopting e-signatures.  
These stats demonstrate the effectiveness and direct impact e-signatures have on the enterprise sales cycle:  
Sales teams are 49% more likely to receive a signed sales contract
E-signature users ship 117% more proposals per rep, per month, than non-adopters
Customer retention improves by 6.4% annually for e-signature-enabled firms. Non-users see a 1.3% drop.
How eSignLive Accelerates and Streamlines Sales Contracting Processes
  eSignLive offers flexible options for sales organizations evaluating e-signature technology:  
Mobile-friendly:

Sales professionals in the field can take advantage of eSignLive's mobile options to conveniently manage e-signature transactions on the go. Simply upload a document that requires a signature, add signature blocks to the document, then send it to your signer. With no login or software download necessary, your signer can access the document to sign from any mobile device.
 

eSignLive and popular pre-built applications

: The last step in the contracting cycle – getting a signature – is still a manual, paper-driven process. Most contracts are still faxed, scanned or mailed out for signature. If your organization is using applications like Salesforce, Dynamics CRM, SharePoint and Box to send contracts to customers and prospects, you can leverage pre-built connectors to add e-signature capabilities to the applications you use every day. In doing so, you'll eliminate paper and pen-and-ink signatures and move to an all-digital process.
E-Signature Use Cases for Sales
  See how eSignLive has helped these organizations improve their sales contracting process:  
Close deals faster:

 Premier, a healthcare performance improvement alliance of approximately 3,400 U.S. hospitals and 110,000 other service providers, incorporated e-signatures to easily transact with their vendors and internal stakeholders. Premier witnessed accelerated sign-off times on contracts and amendments, from 10 days to 1 day. Premier also gained a competitive advantage by offering flexibility to executives to e-sign contracts from anywhere, at any time, on their mobile devices.
 

Improved customer experience

: globalCOAL, the world's leading coal trading platform for seaborne thermal coal, improved access to its trading agreements by integrating e-signatures with its web portal – making it easier for customers to sign licensing agreements and purchase contracts. "Given the nature of our business, we wanted an e-signature solution that provided us the ability to both audit the signing process and produce irrefutable evidence of signing intent," said CEO Eoghan Cunningham.
E-Signature technology has been around for years but shows no sign of slowing down in the mid-market segment. Organizations continue to reap the benefits of closing business faster by digitizing the signature process.  
To see what our customers have to say about us, read their reviews on G2 Crowd. And download G2 Crowd's E-Signature Software Grid report to see how eSignLive stacked up against other e-signature vendors.  
Interested in trying eSignLive? Sign up for a 30-day free trial of eSignLive and see for yourself how secure and easy it is to send and sign your e-signature transactions.