Fast Track – Enhancements in OneSpan Sign™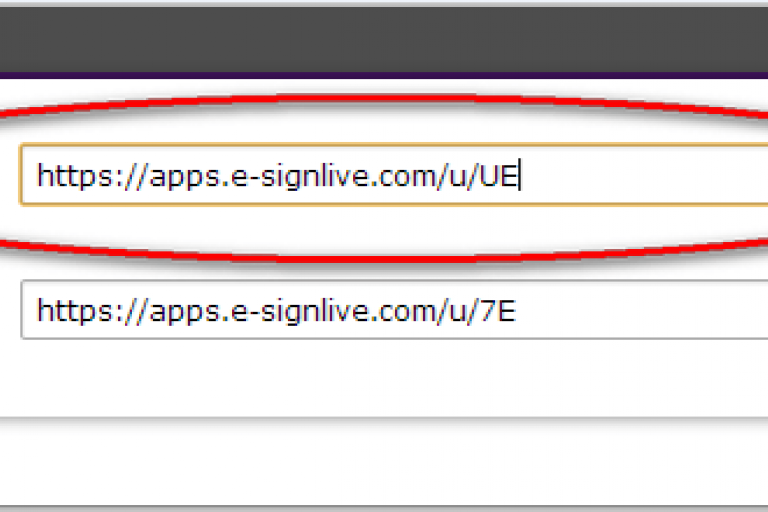 Welcome to the fourth blog post in a four-part series (read Part 1, Part 2 and Part 3) on the upcoming features in the OneSpan Sign™ Fall Release. One very powerful new capability which will be a part of this release will be a feature we call "Fast Track." Up until we launch this feature, there will have essentially been two ways to create and send packages for signatures: you either manually used the graphical user interface or relied on our Software Development Kit to write some code and potentially automate the e-signature from another business process. Although the latter is not particularly difficult, it does require programming skills.
Fast Track introduces a third possibility, a quick and lightweight integration mechanism. You simply create a template and generate an associated Fast track URL. You are then able to distribute the URL to potential signers by email or embed it easily into a web site. Following this URL will present signers with a simple form-based web page where they can supply their name and email address before proceeding to the document review and signature. Voilà! Zero programming and instant integration.
To launch Fast Track, click the double arrow icon from either the Template management view or from within a given template:

Fast Track will then return a "Signing URL":

  The "Signing URL" can be distributed or embedded in a web site. Signers who click on the URL will get directed to a page where they can submit their name and email address in a dialog box similar to this one: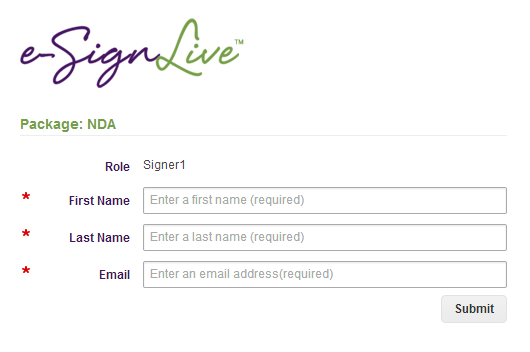 Once submitted, the system will automatically create a package based on the selected template and provided signer information. The package will then take the signer to the e-signature ceremony and the sender who created the Fast Track URL will be able to monitor progress from their inbox.
The second Fast Track URL, "Sending URL," is most useful internally in your organization. "Sending URL" makes it possible for a user to create a package based on a template containing multiple signer placeholders. Another difference between the two types of URLs is that once submitted, the package is again created but associated email invitations are sent to the signers instead of the person filling in the form being taken into the e-signing ceremony.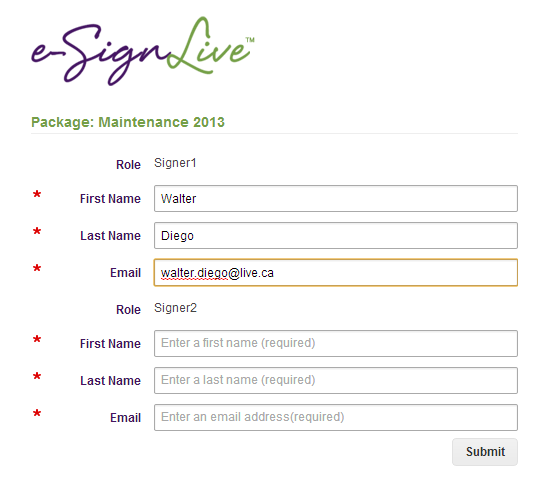 "Sending URL" can be used to easily designate signers who do not need to view or manipulate the documents, do not have familiarity with the OneSpan Sign user interface or do not need an OneSpan Sign account.
Finally, instead of manipulating a URL, it is also possible to retrieve a QR code directly from Fast Track. Once inserted into a web page or printed document, the QR code can be scanned by end users to automatically redirect them to the data capture form, opening up the door for the rapid creation of material that will take your customers from consulting information to signing in record time using the latest technology.

Fast Track can be a major time saver if you need to send out for signature a large volume of identical packages to different individuals. Rather than preparing each package manually, you can leverage an existing bulk mailing capabilities and allow the signers to provide the above information themselves. It is also ideal for situations where you do not know who the signers will be. Simply let them provide their credentials and email address. URL or QR code, however you choose to facilitate the creation and sending of packages, whatever your business process is, it is worth investigating this powerful new feature.
Not yet using OneSpan Sign? Give it a try now with our free 30-day trial.
Francois Perrault is Silanis' Senior Product Manager. Watch for future posts from Francois outlining how you and your business can benefit from e-signatures.