Federal Government Electronic Signatures: The Use Case for Mobile E-Signatures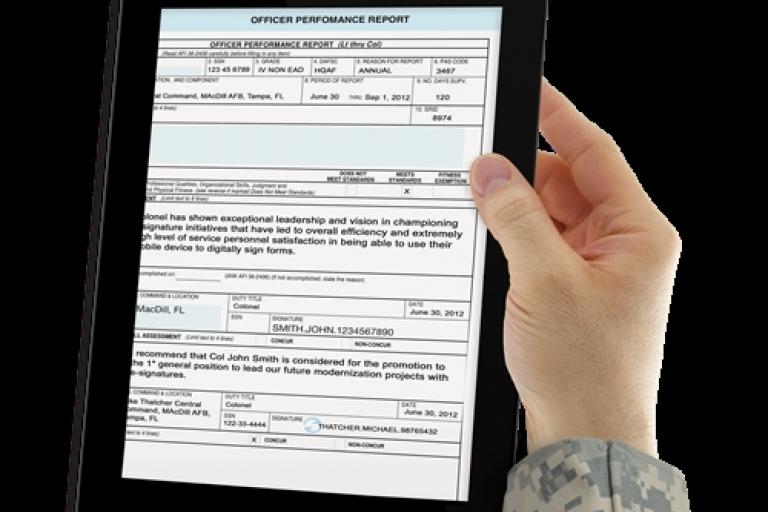 Deploying e-signature functionality over mobile devices can pay dividends in a variety of industries and government is one sector where this capability really stands out. Professionals in the public sector frequently need to sign documents or accept contracts or agreements securely and electronically. These requirements come as part of a move toward increased security and a broad focus on operational efficiency in government. At the same time, federal government electronic signatures on mobile devices are being used as an efficiency enabler.
Many government employees find that using smartphones and tablets to work remotely can help them get the job done more efficiently in the field. Mobile-enabled e-signatures can prove beneficial in a variety of usage settings within the public sector.
Federal Government Electronic Signatures: Field Force Enablement
Many field inspectors, government healthcare workers and recruiters are tasked with completing much of their work away from the office. This creates major challenges when trying to deal with paper records because these workers would need to have all of their documentation with them at all times and be able to transport it securely between destinations. This creates incredible overhead and risk, but implementing federal government electronic signatures eliminates these problems. As more field workers use smartphones and tablets instead of hauling laptop PCs with them, having mobile-optimized electronic signature solutions is vital.
Federal Government Electronic Signatures: Military Operations
Many military and defense-related operations only take place when the right orders are given. These commands must be verified as coming from an authorized individual, something that can be difficult when soldiers or peace-keeping forces are in a field situation.
There are a variety of challenges faced in this type of environment, and connectivity is a major hurdle. However, some advanced mobile e-signature solutions feature both offline and online functionality to offer secure signature functionality even if an individual cannot get online. In this situation, the person signing an order or personnel evaluation can complete the process offline and the system will securely store those documents until a connection becomes available.
Federal Government Electronic Signatures: Operations

Keeping government business projects on budget and on schedule is a huge challenge for many government entities, whether they are federal organizations or a local public department. One major problem is the need for multiple signatures in multiple locations, a process that can cause weeks of delay. With federal government electronic signatures entities like the US Central Command and others can complete processes instantly through a system that integrates seamlessly with e-forms and existing workflow.