Financial Services Compliance for eSignature: Insights from Analysts and Legal Experts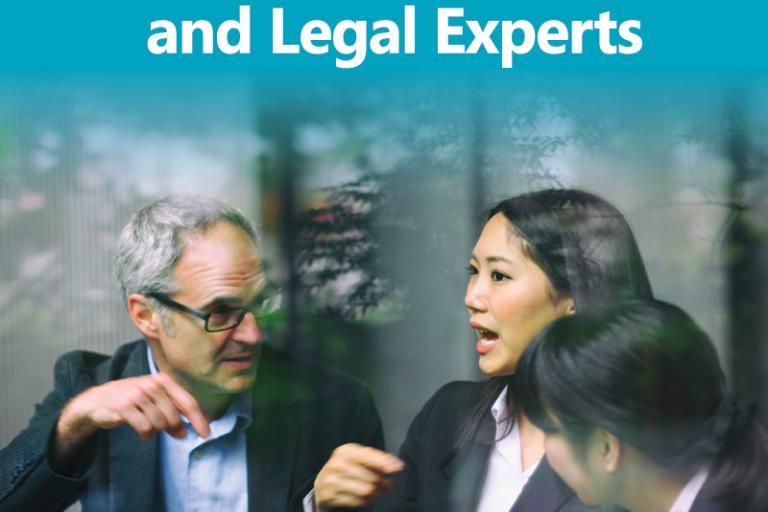 In financial services, legal and regulatory compliance is one of the top focus areas for e-signature buyers. Increased regulatory oversight has put considerable pressure on banking and insurance  – and by extension, their IT strategies and budgets.
Because compliance is such a popular topic of inquiry, analysts and legal experts frequently provide guidance on compliance for electronic signatures. In fact, over the past 18 months we've seen an increase in the number of subject matter experts addressing e-signature compliance concerns.
In this blog, we bring you a round-up of 7 key insights from analysts such as CEB (now Gartner), Celent and Novarica, as well as legal experts from BuckleySandler LLP, Locke Lord LLP, Osborne Clarke LLP, Stikeman Elliott LLP and Fasken Martineau LLP.  
1. CEB (Gartner): Build Compliance into the E-Signature Business Case
CEB TowerGroup's Retail Banking Practice published a 6-page insight brief and co-hosted a webinar on the topic of building the business case for e-signatures. In each, CEB makes a compelling argument for researching compliance and legal risks, and building them into the business case – even at this early stage.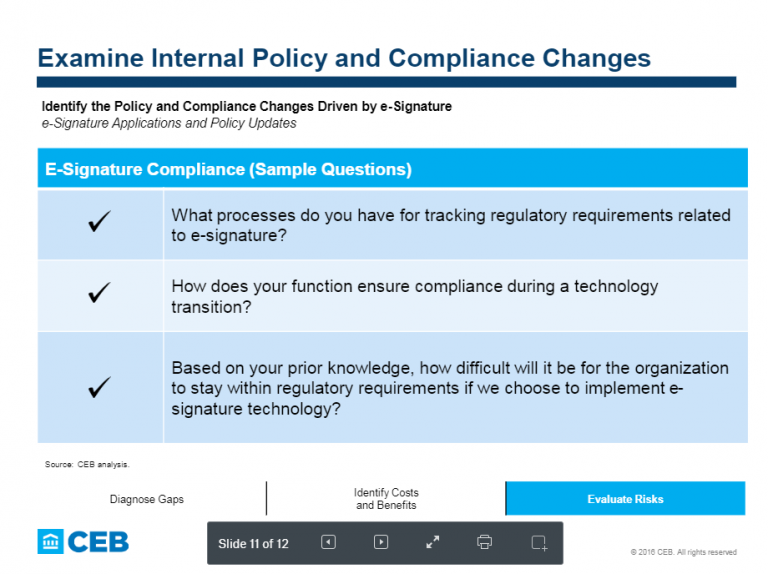 Access this webcast on demand here
According to Nicole Sturgill, Principal Executive Advisor with CEB:
"First and foremost, financial institutions must consider compliance risk. There are three categories of questions to consider:
"To start, firms should ask the compliance department what processes they have in place for tracking regulatory requirements. This will show the level of knowledge the compliance department already has about e-signature and what still needs to be researched.
"Next, they should consider how the compliance department will ensure standards are met during a technology transition. To do this, firms can establish a record of how compliance ensured that standards were met during past technology transitions. This historical record of technology transitions will help firms identify what work will need to be done by compliance and what will need to be done by other areas of the bank like line-of-business functions and IT.
"Lastly, firms should understand how compliance perceives the difficulty of implementing an e-signature solution. For example, there might be some business units that represent too much liability to be included in the e-signature business case."
2. Celent: Use E-Signatures to Solve the Manual Compliance Burden
In a 2017 case study on the Bank of Montreal's in-branch e-signature implementation, analyst firm Celent provided insight into the benefits of e-signatures, which included the automation of the bank's audit processes.
"This is critical if banks are to overcome the daily challenges of

governance, increased information requests, and compliance requirements."

- Celent
Bank of Montreal used e-signatures to digitize the customer onboarding process end-to-end, eliminating all paper forms. In the study, BMO: Digital Transformation in Personal Banking, Celent provides detailed insight into e-signature ROI in the audit department and financial services compliance overall, including how BMO:
Achieved an 80% audit efficiency ratio
Cut scanning errors by 92% (main source of errors in account openings)
Reduced lost files by 66%
Rationalized forms and standardized workflows
3. David Whitaker: Involve the Compliance Team Early On
According to David Whitaker, counsel for the Electronic Signature and Records Association (ESRA) and counsel at BuckleySander LLP, "The earlier in the design and deployment process these team members are 'plugged in' and participating, the better."
In a recent BankNews article, Mr. Whitaker explains that organizations should "…create a design team that includes members with expertise in the:
Compliance and legal issues associated with the use of electronic records and signatures
Compliance and legal issues related to the products and services themselves"
eSignLive Note: From our own experience, we've seen firsthand how crucial it is to have financial services compliance teams involved early and often. As organizations move forward with an e-signature initiative, there are always questions to work through. One example is how to apply business rules to a multi-party signing ceremony. You may have a situation where some of the documents are pertinent to only one party. If a document contains information that should not be shared with the other signing parties by regulation, then you will have to ensure that consumer A does not see consumer B's detailed information. How you apply business rules in eSignLive, to properly manage these types of scenarios, will require collaboration with Compliance. Having Compliance involved in these granular discussions will save the project from stalling later on.
U.S. Bank is a good example of an organization that worked hand-in-hand with their Legal & Compliance teams. In an American Banker article, U.S. Bank explains how Legal & Compliance was a big part of their e-signature planning. "We spent a lot of time up front [...] with our legal department, understanding exactly how this signing ceremony need to be conducted to make sure the customer knew exactly what it was they were signing up for," says Rod Olson, senior vice president of technology and operations services. "We didn't want any issue or somebody saying they didn't know what they were buying." 
4. Locke Lord LLP: Evaluate These 6 Legal Risks
Patrick Hatfield is a partner with Locke Lord LLP and co-author of the 6-Point Legal Framework for electronic signatures. In a webcast entitled, How E-Signatures can Reduce Risk and Strengthen the Enforceability of Signed Records, he outlines the top 6 legal risks of e-signatures and e-transactions. "We found that by categorizing the risks in this fashion, it helps working groups within companies, with a common language for how they assess the different risks," Mr. Hatfield says. Those with legal, compliance, IT, operations and risk management responsibilities within their company will gain important insights into how a well-designed process, supported by e-signature technology, can reduce legal risk and increase the enforceability of e-transactions compared to paper processes.  
5. Stay Current on Financial Services Compliance Trends Specific to Your Use Case
Insurance: In a 2017 survey of 10 P&C insurance carriers that implemented e-signatures, insurance analyst firm Novarica found that:

"Legal and compliance needs are among the top four drivers for e-signature
Improved compliance is among the top three benefits of e-signatures"
Insurance Policy eDelivery & ePosting: Many state legislatures have updated insurance codes, allowing insurance companies to fulfill their delivery obligations by posting policies and endorsements on their website rather than printing and sending out these documents on paper. Patrick Hatfield, Partner, Business Technology and Insurance Practice Groups, Locke Lord LLP and Brian Casey, Partner, Co-Chair of Regulatory & Transactional Insurance Practice Group, Locke Lord LLP, co-host a webcast on Statutes for Insurance Policy eDelivery and ePosting, where they explain, in simple terms, the regulatory requirements of e-posting and e-delivery and the best practices to keep in mind.
Contracting: Aberdeen Research found that "...increased pressure to meet regulatory compliance is among the top four business pressures facing contracting and procurement organizations – and e-signature is one of the ways the best-in-class are outperforming their peers in this area."
"Retail banks face an uncertain regulatory environment. [...]

Despite this uncertainty, the drive toward digital continues across the industry

as banks make it a priority to improve digital tools for both customers and staff.

Global regulatory bodies are not blind to this shift, and banks need to be ready with

solutions that reduce risk and maintain regulatory compliance."

-CEB
Client Onboarding: In a webcast on E-Signatures and the Future of Client Onboarding, Forrester Research analyst Craig Le Clair has an interesting slide on financial services compliance and risk management challenges, and how they continue to dominate the financial services agenda. Get insight into the regulations driving adoption of BPM, BI, ECM and other tech solutions in this space over the years.
Mortgage:

In a November 2016 webinar entitled Legal and Regulatory Update on Electronic Mortgage Closings, Margo Tank, a partner in BuckleySandler LLP's Washington office, addresses the legal and regulatory requirements for eClosing, eNotarization, recent court rulings on eNotes, GSEs, implementation options for a phased transition to digital closings, and solution requirements (including vaulting, MERS registration and more).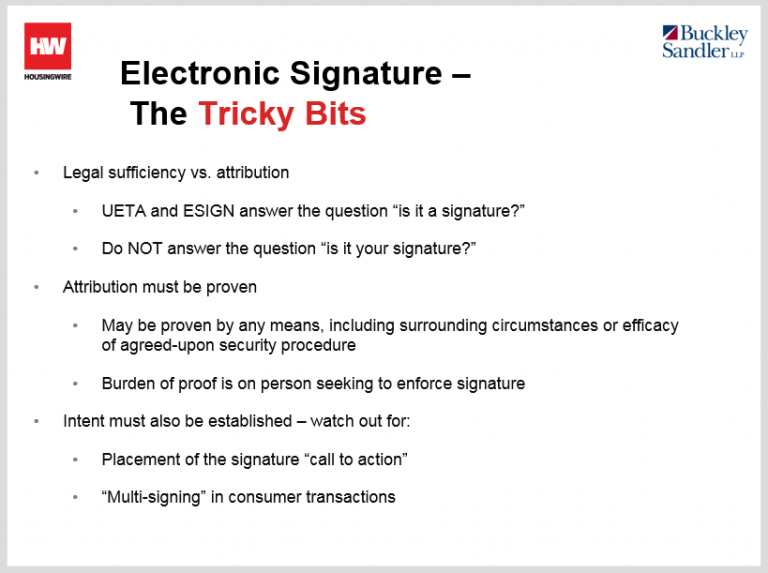 Access this webcast on-demand here
"60% of wealth executives attribute high value

to e-signature solutions, and identify

regulatory compliance (22%) and risk reduction (22%)

as the top value drivers of the technology."

- CEB
6. Stay Current on Legal & Compliance Trends in Your Region/Country
Canada

 

As e-signature adoption grows rapidly across the country, more organizations are seeking to understand the legalities and enforceability of digital transactions and e-signed contracts. In a webinar on Legal Best Practices for E-Signature in Canada, Daniel Fabiano, Partner at Canadian law firm Fasken Martineau, explains the legal requirements applicable to electronic signatures, e-records and e-delivery. He also provides a legal framework for the design and implementation of a compliant e-sign process.
Also on the topic of legality, Canadian law firm Stikeman Elliott published a paper entitled, Electronic Signatures in Canadian Law that includes an overview of Federal and provincial laws.
An article by ITbusiness.ca on RBC Royal Bank of Canada sheds more light on the importance of working closely with regulators – especially for those who are first-to-market. According to the article, "…[RBC] had a few more regulatory hurdles to jump with its implementation of eSignatures. As the first bank in Canada to use the technology, Wilson says they discussed with the Canada Revenue Agency and Human Resources and Skills Development Canada and received their blessing to go ahead."
Europe

The Electronic ID and Trust Services (eIDAS) regulation represents a significant step forward for e-signature adoption in Europe. eIDAS was enacted to make trusted communications easier in Europe and remove the previous hurdles to cross-border recognition of e-identities and e-signatures. In a white paper and webcast on eIDAS and E-Signatures in Europe, Lorna Brazell, IP lawyer at international law firm Osborne Clarke LLP, provides an overview of the new regulation and its impact on companies doing business electronically. She answers common questions such as, "Can I use an e-signature to create a legally binding contract in my country?" and "Do I have to use a Qualified E-Signature?"
7. David Whitaker: Take a Deeper Look at Disclosure Delivery via Mobile
  A recent BankNews article on e-signatures and banking raised the topic of compliance challenges with mobile:
"According to David Whitaker, counsel for the Electronic Signature and Records Association and counsel at BuckleySander LLP, the limited visible space on smartphones and tablets can present special issues for effective delivery of disclosures and agreement terms.
"On the other hand," he said, "the ability to create apps that can control and enhance the signer's experience, and the certainty of the transaction, offer opportunities for banks prepared to make the investment in time and effort to create new and more effective ways to deliver information to, and enter into agreements with, their customers."
eSignLive Note: While the size of the display on a mobile device is important, especially in regulated transactions, mobile banking leaders have learned through automating other business processes that the key is to design a process that captures intent and presents the terms and conditions clearly and in a way that is accessible to consumers.
Contact us for best practices for your mobile e-sign project, or any other question related to e-signature compliance.