Forrester Uncovers Trends in E-Signature Implementation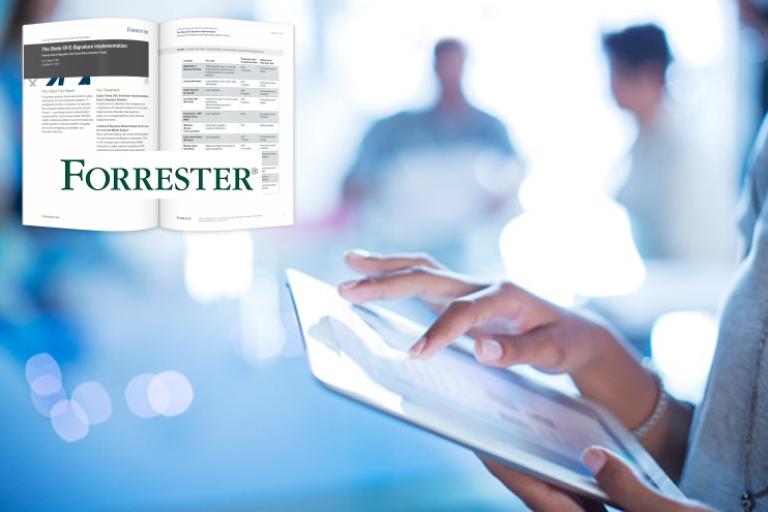 Electronic signature is a prerequisite and an important enabler for digital business. Organizations now have the tools to replace hybrid paper-digital processes with fully digital ones. However, most organizations have only begun the long journey of becoming digital businesses. This can't be achieved without e-signatures, which keep processes 100% digital by automating straight-through processing and eliminating the need to drop to paper for signatures and approvals.
In Forrester Research's recently published "The State of E-Signature Implementation" report, principal analyst Craig Le Clair acknowledges the steady adoption of the technology by organizations of all sizes and industries. SaaS platforms have reduced deployment times and simpler navigation and authentication steps have helped to spur adoption. The report analyzes 25 e-signature implementations in the U.S., Canada and Europe, and uncovers trends in authentication, implementation and return-on-investment (ROI). Let's review some of the top takeaways from the report.
Increased Ease of Implementation
Organizations can expect significant ROI after implementing e-signature because it fundamentally enables you to replace manual and inefficient analog processes. It's therefore in your organization's best interest to ensure a quick implementation because this translates to faster customer experience (CX) and efficiency gains. Today, SaaS-based solutions are making it easier to implement e-signature technology, but some challenges still remain. Look for a solution that offers compatibility with the most commonly used browsers and devices and integrates with third-party apps that your organization already use (e.g., Salesforce, SharePoint, etc.). Also, ensure the vendor you select will go the extra mile to ensure your success and provides abundant support resources to lower the learning curve for your users. 
A Focus on Authentication & Trust
As the occurrence of fraud and data breaches plague today's digital business, enterprises are looking to more advanced authentication options to validate the identity of participants in a digital transaction. It's not that organizations want to introduce additional friction into a consumer's online or mobile activity, but rather they want to ensure there are adequate security features built-in – particularly for their customer-facing digital channels.
In the Forrester Research report, Craig Le Clair indicates that there are "clear differences between the U.S. and Europe" as it relates to approaches to authentication. While U.S. businesses typically opt for simpler forms of authentication, European organizations place a greater deal of emphasis on authentication and are leaning towards biometrics. Regardless of what type of authentication method is used for electronic signature transactions, the key is to take a balanced approach – inspiring customer confidence without adding inconvenience. Look for a solution that offers a wide range of authentication options for example, before participants gain access to documents in a transaction, as well as optionally at the point of signing for additional security, if your business processes and policies require it.
An Emphasis on Broader Digital Transformation
As the e-signature market continues to mature, the report notes that market leaders like eSignLive by VASCO, DocuSign and Adobe are developing solutions that offer a broader scope of services and "emphasize broad digital transformation." Areas of focus include flexibility in deployment options (e.g., public cloud, private cloud, on-premises), more signing methods and stronger authentication approaches. eSignLive, for example, has added a Digital Mortgage Solution with e-closing and e-vaulting capabilities, as well as options to leverage biometrics (e.g., facial and fingerprint authentication) to further extend its portfolio of solutions.
Learn about NASA JPL, IBM and BMO's E-Signature Implementations
Forrester's "The State of E-Signature Implementation" (2017) report highlights 25 implementations, including 8 representing eSignLive customers, and provides guidance on how to put the analyst's recommendations into action to support your digital transformation efforts. A fantastic report if you are currently evaluating solutions in the market and looking for e-signature implementation best practices.