Gen Y as the Next Threat Vector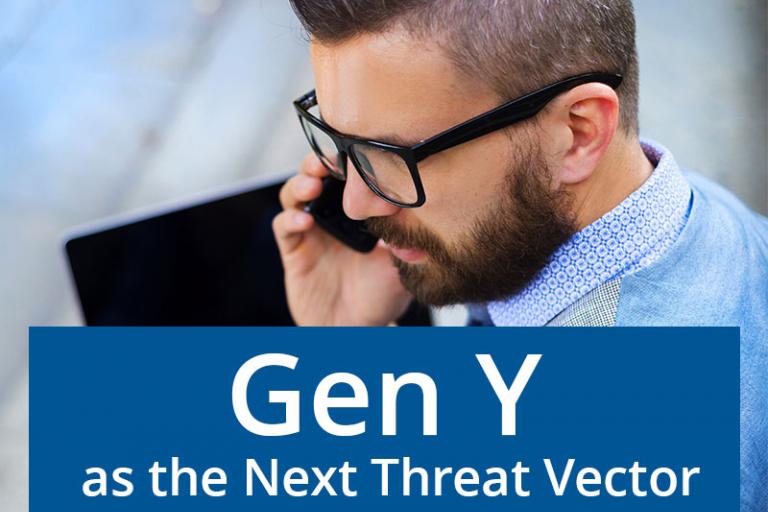 As each new generation becomes more technologically advanced, banks and other service providers need to respond quickly to new expectations, and nowhere is this more apparent than with the generation we often call Gen Y, or the Millennial Generation.
Gen Y has raised the bar when it comes to adoption of new technology, and the speed at which we must innovate. For example, they're much more likely to use mobile banking than their elders, and more likely to go elsewhere if banks do not offer the mobile services they desire.
To be sure, Gen Y is full of fast movers when it comes to tech, and it's no coincidence that they have also been labeled "the next threat vector." Why? Because they're digital natives, used to living their lives with instant access to their apps, their money, and their friends – pretty much anything that they do. And because they are so steeped in technology, they tend to forget that there are lots of bad guys online trying to steal their identities, empty their bank accounts, and cause other havoc with their digital lives.
Gen Y is labeled
"the next threat vector."
The good news is that Gen Y are also more willing to adopt, embrace and promote the use of powerful new technologies, including authentication technologies, that can help keep them protected in today's digital world. But make no mistake, when it comes to protecting themselves and their sensitive data, Gen Y is going to be expecting a lot.
Find out what threats Gen Y is up against, what they're expecting from their security solutions, and what authentication innovations have the best chance of keeping Gen Y both satisfied and secure. Download our new White Paper - Authentication for the Next Generation: How Gen Y is changing the way we protect our digital lives.