Go Mobile with the New OneSpan Sign iOS App!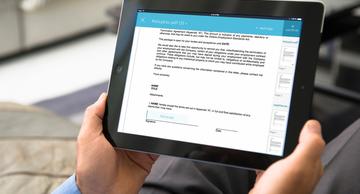 Mobile has changed the way organizations conduct business. They help employees be more productive, efficient and stay connected at all times. Sales professionals are no longer chained to their desks taking customer calls – they are out in the field closing deals on-the-go with their mobile devices. According to Forrester Research, employee mobile adoption is on the rise in the enterprise. In 2016, 61% of enterprise mobility decision-makers expect to roll out new mobile-based products and services; and 62% will increase their budgets to pay for more apps. Today, customers demand more convenient and flexible experiences from their vendors and suppliers. Onboarding has to be faster, more convenient and error-free. By adding e-signatures to your onboarding and e-contracting processes, you'll be able to better attract, retain and engage with customers who are increasingly mobile savvy. To respond to this demand, OneSpan Sign is excited to announce the release of its iOS app.  It's a powerful and convenient way of managing e-signature transactions on-the-go. The OneSpan Sign mobile app allows you to upload documents from popular storage cloud services like Box and Google Drive, prepare documents for signature, and e-sign with a fingertip or click – all from your iOS device. [promotion id="21135"]  
How to use the OneSpan Sign iOS app:
Once you've installed the OneSpan Sign iOS app from the App Store, these 5 simple steps will have you e-signing in minutes:
Create a new transaction: Login to the app with your OneSpan Sign login or create a new account. From the Dashboard, select "Create a new transaction". Name your new transaction.
Add your document: Upload your document from your device or your cloud storage service (Box, Dropbox, Google Drive). Select "+ Documents" to add your documents for signing.
Add your signers: Select "+ Signers" to add signers to the transaction. Add signers from your contact list or by entering your signer's details on the fly. Select "Next".
Prepare your documents for e-signature: On the Prepare page, drag and drop the signature blocks to the desired locations in the document. Hit "Send".
eSign: Once the transaction is complete, your recipient will receive an email with the link to e-sign your document.
To view our OneSpan Sign iOS app in action, watch our tutorial video here.
  With the OneSpan Sign iOS app, you can sign anywhere, anytime - regardless of internet connectivity. Transactions can be completed offline if necessary, and the customer's signature is still captured -- regardless of Internet status. Once an internet signal is available again, OneSpan Sign will automatically synchronize and securely upload e-signed documents and other transaction data to the server. What's more, if you already have an OneSpan Sign account, transactions from your web account will be mirrored to the OneSpan Sign iOS app and vice versa, giving you a seamless experience between both platforms. For example, you can send out your transactions for e-signature from your work laptop then monitor the transaction from the iOS app to ensure the transaction has been signed and vice versa. Interested in a free 30-day trial of the new OneSpan Sign iOS app? Download the app from the Apple App Store and start e-signing on-the-go today. Visit our website for more information about the mobile app.   NOTE: Since publishing this blog post, the OneSpan Sign mobile app is now available for both Android and iOS.