Google Compare, E-Signatures and Online Reviews are Disrupting Insurance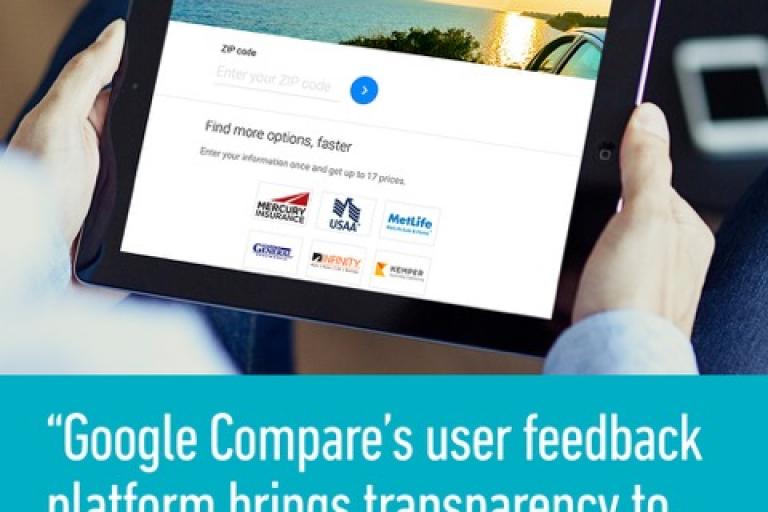 Last week, Re/code Tech News published an article entitled, Google Applies Pressure on Insurance Innovation. It's a worthwhile read that affirms a larger trend we see even in the e-signature industry: peer reviews are gaining in popularity because people trust other people more than they trust companies.
Google's entry into the insurance market is shaking things up and for good reasons. Insurance aggregator sites have been around for years but considering the increasing number of insurance purchases that start online, it is logical that search giant Google is looking to capitalize on this.
On top of the expected compare features, the Google Compare platform incorporates a ratings system. When's the last time you looked for a hotel on TripAdvisor, or for business software on G2 Crowd? Similar idea.
In the Re/code article, author Dax Craig reports that Google "has helped shift the insurance industry's emphasis on the customer by allowing peer-to-peer ratings and allowing consumers to openly disclose any negative or positive experiences with the insurer in question, which will breed overall superior customer service and experience."
The faster and more convenient the process, the greater the rewards
At e-SignLive, we've worked with many insurance carriers to digitize processes such as new business applications, delivery of state-required disclosures, policy servicing, claims submissions and more. Just transferring these processes off paper has a measurable impact on customer loyalty and satisfaction.
One of the primary reasons for this is the immediacy of e-signatures. E-Signatures eliminate all the frustrating delays that happen when paper has to be printed, copied, sent out, signed in ink and mailed back. Emailing a PDF of the application is no solution, since this isn't secure and leaves the client scrambling to find a printer and fax machine.
Expediting the process of buying insurance down to just minutes is essential to remain competitive in any channel. But for carriers working with Google Compare, it becomes absolutely critical to have the ability to fulfill a policy automatically. Without e-signatures, this simply isn't possible.
Carriers repeatedly tell us that e-signatures have helped lower not-take rates, increase customer loyalty and boost referrals. In fact, one insurer experienced a 14% higher retention rate with customers who e-signed their new business insurance policy. The reason is simple: customers go online, open a browser, and sign their documents in a few clicks (or taps, if you're on a mobile device). Keeping the transaction digital just makes it so much easier to purchase, renew or modify a policy.
Mobility and millennials
Now factor in mobility and millennials. Chances are, millennials will be using Google Compare for Auto Insurance on their phones and tablets. When carriers are recognized as "mobile and e-sign enabled" in customer reviews that appear alongside the Google Compare search results, those reviews influence the shopper's decision. According to Dax Craig, "it's a widely-held belief that most millennials do not trust insurance companies. They do, however, trust Google with just about every engagement they have with the Internet, and perhaps even more so — consumers trust other consumers. Google Compare's user feedback platform brings transparency to consumers."
It's not too late
Technology disruption isn't new to the insurance industry, but the pace of change is accelerating and carriers that don't offer a fully digital process online and on mobile devices will be left behind. The good news is, it's not too late if your organization has not yet adopted e-signatures.
To learn more, read the case study on a leading P&C insurer that uses electronic signatures to enable end-to-end policy issuance online – in minutes.
Or if you are short on time, watch this 2-minute demo of e-signatures for auto insurance.