Government Agencies Go Mobile with E-Signatures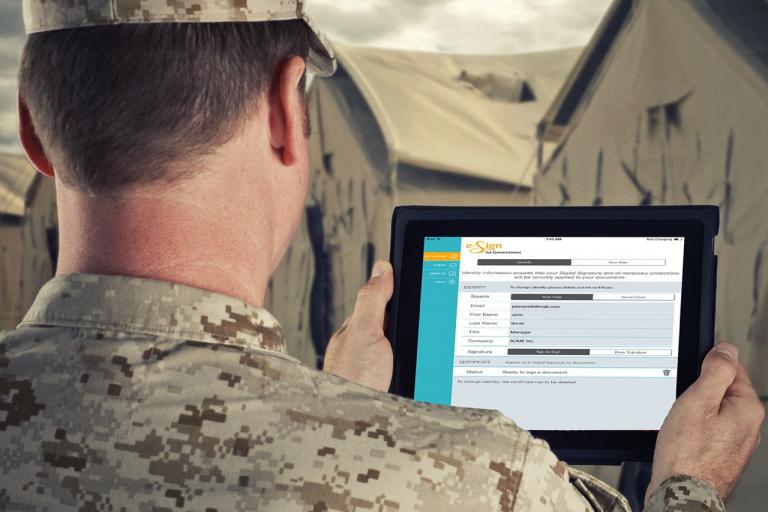 It's more evident than ever that mobile devices have become the most disruptive technology across many organizations, especially in government agencies. Mobile adoption is on the rise in government, with agencies taking a two-pronged approach with equipping employees for mobile productivity while also using mobile apps to improve civic engagement and service delivery. With the need for government agencies to also go paperless, the marriage of mobile technology and e-signatures is quintessential in helping government agencies streamline their business processes. eSignLive works with over 500 government organizations to help digitize their signature process. Among these organizations, there is also a need for mobile e-signatures to help government employees obtain signature on the go. [promotion id="15366"] eSignLive offers the e-Sign for Government, a native iOS application to securely obtain e-signatures from mobile government employees. The mobile app was designed specifically with government users in mind, especially for government employees and military personnel that routinely need to e-sign forms and documents using digital certificates stored on a Common Access Card (CAC) or PIV smart card. It provides a simple and secure way to prepare, send and sign mission-critical documents on the iPad and iPhone. What's more, the application is disconnected, so government employees can complete e-signature transactions offline, with no internet connection. Once connected, e-signed documents can be sent to other users by email for reviewing and signing.
Product Highlights of the eSignLive e-Sign for Government app:
Prepare, send and sign PDF documents using your iOS device
Import documents from email or the cloud using the native iOS "Open In" feature
Import document images from your device's photo library or take a photo
Prepare your transaction in seconds by easily adding signature blocks to your document
The app supports tap-to-sign and handwritten signature capture methods
Supports 3 authentication methods: CAC, self-signed certificates and CA-issued certificates
Compatible with the iPad/iPhone
Sample Use Case for the e-Sign for Government:
A government agency can revamp its recruiting process by going mobile with the e-Sign for Government app to automate the way they obtain signatures. Instead of processing hundreds of forms which would take weeks to complete on paper, the e-Sign for Government app can help cut paper, eliminate errors and improve quality control of the recruitment process. The app's offline signing capability can also help for an uninterrupted recruiting process in case internet connectivity dropped. Interested in digitizing your government agency with mobile e-signatures? Download the e-Sign for Government app here.