Harnessing the Power of Mobile with Use Your Own Device (UYOD)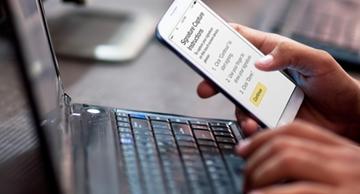 Mobile is everywhere. Mobile devices have become our most beloved companions and they accompany us everywhere we go. If you're like me, your smartphone doesn't leave your sight. In business, mobile is helping organizations overcome business challenges and create better experiences for customers. The beauty of mobile is that it allows people to complete transactions from anywhere – at home, in the office, or in transit. And because mobile provides a level of freedom and flexibility that wasn't available just a decade ago, it has become the primary channel for completing transactions today. Turning a smartphone into a signature capture pad Mobile empowerment means giving your customers the ability to carry out transactions on their terms. The recipe for mobile success involves giving your customers the power to do business with you whenever and wherever is most convenient for them. At Silanis, we enable you to leverage the devices that are near and dear to your customers. Instead of investing in costly hardware to capture a signature, what if you could harness the power of the devices that your customers carry with them day in and day out? That's what e-SignLive™ "Use Your Own Device" (UYOD) Mobile Signature Capture is all about. We've developed a feature that's available in our cloud-based and on-premises e-signature solutions that enables you to capture handwritten signatures without the need for costly signature pads or touchscreen devices. This feature solves the fundamental problem of capturing handwritten signatures on-the-fly and speaks to organizations that want to securely deliver and support services on devices that their customers already know and love. And once the signature is captured, it is automatically uploaded to and stored by your system. Making the virtual bank a reality To attract new customers and upsell additional services, financial services institutions are increasingly offering the ability to open accounts without the need to visit a branch.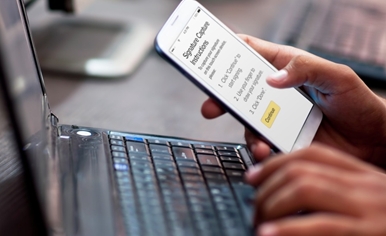 With over 50% of our customers in the banking and lending space, we initially developed the mobile signature capture feature for banks and credit unions wanting to deliver a more convenient and more personalized online experience. In fact, a top global bank is already rolling out this technology to attract and retain highly engaged customers. Even if you offer the ability to open accounts online, your customers and members have to enter a branch at some point to manually sign paperwork or e-sign on a signature pad. With the mobile signature feature, they can hand-sign documents anywhere, any time, on their own mobile device without downloading an app or plug-in. The onboarding process is completed in minutes entirely through a web browser and a mobile device, in a secure and compliant manner. And best of all, your customers and members never need to visit the branch to complete paperwork (a pet peeve for many of them). Digital, but personal "Use Your Own Device" Mobile Signature Capture is a first-of-its-kind e-signature innovation – allowing banks, credit unions and other financial services institutions to transform the way they do business. Going digital has many benefits for your business, but it inherently removes you from the equation, resulting in fewer customer touch points. UYOD is one way that you can make digital banking transactions more personal and improve the customer experience all at the same time. A smooth user experience will encourage your customers to use their mobile devices to complete transactions and help expand your business prospects. Give us the finger The latest and greatest financial and banking technology innovations will be showcased at this week's Finovate conference in New York City.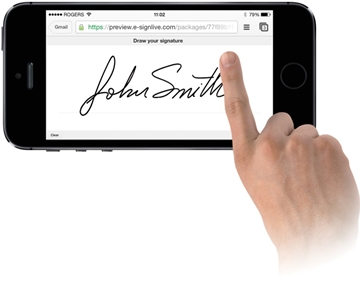 This feature was hand-picked as a game-changing application and Silanis CEO and co-founder, Tommy Petrogiannis, be giving a live product demonstration on the main stage. If you're in the area, give us the finger and try UYOD mobile signature capture for yourself.   Contact us to learn how you can integrate e-signatures and mobile signature capture functionality into your customer onboarding process.