Highlights from DocPoint User Conference 2017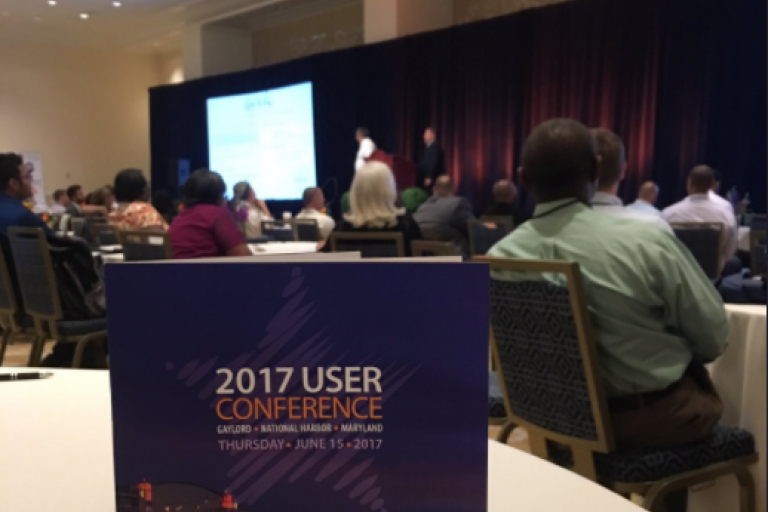 Every now and then the right circumstances occur and everything seems to fall into place. Think of the movie, "The Perfect Storm". Sometimes the perfect storm is good – when the planets align and the whole universe seems to be collaborating for the better.
That is how it was at this year's annual DocPoint User Conference.
The conference brought together 250+ industry experts, thought leaders and technology professionals to share the importance of data in transforming business processes.
Information was the focus of the event – making sense of information in and outside the enterprise. One interesting topic of discussion was that of silos of information. So often, information is stored in such a way that makes it difficult to share.
Think about interactions across a Federal Agency whose purpose is to gather or disseminate information. After all, information is only valuable when shared. The entire process breaks down unless the actual systems that use, store, generate or consume the information are also shared.
Fun opening video from DocPoint
Case in point: DocPoint, Nintex and eSignLive
Organizations use Microsoft SharePoint to organize, track, store and share documents for projects and teams. It is hard to argue that SharePoint is the top performer in the document management and storage arena, and DocPoint is the leader in SharePoint implementations with its wealth of knowledge and demonstrated success.
How do documents get routed into production? Workflow. Nintex, a leader in workflow solutions, expertly manages how people interact with documents, from beginning to end, throughout the entire process.
Once documents are ready to be consumed, the process usually involves getting documents signed. Enter e-signatures.
eSignLive for SharePoint allows organizations to prepare, manage and send these documents for e-signature directly from SharePoint. This connector helps users to better collaborate with fellow employees, customers, partners and suppliers.
eSignLive for Nintex SharePoint makes it easy to add configurable e-signature actions to your workflow designs. A simple drag-and-drop action adds e-signature actions directly into the workflow, so you can build workflows that fit your business process needs. Recipients can conveniently review and sign documents from anywhere, on any device.
With Nintex Workflow for SharePoint, users can automate repeatable processes in SharePoint to reduce costs, eliminate errors and improve efficiency.
The power of e-signatures is two-fold:
E-signatures keep business process in the digital world without falling to paper. This translates directly to faster completion times, full visibility into the workflow process and the elimination of errors by following pre-set workflow rules.
E-signatures create a secure, trusted transaction, even in a FedRAMP-compliant environment. Audit trails prove compliance, non-repudiation of signers (proof of identity) and intent to sign by tracking time spent on document review. A digital encryption of the document is stamped between signers, so as documents move from one signer to the next, tamper evidence proves their validity.
Government agencies have the ability to create and collaborate with shared documents, define specific workflow procedures around the movement of designated documents, including when to get signatures, who signs and in what order. Documents are routed for signature right from within SharePoint, leveraging the workflows designed in Nintex, and signed with eSignLive. A true end-to-end solution and the perfect document storm!
Easy end-to-end document workflow brings together the best of breed in each specific area into a single, cohesive solution – DocPoint, Nintex and eSignLive– empowering agencies to digitize processes of all kinds. Together, these solution providers are proving that the sum is greater than the parts.