How to Build the Business Case for E-Signature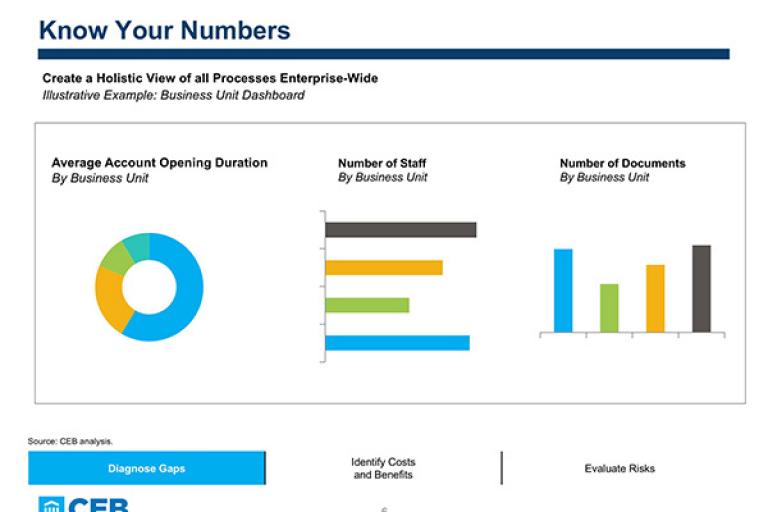 We regularly host webcasts with analysts on topics such as Making the Case for E-Signatures. If you missed the insights from Nicole Sturgill, Principal Executive Advisor at CEB (now Gartner) and Abe Karar, former Director of Business Process & Digitization at BMO Bank of Montreal -- or if you don't have an hour to sit through a webcast -- here is the 5-minute summary. 
The Business Case for E-Signature
Making the business case for electronic signatures is a topic that comes up again and again for Nicole Sturgill, a Principle Executive Advisor for the financial services practice at CEB, now Gartner. She leads the Retail Operations Executive Circle and has responsibilities for research and advisory activities covering customer experience trends through to technology in branches, ATMs, contact centers, mobile banking and social media. In this webcast recording, Nicole provides her own unique insights with a framework to help you build the business case for e-signature.
The Challenge
E-Signatures as a stand-alone solution have been difficult to prioritize against IT investments that have immediate cost savings or revenue generating opportunities. However, CEB has observed that in context with other high-priority initiatives (i.e. implementing paperless processes and mobile account openings), the lack of e-signatures becomes a show stopper. For this reason, the electronic signature solution is transitioning from "hard to justify" to "crucial" for financial institutions. Enter the importance of a strong business case, says Nicole.  
The Tools for the Job
For banks that know they should have e-signature but can't get the ball rolling, CEB has gone deep into banks' requirements and built a series of tools to help: the CEB Ignition™ Guide Pack for E-Signature. These tools help tackle electronic signatures over a six-step process:
Assessing readiness for e-signature
Building the initial business case for e-signature
Scoping the vendor landscape for e-signature
Selecting a vendor for e-signature
Developing the contract with the e-signature vendor
Kicking off the implementation of e-signature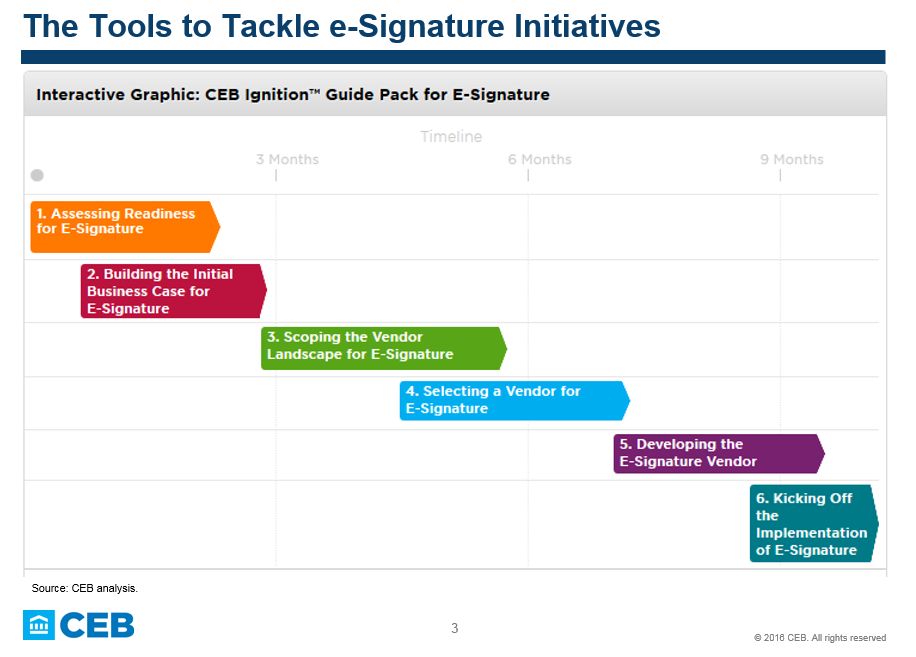 Building the Initial Business Case for E-Signature
CEB suggests breaking step two, arguably the most monumental and most difficult step, into three efforts:
I: Diagnose Technology Performance Gaps
To talk about the opportunities that exist across the value chain, you must know where the inefficiencies are now.
Provide critical input: Map the workflow of the current process for each business unit.
Know your numbers: Create a holistic view of all processes enterprise-wide.
Know your effort: Create a rating system for staff and customer processes.
 II: Identify the Costs and Benefits to Stakeholders
To add context to the information you've collected above, think about the customer's point of view.
Measure customer impact: Write a customer impact statement framing the impact of the new e-signature service on overall customer experience.
Estimate the costs of the current system and potential cost savings. Estimate the time employees spend and costs they incur using the current paper system, define metrics against business priorities and objectives, and convert qualitative feedback to quantitative feedback.
III: Evaluate the Internal and External Risks
Examine internal policy and compliance changes: Identify the policy and compliance changes driven by e-signature.
Know the risks upfront: Conduct a technology risk assessment to evaluate deployment risk – think in quadrants of infrastructure, data center, applications, and security.
Remember to keep in mind that no project is without risk.
According to Nicole Sturgill, "Firms should ask the compliance department what processes they have in place for tracking regulatory requirements. This will show the level of knowledge the compliance department already has about e-signature and what still needs to be researched.
"Next, they should consider how the compliance department will ensure standards are met during a technology transition. To do this, firms can establish a record of how compliance ensured that standards were met during past technology transitions. This historical record of technology transitions will help firms identify what work will need to be done by compliance and what will need to be done by other areas of the bank like business line functions and IT."
For additional insights to guide you on your business case journey, listen to the full webcast recording or read the CEB report.