How to Integrate E-Signatures into your Business Application with the OneSpan Sign SDK
OneSpan's cloud-based e-signature solution, OneSpan Sign, is built using a REST-based API, which has long enabled our customers to add e-signature capabilities to their homegrown or third-party systems. To help make integration with OneSpan Sign even easier, we decided to introduce Software Development Kits (SDK). Before taking a deeper dive into the characteristics of the OneSpan Sign SDK, let's review the typical OneSpan Sign integration scenario.
Oftentimes, our customers have existing web-based software systems to support their business processes and they want to add e-signing capabilities as seamlessly as possible. For this, OneSpan Sign provides an embeddable and customizable e-signing experience. Using the OneSpan Sign API, our customers are able to set up and configure the e-signing experience. Here's a diagram providing an overview of how the process works:

From this picture, we can see that the Business Application makes API calls to OneSpan Sign (it can be as little as one call only) in order to create and configure a Document Package. Once a customer has created this package and it is ready for signing, the e-signing experience becomes embedded in the Web Application through the means of an HTML iFrame. As you can see, many details go into the creation of a document package, which is where the OneSpan Sign SDK fits in.
Quite often, business applications are written using Java or Microsoft .Net technologies. The SDK abstracts away the details of making API calls over HTTP and in some way shields our customers from changes to the API. This is a win-win situation! We adopted a fluent interface style for the SDK, which makes creating document packages just a few lines long. Here's a short example using the Java programming language: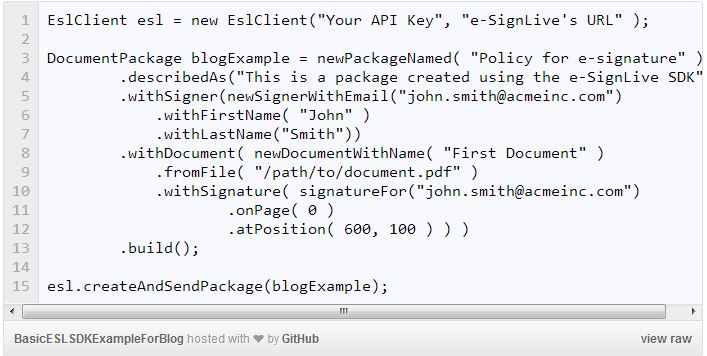 As you can see, the fluent interface style combined with the nomenclature used throughout the SDK make it easy for anyone to understand how document packages are configured and created. And it's applicable to both simple and complex transactions, with the SDK offering the ability to not only configure document packages but also customize the signing experience. This helps ensure the e-signing experience feels like it was always built into the original application.
The OneSpan Sign SDK is currently available for both Java and Microsoft .Net platforms, with complete SDK documentation available here. All of the SDK source code, along with examples, is open sourced and publicly available on GitHub. Give the OneSpan Sign SDK a try in our sandbox environment and see how easy it is to enable your business application with e-signatures.
Etienne Hardy is OneSpan's SaaS Software Architect and leads the OneSpan Sign™ engineering team. Etienne's background in web application architecture and development extends to industries including finance, human resources, insurance, medical and pharmaceutical.