How USDA Digitized Their Processes with E‑Signatures in Record Time
The disruptions to the economy and supply chains caused by the pandemic have born a heavy weight on the public servants committed to serving their communities in these times of need. In a spirit of goodwill, officials at the United States Department of Agriculture (USDA) took the swift actions needed to adapt their operations and ensure the continuity of their farm production and conservation services.
From major federal departments to small agencies, the United States federal government has streamlined their business processes at an exceptional pace. As such, the perceived risk and compliance concerns that previously held back the adoption of digital solutions are no longer seen as barriers to process modernization.
As country-wide lockdowns in response to COVID-19 came into effect last spring, teams across multiple agencies at the USDA rapidly investigated solutions for mission continuity. It was quickly determined it was time to adapt their operations to leverage a secure, cloud-based e‑signature solution, so America's farmers and agricultural producers could sign documents without putting their safety as risk.
The U.S. Department of Agriculture is responsible for providing leadership on rural development, agricultural research, agricultural products, food safety, food assistance, forest services, and more. You can visit their official website at www.usda.gov.
In our recent webinar, "Accelerating Critical Government Services During the Pandemic," two representatives from USDA's Farm Production and Conservation (FPAC) agencies joined OneSpan to discuss what it took to ensure government workers had the tools they needed to deliver essential services to farmers and ranchers at unprecedented speeds.
Government Lockdowns Catalyze the Growth of Digital Services
The USDA agencies responsible for farm production and conservation are the Natural Resources Conservation Service (NRCS), which helps millions of farmers by providing technical assistance on their land conservation efforts, and the Farm Service Agency (FSA), which carries out policies and administers credit and loan programs. These two agencies often serve the same customers but leverage different technologies and tools to meet their unique requirements.
Before the pandemic, many documents being administered by both agencies still required an in-person signature, but as closures were announced across the country, the agencies needed a way to maintain agriculture and commerce while also protecting the country's farmers from the virus.
Up to this point, the NRCS had a digital records system and even a method for obtaining e‑signatures, but it was not inclusive to all documents. Meanwhile, the FSA was months away from launching their own digital records system which excluded an e‑signature solution altogether. Farmers and ranchers are busy people, so this required a considerable amount of time to get documents signed in person.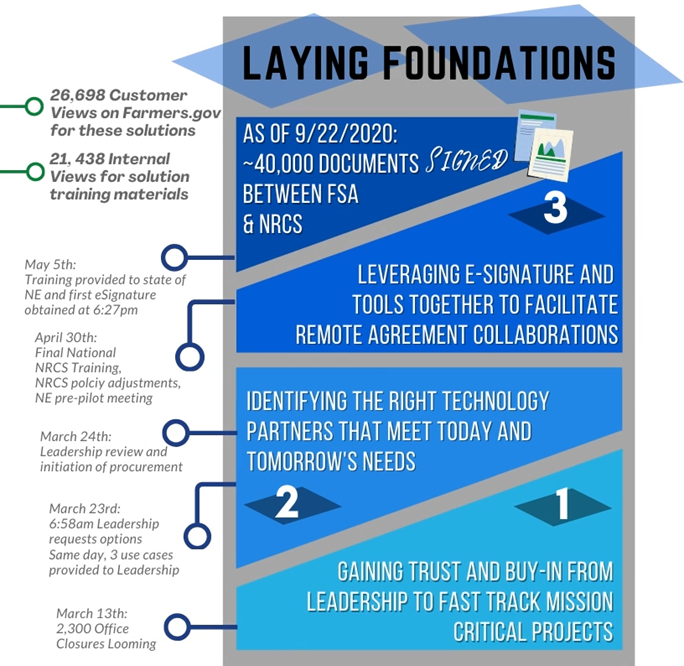 Once lockdowns were put into effect, producers in need of funding were no longer able to drive out to the nearest USDA Service Center to sign contracting documents or payment applications.
Kirt Peterson, Natural Resources Specialist at USDA's FPAC, shared how their Mission Delivery Optimization team investigated inefficiencies across agencies to modernize their business processes. It was clear at the time that they would need to evaluate a new process with a cloud-based e‑signature component to collaborate across multiple counties and service their communities' farmers.
Amber Herz, Program Assistant at USDA's NRCS and a key member detailed to the Mission Delivery Optimization team, introduced objective to create a new, more efficient process: gaining trust for what needs to happen, identifying the right solutions and team, and using the new tools together.
1. Gaining Buy-in from Stakeholders to Drive Change
With agency service center closures imminent, the agencies acted quickly beginning on March 13th. The team discussed continuity problems with the FPAC Business Center's Chief Architect.
Although the urgency of the situation warranted a fast evaluation and implementation, the two FPAC agencies still first needed to gain trust from all levels of USDA's leadership to successfully deploy the new tools.
Prior relationships and effective networking across the agencies and business center went a long way in gaining the internal buy-in needed to deploy a successful project. The team concentrated on a core group of people representing each area that needed to be involved. New, flexible business procedures were discussed at length and live demonstration were conducted, increasing credibility and awareness into the new process.
Ten days later, the evaluation team presented three options for their leadership's review. A decision was reached the very next day to leverage cloud-based e‑signatures and the team immediately began setting up strategic calls and procurement discussions.
2. Choosing the Right Technology Partner
When reviewing potential partners, it was critical for the two agencies to work with vendors that were willing to go above and beyond to help achieve the mission. This was not business as usual and the USDA needed a trusted partner that could meet the urgent goals.
They also explored additional applications while designing the e‑signing workflows to ensure the solution was designed with scalability in mind.
USDA had years of experience working with OneSpan already, and they knew OneSpan Sign to have the built-in capabilities to expand the solution across the organization while also covering the strictest government regulations.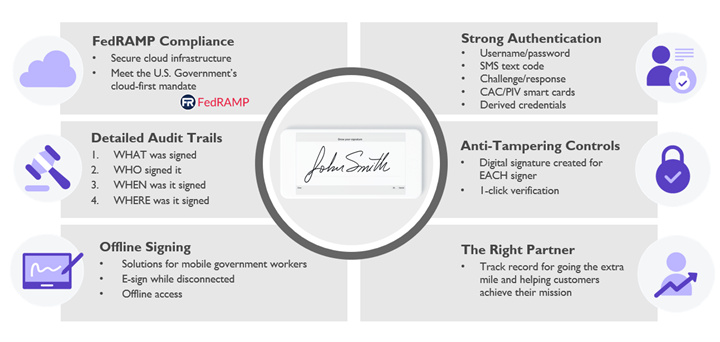 By partnering with OneSpan, the team could be confident they were working with the right people to keep the project on track.
3. A Better, More Efficient Experience Than Before the COVID-19 Pandemic
OneSpan Sign was deployed as an integrated, cloud-based solution to enable remote collaboration across USDA's Service Centers.
Today, once documents are e‑signed, a cloud-based storage and communications platform handles the downstream processing of those documents depending on agency requirements. This accelerated process allows farmers and ranchers to continue getting the services they need in a new, enhanced way.
Although the two agencies were not always aligned with technology historically, the key players worked as a team to benefit all those impacted by the crisis. In under 6 months, over 40,000 documents have already been e‑signed between both the NCRS and FSA, policies were updated for increased flexibility and aligned as much as possible to create a more uniform customer experience for the Nation's producers.
By working together for the greater good, the USDA's farm production and conservation agencies were able to protect future generations of farmers, reduce the impact of the virus to commerce and the food supply, and help make the U.S. government more equipped and efficient.
To learn more about USDA's success story, please watch the recording of our joint webinar, "Accelerating Critical Government Services During the Pandemic". For more on how OneSpan Sign can be deployed to support mission continuity for government during this time of crisis, please read more on Supporting Government Mission Continuity.