Instant Replay: eSignLive at FinDEVr London 2017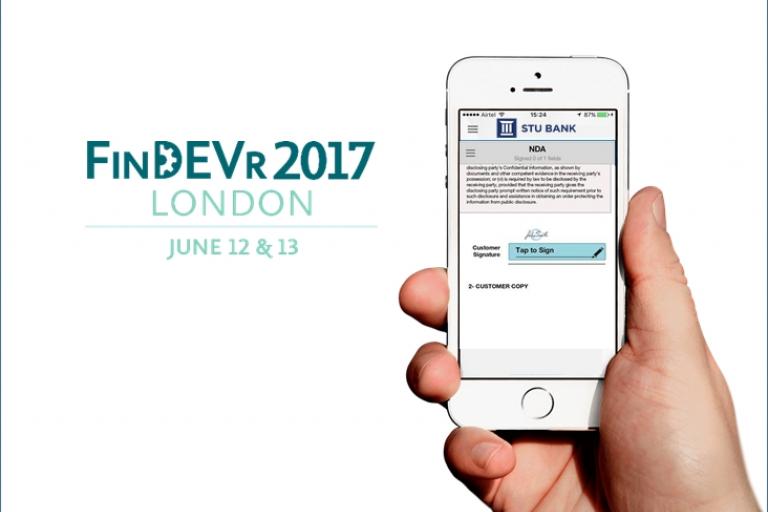 FinDEVr is the world's premier innovation conference for fintech developers. eSignLive was hand-picked to present its mobile innovation to hundreds of developers, architects and CTOs from across Europe at the recent FinDEVr event in London.
Missed our presentation? Here's your chance to see our onstage demo where we showed developers how to enable a fully mobile account opening process and integrate e-signing and workflow capabilities into their own mobile apps with the eSignLive Mobile SDKs for iOS and Android. We also demonstrated how organizations can track the effectiveness of the customer's mobile journey and then use those insights to ensure an optimal customer experience.
Mobile Demo & Code Walk-through
Watch this video in full screen mode.
Audience Q&A
The live audience submitted some great questions, but unfortunately we didn't have a chance to get to all of them! I've included the answers in this blog post (don't hesitate to reach out to me directly via my Twitter handle @rahimkaba if you have any additional questions).
I'm assuming you support Android as well. Do you provide a cross platform SDK which would support a single codebase for a multi-platform app?
Yes, our single platform e-signature solution means that you can code once and deploy anywhere. Start developing using a common REST API and fully supported SDKs for Java, .NET, APEX, iOS and Android and deploy however and wherever (e.g., on-premises or in a public or private cloud) you want. And if your needs change over time, we give you the flexibility to quickly migrate from one deployment/app to another. To get started, join the eSignLive Developer Community for free access to developer tools, sample code, documentation and an unlimited sandbox account.
Where are users' signing keys stored?
Our customers can choose where digital certificates and signing keys are stored. The two most popular options include:

eSignLive-signing Certificate

: the signer is securely authenticated and the document is digitally signed with eSignLive's trusted certificate stored in a Hardware Security Module (HSM) in the cloud (or behind the customer's firewall for on-premises deployments).

Local-signing Certificate

: the signer's identity is attached to a personal certificate locally stored on a PIN-protected smart card, USB token or computer that digitally signs the document.
How do you sign on computer (without touch screen)?
Signatures can be captured in various ways. The most common method is a simple click-to-sign or tap-to-sign, where the signer clicks (with their mouse) or taps (using their finger on a touch-enabled device) the signature block to capture their intent to sign.
A handwritten signature can also be captured using the signer's finger to apply their signature on a touch-enabled device. If the signer is using a desktop or laptop that is not touch-enabled, our solution also offers cross-device support to allow desktop/laptop users to e-sign from their mobile device. Learn about mobile signature capture using the signer's own device.
How about local Single Sign-on (SSO) standards integration? We have something called NemID in Denmark.
eSignLive supports SSO integration via SAML/OAuth for organizations that want to access eSignLive from third-party entities. eSignLive also allows organizations to direct signers to any third-party authentication process or external identity provider (IDP), such as NemID's secure login service.
Have you ever been called upon as expert witnesses in a court of law to help prove the veracity of a digital signature?
Yes. One the major advantages of using a digital vs. paper process is that you capture A LOT of information about how, where and when a transaction took place. With eSignLive, we go above and beyond other e-signature providers and offer a patented visual audit trail that captures a step-by-step recording of exactly how the process took place – as seen and experienced by signers. We capture all of the web pages, mobile screens and documents that were presented to signers. These actions can be replayed – even years after the fact – to help our customers quickly and easily demonstrate compliance to auditors and support legal cases in the event of a consumer dispute.
Have you performed analysis on what countries accept this kind of e-signature by law?
As I mentioned during the Q&A portion, e-signatures are in use around the globe. Today, more than 75 countries recognize the legal validity of e-signatures. I encourage you to download our "Electronic Signatures Laws Around the World" eBook for an overview of the various global e-sign laws and regulations. And make sure to click on the world map – each country links to legislations specific to each region.
How do you validate the identity of the signer?
There are various options to validate the identity of signers in a transaction and this largely depends on if they're a known customer or an unknown, net-new customer. Download our "User Authentication for E-Signature Transactions" white paper to learn how to select the right authentication method for your process (FYI, eSignLive provides 9 authentication options out-of-the-box).
What advice would you give to CTOs pushing for digital signatures, but hitting opposition from board members who are suspicious or nervous of the technology?
While digitization efforts remain one of the top priorities for banks and other financial institutions, it continues to be a challenge to prepare a solid business case for e-signature solutions that many stakeholders across the enterprise can support. We've worked with organizations around the globe to help them make the case for e-signature – for example, by following the "paper trail" and mapping out before (paper) and after (digital) workflows, as well as calculating the ROI that can be achieved across their key business processes. Learn how BMO (Bank of Montreal) made the case for e-signature to banking executives – both on the technology and business side.