Introducing the New, Improved Mobile Signing Experience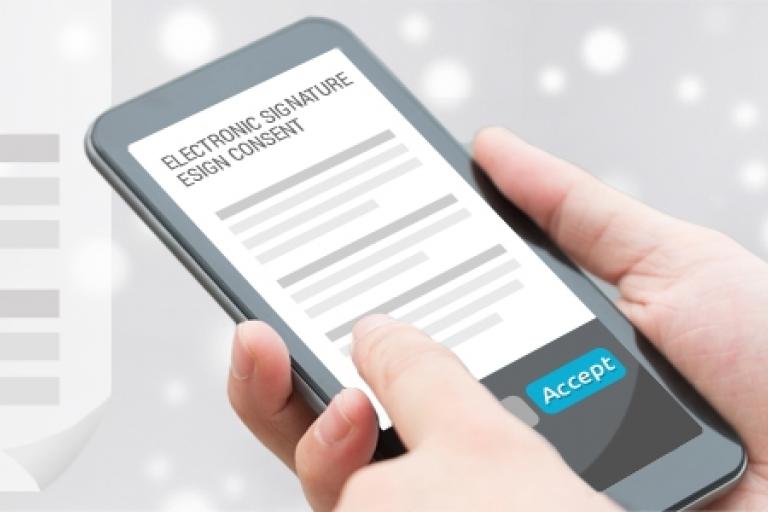 According to a mobile research report from Google, 83% of people don't leave home without their mobile device. The proliferation of mobile devices is changing the way businesses interact with their customers. In fact, mobile devices are rapidly displacing the desktop as the primary means of doing business.
At Silanis, we continue to see a surge in the number of people combining mobile devices with e-signatures. In the near future, the majority of e-signature transactions will be launched from mobile devices – a change that many of our customers are already observing. Signing documents on mobile devices however poses unique challenges due to the limited screen real estate for displaying content on smaller devices. In order to fuel the widespread use of e-signatures around the world, it is becoming increasingly important to provide signers with an optimal signing experience on all types of mobile devices and screen sizes.
Winter '15 Release: A Focus on Mobility
Today with over 30% of signing occurring on mobile devices, we've invested in a number of new features and enhancements around mobility in the upcoming e-SignLive Winter 2015 Release. e-SignLive already makes it possible to e-sign anywhere and on any device, but the new release adds a responsive design for small form factor mobile devices such as smartphones.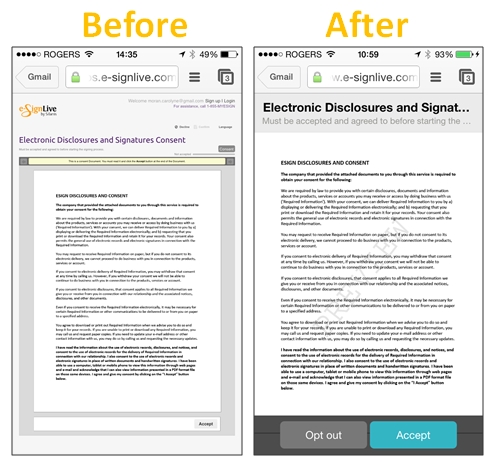 Our mobile team has leveraged the unique capabilities of smartphones and HTML5 to present documents in a simpler and more elegant manner. With the new, user-centric mobile experience, signers are prompted with easy-to-understand instructions and gestures to seamlessly move through the signing ceremony. For example, signers no longer need to pinch-to-zoom to sign documents; and signature capture boxes automatically scale to the signer's smartphone screen size. What's more, signers are now presented with a mobile-optimized view of the Electronic Disclosures and Consent Form (see the Before and After image).
It's All About Adoption
Signing documents should be a no-brainer. Our commitment is to make it even easier for your customers to complete e-signature transactions regardless of the process, device or channel. Our mobile-first approach begins with mobile considerations for small form factor devices such as smartphones, which pose unique challenges for signers due limited screen sizes. Whether your signers are customers, employees or business partners, the simple and more intuitive signing experience will help you achieve the highest adoption rates possible.
e-SignLive users will be able to benefit from the new mobile signing experience on February 15th, along with a number of other new features and enhancements in the Winter 2015 Release.
Product Briefing Webcast
If you'd like a closer look at the upcoming release, please join our product management team on Monday, February 2nd for an informative webcast on the latest and greatest that e-SignLive has to offer. We'll show you how to use the new capabilities and provide you with common use cases to put the new features and enhancements in context. If you're new to e-signatures, give our Quick Demo a try and experience how easy it is to e-sign.