Navy Federal Credit Union & Truist Discuss Digital Innovation in Business Banking
Digital innovation is one of the year's most relevant topics. Especially so in the world of business banking, where there's been tremendous change in the ways that clients engage with financial institutions – particularly in areas like virtual collaboration for signed transactions.
To better understand these changes, we invited three leaders in the US business banking sector to share their thoughts on digital innovation: Navy Federal Credit Union, Truist, and cloud banking platform provider nCino. Speakers included:
Larry Perino, Business Program Development Manager at Navy Federal Credit Union
David Choman, Director of Smart Workflow at Truist
Jamie Groudle, SVP, Enterprise Banking at nCino
This blog shares the highlights from our conversation on banking innovation and points to the future of financial services. You can watch the full session on-demand.
Navy Federal Credit Union: "All Demand Funneled into One Channel: Digital"
Navy Federal Credit Union is the largest credit union in the world by asset size and has over 11 million members. During our panel discussion, Larry Perino focused on Navy Federal Business Solutions, the credit union's business lending unit, which serves more than 320,000 business members. Larry talked about how this group has innovated since the onset of the pandemic and the launch of the federal government's Paycheck Protection Program (PPP).
Once lockdowns came into effect, there was little time to enable remote working and banking functionality. In order to handle the first wave of PPP and SBA loans in May 2020, Navy Federal Business Solutions decided it could speed up its processes by using the integration between the nCino banking system and OneSpan Sign electronic signatures. In the initial first round of PPP, prior to the roll out of their digital services , Navy Federal Business Solutions processed only 150 PPP loans (all manually). After developing their end-to-end digital solution in six weeks, they were able to process these loans at 10 times the rate – and by the time the second iteration of PPP rolled around in January, they had an updated solution ready on day one and were able to process over 1,000 PPP loans in just the first week alone. 
While this was going on, Navy Federal Business Solutions also faced an explosion of growth with new business membership applications. As Larry Perino explained, "[Prior to the pandemic], we onboarded approximately 2,500 to 3,000 new members a month split about 60% through branches and 40% through the call center. Overnight, as we were (temporarily) closing down our branches because of the pandemic, it funneled all of that demand straight into one channel: our call center. To make it work, we had to expand our use of digital."
"We also saw a rapid expansion of new business members, going from about 3,000 new memberships a month to over 10,000. To put this in perspective, in 2019 we onboarded 30,000 new members. We onboarded over 30,000 new members in the first quarter this year alone. Some of it was because of COVID. And because of changes in habits where people want more digital engagement. So we've had to put more emphasis on different channels." 
The challenge was how to scale up Navy Federal Business Solutions' ability to process these new digital business customers through a single channel.  The answer for them was a digital strategy. They introduced a digital pre-application and automation focused on collecting the necessary information up front and reducing call handling time.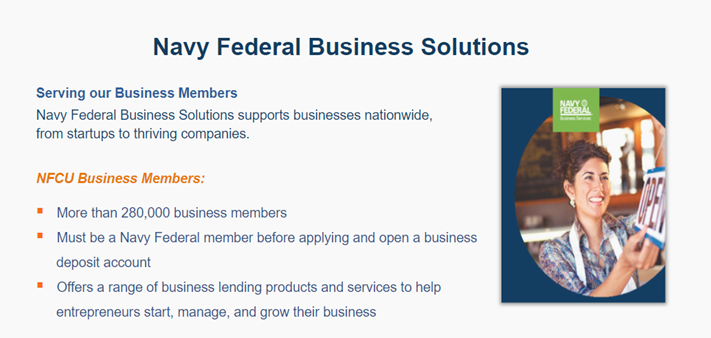 Truist Financial: "A Huge Uptick in Electronic Signature"
Truist had a similar experience.
The seventh largest bank in the US, Truist was formed through the merger of BB&T and SunTrust Banks in 2019. The bank has $522 billion in assets and serves 16 million customers. Truist offers a wide range of banking services spanning retail, small business and commercial banking, commercial real estate, treasury and cash flow management, asset management, and wealth management, among others.
As David Choman, the bank's Director of Smart Workflow, explained, "In our business, we helped about 32,000 companies protect a million jobs with $10 billion in PPP loans."
"We also saw a huge increase in digital traffic between Truist.com and our more traditional online banking channels. Online banking was the method in which people really engaged because of the conditions for virtual collaboration – whether it be phone, email, video – in terms of filling a gap for executing a signed transaction."
"That led to a huge uptick in electronic signature. A lot of people found that to be a surprisingly smoother experience than traditional signing," Choman says.
"E-Signature is definitely here to stay. It's just such a low-hanging fruit and essential to closing the last mile of the digital experience."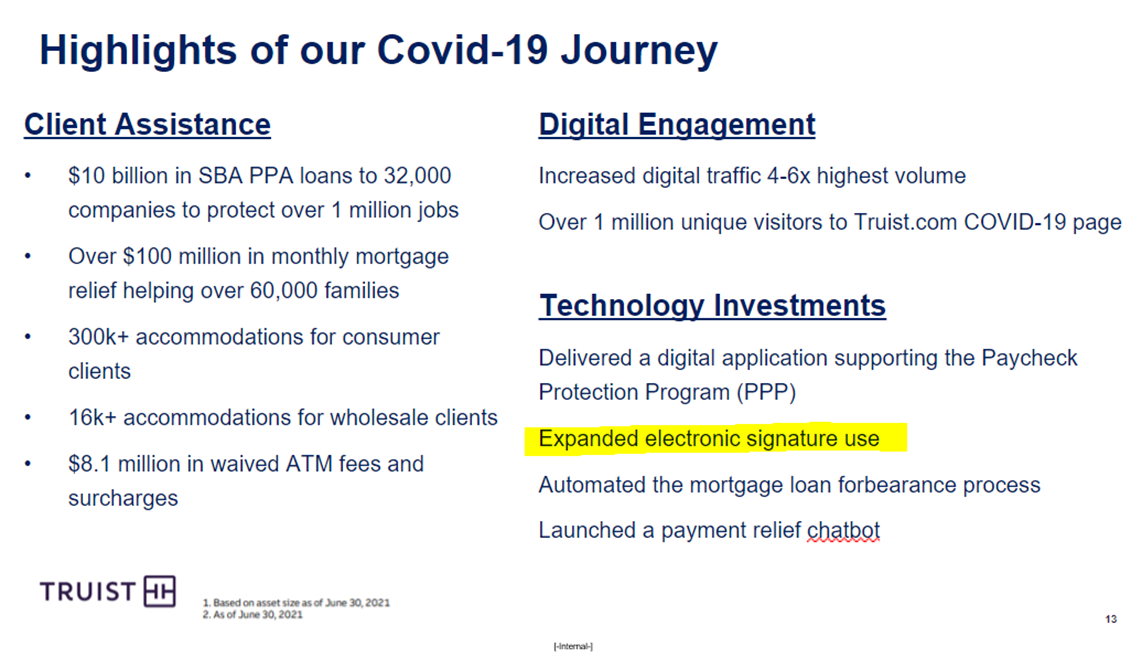 In Business Banking, Agility and Speed are Here to Stay
For these banking leaders, fully digitizing processes with electronic signature and other technologies is not a trend; it's a permanent change. Further, new technolog ies are improving constantly to make in-person still possible, but in a digital format. For example, signing for loans or other business banking agreements can happen remotely and in real-time through digital identity verification, video conferencing and co-browsing interfaces, mobile banking, and other innovations that bring the in-branch experience to clients in a secure and convenient way.
As Jamie Groudle of nCino commented, "I was in a conversation recently and we were talking about how we used to have to email documents or drive around town to meet somebody for lunch to pick up a document. Going back to that would be taking a step backwards as we come out of COVID."
During our conversation, Jamie Groudle elaborated on things he thinks are here to stay, namely the demand for speed and the need to be nimble when responding to clients. "Clients don't want to wait six months for a solution or a new channel. That concept of low code, fast time to value, and agility are here to remain," he says. 

Executing Strategically: Scalability and Flexibility Matter
The ability to scale and adapt to changing circumstances is a necessity for any technology a financial institution implements. When the pandemic first hit, Navy Federal experienced a significant increase in the volume of new business bank accounts they were processing. This degree of increased volume could not be handled by their contact center alone due to the time required to verify customer details and other relevant information. Enabling digital account opening for business accounts sped up the process and created a better user experience for employees and clients. Continuing to decrease the amount of time to complete the onboarding process, including business verification and quality assurance, is also critical to ensuring a convenient customer experience in business online banking.
As Larry Perino explained, "We throw around buzz terms like scalable and flexible, but through the PPP program there was a necessity to be able to scale up quickly and it had to be flexible enough. You had to incorporate different rule changes. You had to be able to change the product as necessary to meet what was required by the SBA."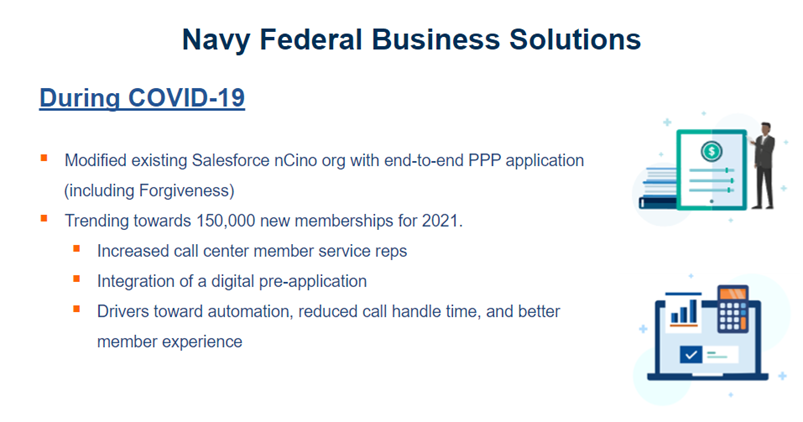 "We took a look just before the pandemic as to how we onboard new business members. First it would either be a conversation between a member coming into a branch talking to a member service representative about their business. Then they would fill out an application. They would sign it and move that forward, or they would call our contact center. To be onboarded and open an account, that takes a lot of time," Larry Perino explained. "How do you shorten that time, to make it a better experience for members and employees? You need to look for areas where you can automate. That's one of the biggest challenges we faced and are still facing: to try and speed up this process and make it a better member experience."
David Choman of Truist agrees. "This experience has given us insight on how to make our systems much more agile going forward. And I think part of the equation here is embracing cloud technology more. nCino and OneSpan were two great partners that we had going through the pandemic. Their cloud presence really gave us the ability to respond faster than we would have in the past," he says.
Another point is being able to make important organizational decisions quickly. With digital technologies from fintech organizations being approved and implemented at speed to address consumer needs, more employees were empowered with the necessary resources and skills to help customers navigate through new online journeys. Post-pandemic, there is risk in going back to old, time-consuming processes requiring multiple levels of approvals. In order to continue moving forward with digital transformation and remain competitive, traditional banks, startups, and other financial institutions alike need to be fast-moving and streamline their processes.
"One of the things that made us successful in the way we executed during PPP and how we need to operate moving forward is: small and empowered teams with the ability to make decisions. We had small teams that could make decisions on the ground. That was a key to success and learning as we moved forward," says Jamie Groudle.
Final Thoughts on Digital Innovation in Online Business Banking
The journey towards widespread digital banking has gained momentum and the majority of financial transactions are now done remotely through online banking or through the bank's mobile app. To remain competitive and be seen as a desirable option for the customer base of business owners and other business banking clients, financial institutions need to identify the types of digital capabilities required at each stage of the customer journey. This includes changes to the banking ecosystem, like incorporating e-signature to fully digitize processes ranging from opening business checking accounts or business savings accounts to applications for business lines of credit, credit cards, business loans and other financing options; delivering disclosures electronically through your e-signature platform; and automating other signed transactions involving cash management services, merchant services, payment processing, and many other banking solutions.
Consumers prioritize convenience, speed, and security, so the companies that are able to meet these needs will be best positioned to increase customer acquisition and maintain customer loyalty post-pandemic.
Learn more about e-signatures and end-to-end digitization through other nCino and OneSpan customer stories, E-Signature FAQs, and E-Signature Legality Guide.