New Account Opening – Why Is It So Hard?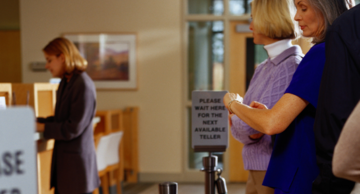 When I was around 10 years old, my father took me to our local bank and opened a new savings account in my name. While I do not recall the actual new account opening process, I do remember the excitement. I had a bank book with my name on it, an account with my money in it. I was so proud!
New Account Opening Experience: "Make an Appointment"
Fast forward thirty-five years. I wanted the same experience for my son when he opened his first savings account. Here's the journey we went through:
Stage 1: Bank's Website – I found the online option on the bank's website and clicked "Apply". The website then asked me to make an appointment and listed the top 10 branches by location — no online automated digital savings account opening process, no instant account access.
 
Stage 2: In Branch – I made a new account opening appointment at the closest local branch for the following week. My son and I arrived at the bank and waited patiently for 20 minutes before a staff member could see us.
 
Stage 3: Electronic Forms – We filled out the necessary forms on an iPad which were then printed and manually reviewed. We were then pitched additional services before being asked for proof of identification.
 
Stage 4: Three Forms of Identification (and a 30-minute drive home) – The bank asked for three forms of identification. I presented my son's birth certificate and passport, but the bank also required his original social security card. I had to drive home to retrieve it before heading back to the bank.
 
Stage 5: Photocopies and Frustration – We returned with the social security card and waited again to see the assistant manager. My son's three forms of identification were finally photocopied and printed two hours after our original appointment time.
 
Stage 6: Paper Folders and Wet Signatures – We reviewed the printed forms once again and signed the paperwork. The photocopies of the three IDs were attached to the forms, placed in a folder, and added to a pile on the assistant manager's desk.
 
Stage 7: Deposits and Debit Card Delays – Once complete, my son deposited his money into his new savings account. He received a print-out of his account balance and was told he'd receive his new debit card in 7 - 10 business days.
New Account Opening: "Why Is It So Hard?"
On the drive home, my son asked, "Why is it so hard? It took forever!"
Opening the account took 183 minutes — over three hours. The friction levels in the entire experience were high and my son, a new customer, was discouraged from further interacting with the bank. He may even decide to move his savings to a more digital-centric bank at some point.
What Is Preventing FIs from Creating a Digital Account Opening Process?   
As organizations move to a fully digital account opening process, one of the biggest challenges is the need to balance customer experience and security. Financial institutions need to stop seeing this as a trade-off, and start asking themselves how they can deliver both. FIs must deliver the necessary security safeguards while ensuring a positive digital experience.
Four Trends in Digital Identity Verification
First, the good news is that regulations are finally catching up to technology. In the U.S., for example, the new MOBILE Act enables banks and other FIs to accept a scanned copy of a driver's license or state-issued ID card for identity verification purposes as part of a digital account opening process. This makes both online and mobile account opening dramatically easier and more accessible for consumers. 
The second trend is that application fraud is now the second most prevalent type of fraud loss in financial institutions behind account takeover. In the digital world, meeting "Know Your Customer (KYC)" requirements are increasingly difficult, which results in higher fraud losses.
The third trend is that research has shown consumers are willing to take some additional steps to ensure the process is secure – especially in remote channels where applicants may never meet a bank or credit union employee face-to-face.
Finally, banks and other financial institutions (FIs) are increasingly looking to leverage the power of mobile devices in the onboarding process. In a survey conducted by the Aite Group in 2018, 90% of FIs said they are likely or very likely to implement mobile data capture/identity verification technology in the next few years.
Agreements Are Everywhere
Agreements are everywhere, and they are core to running your business. From customer and partner contracts to employment agreements, to various forms of internal approvals and sign-offs. Agreements for your financial processes in particular (e.g., account openings, onboarding, loans, financing contracts, etc.) are often high risk and high value. These agreements often involve legal commitments and can be subject to regulatory rules concerning how they are signed and retained. These rules may differ by the type of agreement and by regional laws.
The challenge is that agreement processes are still largely a manual function inside of most organizations:
Manual identity verification
Manual document preparation
Manual routing and signing
Manual storage in other systems
Manual agreement and audit trail management
All of this manual work means it can take days, sometimes weeks, to complete an agreement process. That's why there is a need for specialized processes and systems to ensure agreements are fully automated and managed effectively.
Why Agreement Automation?
There are four key business benefits for moving to a fully automated agreement process: ​
Ease of Business: Enabling new and existing customers to apply for your financial institution's products/services from anywhere, anytime, and on any device improves the overall experience with your organization. ​
 
Improve Business Productivity and Efficiency: Moving to an all-digital process reduces the time required to manually process paper-based documents.
 
Eliminate Manual Processing Errors: Automating and enforcing business rules throughout the workflow eliminates the cost of handling documents and correcting errors. ​
 
Strengthen Compliance and Legal Position: Regulatory requirements have gotten stricter over time in many industries like financial services. Organizations need detailed audit trails of how and when their transactions took place.
The net result of automation is the ability to go from days or weeks to just minutes to complete an onboarding process. This not only has a big impact on customer experience but other areas of your business as well (e.g., operations, legal/compliance, etc.).
How OneSpan Can Help
With the introduction of the new OneSpan Agreement Automation Cloud Service, financial services can automate new customer acquisition and reduce fraudulent enrollments by positively identifying qualified customers during the application process. Agreement Automation is the digitization of the customer journey from a customer's initial application through to digital identity verification, the electronic delivery, presentation, signing of an agreement, and the capture and management of all supporting audit trails.
Our digital identity and anti-fraud solutions are delivered on an open, cloud-based platform that integrates with third-party and in-house systems. This allows our clients to leverage their current technology investments while advancing their digital transformation with next generation technologies. Our goal is to ultimately help our clients deliver secure digital customer journeys to achieve their customer acquisition and growth goals across geographies, use cases, and digital channels.
To learn more about OneSpan's new account opening solution, download Digital Account Opening: How to Transform & Protect the Account Opening Journey.