OneSpan Sign Product Updates Q2 2021
We are excited to unveil major features and enhancements in the past quarter as part of the OneSpan Sign Product Updates Q2 2021. The team has been hard at work bringing together a number of features to help organizations deliver exceptional digital experiences to customers using OneSpan Sign. Our e-signature solution has been enhanced to include the following updates and enhancements:
New OneSpan Sign Virtual Room helps re-create the power of the face-to-face meeting – virtually. This new solution enables organizations deliver secure, video-enabled customer interactions to get high-value agreements electronically signed in real-time. Virtual Room brings together electronic signature, web-enabled videoconferencing, and rich collaboration capabilities in one solution.
New fully integrated ID Verification option enables signers to verify their identities prior to accessing agreements with document verification and biometric comparison capabilities.
New In-App Reporting helps organizations leverage account activity data in OneSpan Sign to make intelligent, data-driven decisions.
New best-in-class Key Management System (KMS) to strengthen the security of your sensitive data stored in the cloud.
Connector integrations include an updated Salesforce connector for sending and signing documents without ever leaving the app.
Partnership with Trust Service Provider (TSP) itsme to help organizations in Belgium meet eIDAS compliance.
OneSpan Sign Product Updates: New Features and Capabilities
Let's take a closer look at the highlights of the latest product updates:
Get documents signed in a secure, live video-conferencing session
In-branch visits and in-person meetings have been replaced by digital interactions due to pandemic restrictions. Customers are heavily relying on remote channels to conduct business with banks and financial institutions. With the OneSpan Sign Virtual Room, we're helping banks and financial institutions deliver secure, video-enabled customer interactions to get high-value financial agreements electronically signed in real-time. Virtual Room includes live electronic signature, videoconferencing, identity proofing, guided workflow, recording, and audit trail capabilities in a single solution.
Advisors get the opportunity to replicate the in-person experience and walk customers through complex agreements, verify their identity, and collect signatures and approvals. What's more, Virtual Room enables banks to provide a "white-glove" customer experience by addressing customer questions in real-time and strengthening customer relationships. As a result, banks can acquire more customers, improve customer engagement, and drive higher completion rates.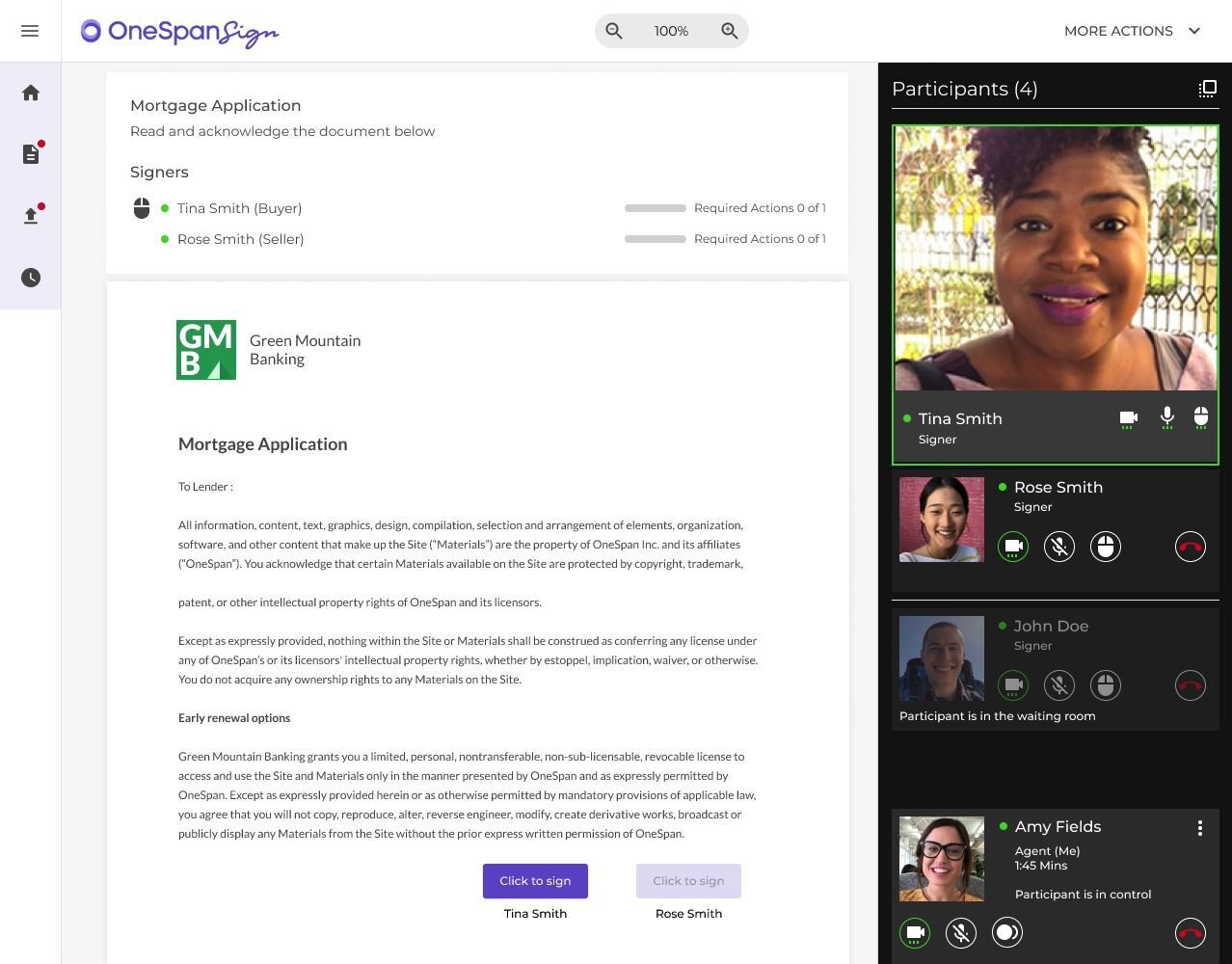 Ensure signers are who they say they are with ID verification capability
According to the 2020 Cornerstone Advisors Research Report, 43% of customers abandon account opening processes during the identity qualification stage. Clunky KBA processes can add friction during the identity verification step and result in high abandonment rates and a negative impact on a bank's customer acquisition efforts. With less in-branch interactions and customers preferring to conduct business in remote channels, financial institutions need to modernize the way they verify identities for high-value transactions requiring a higher level of identity assurance.
OneSpan Sign ID Verification is fully integrated with OneSpan Sign, enabling your signers to verify their identities prior to accessing agreements to e-sign. ID Verification is a fast, simple and a modernized way to validate unknown signers' identity using document verification and biometric comparison – all the signer needs to do is take a photo of their passport, driver's license, or other government-issued ID directly from their mobile device and then take a selfie to identity themselves. Contact our Sales Team to learn how your organization can get started with OneSpan Sign ID Verification today.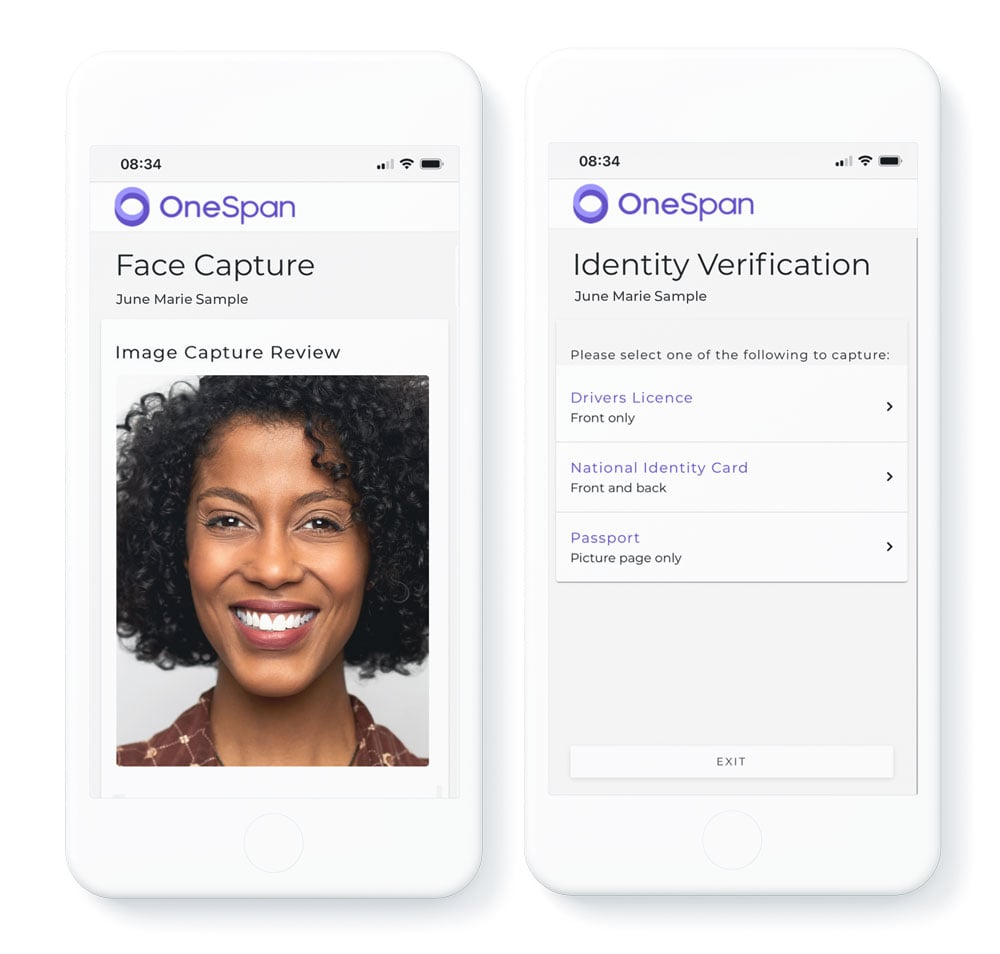 Self-serve reporting helps organizations turn data into actionable insights
Our latest In-App Reporting is a self-service reporting tool that helps organizations make intelligent, data-driven decisions. With account activity data available at your fingertips, you can analyze and make informed decisions to improve your business processes in the following ways:
Access account-related costs to easily forecast budgets and gain insights into the cost of doing business with your customers.
Calculate ROI to measure cost savings, business productivity, and increase revenue.
Analyze adoption rates to improve internal adoption and optimize customer experience.
Increase transaction completion rates and reduce transaction cycle time to close deals faster. By identifying bottlenecks and inefficiencies in the signing process, your organization can find solutions to reduce the time it takes for signers to complete documents.
Monitor transaction statuses in real-time to keep workflows moving; by identifying transactions that require immediate attention, your employees can quickly follow-up with signers to complete transactions faster.
Visit our Community Portal to learn more about In-App Reporting.
Strengthen the security of sensitive data in the cloud
A signed document and its related data is encrypted by OneSpan Sign at all times using state-of-the-art encryption technology. OneSpan Sign follows security best practices by offering a best in class Key Management System (KMS) that includes shared, private, and Hold Your Own Key (HYOK) management options. Now customers can control their key in different tenants of our SaaS environments. Contact our Sales Team to learn more.
Apps and connectors to get documents signed from popular business applications
Salesforce: The OneSpan Sign for Salesforce pre-integrated app allows sales teams to shorten sales cycles and close deals faster with electronic signatures. Reps can prepare and send sales contracts, NDAs, purchase orders, or any other document requiring a signature – without ever leaving Salesforce. In the latest version of the connector, we included new features and enhancements such as the ability to send transactions to Recipient Groups created in OneSpan Sign, Optional Signatures, allowing signers to authenticate themselves at the point of signing using digital certificates, Text Tags, and UI improvements with Lightning and compatibility with the New Signer Experience.
Watch the video below to learn how to use OneSpan Sign for Salesforce.
Video: How to Use OneSpan Sign for Salesforce
New Trusted Service Provider (TSP) Partnership to Help Organizations in Belgium Meet eIDAS Compliance
OneSpan has partnered with itsme to issue certificate-based digital IDs in order to validate the identity signers and create a Qualified E-Signature (QES). After signers click the "Sign" button in OneSpan Sign, they are requested to validate their identity using the itsme mobile app. Once verified, the signer completes the signing process and a QES is applied to the document. The result is a secure, tamper-evident e-signed PDF that facilitates compliance with the eIDAS regulation in Belgium. Read this blog post to learn more about how itsme and OneSpan Sign supports digital signing requirements with Qualified E-Signatures for Belgian citizens.
We will be expanding our partnerships in the coming months to give our customers the freedom to work with even more TSPs and meet the highest levels of compliance and assurance for signer authentication.
We hope you take advantage of the latest product updates we have to offer in OneSpan Sign. Read our release notes for additional information.