OneSpan Sign Release 11.30: Drag-and-drop to Upload Documents
OneSpan Sign version 11.30 was recently deployed to the preview and sandbox environment. You can find the deployment dates for all our environments on our Trust Center page.
In this blog, we'll introduce and explore the major updates to OneSpan Sign, starting with the drag-and-drop plugin in sender UI. Then, we'll introduce you to a newly added email template. Finally, we'll walk through other important changes in production behavior. Through this blog, you'll gain a thorough understanding of what is available in the new version.
Drag-and-drop to Upload Documents
If you are a frequent user of our Web Portal, you likely have the same experience as I do. It can be time-consuming and frustrating to find a specific document manually by clicking on the "Add Document" button, browsing the file explorer until you find the target folder, and finally checking the file name very carefully to ensure you are selecting the right document. 
But now, with 11.30 release, this is no longer a pain point for you. In the transaction details page, there is now an input area that allows you to simply drag and drop the uploaded document(s). Check the screen record below to see how it works in action: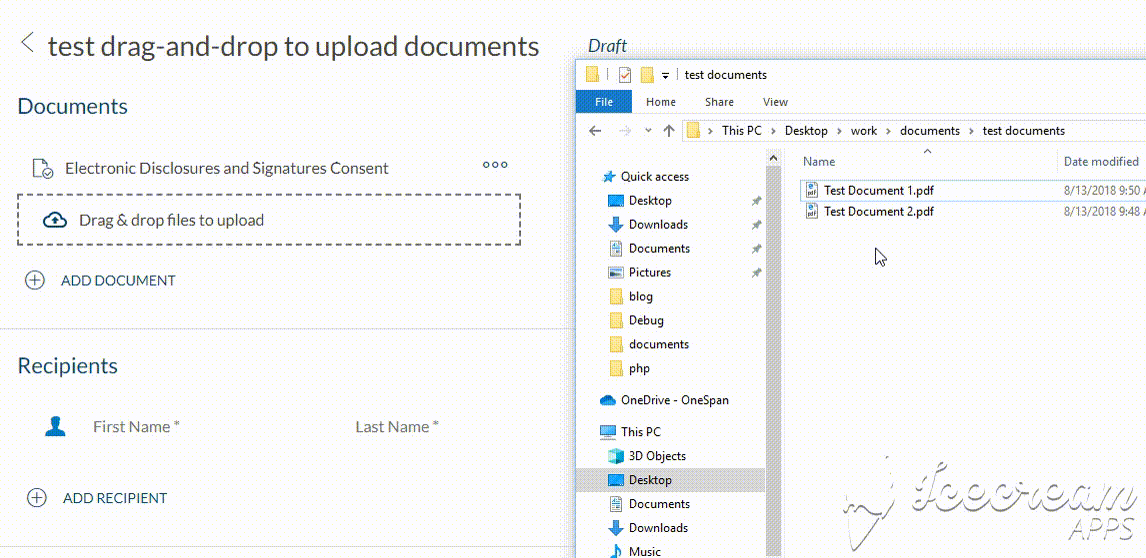 Works like a charm. This plugin can significantly improve your experience and save time. After 11.30 version, this plugin will be available in both the transaction and template creation page as well as in the designer view.
Separate Completion Email for Package Owner
EMAIL.TRANSACTION.COMPLETE
In previous versions of OneSpan Sign, package owners would receive multiple, nearly identical emails whenever a package has been completed if the sender is cc'd on the confirmation emails sent to each signer. However, in 11.30 OneSpan Sign introduces a separate and singular completion email for package owners to avoid receiving multiple copies.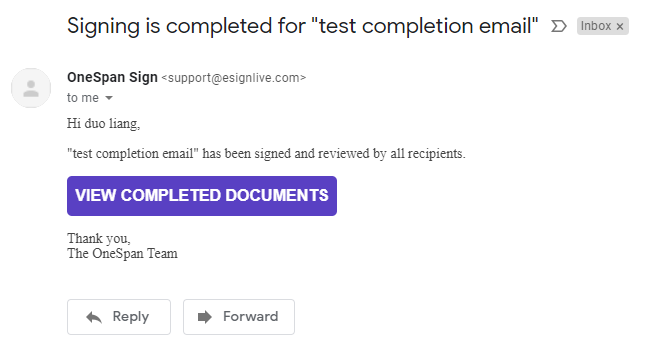 This example email above, EMAIL.TRANSACTION.COMPLETE, contains a link leading to the web portal package details page. From there, a package owner can review the status of each requested signature.
By default, this new feature is turned off, so it won't affect your existing email customization. Contact our support team if you need assistance enabling this new email template.
For all available variables in this email template, refer to this documentation.
EMAIL.EVIDENCE.SUMMARY
Another email template that will be individually sent to the package owner after package completion is the evidence summary email. Different from the email introduced above, this template adds the Electronic Evidence Summary as an attachment. And by enabling an additional feature, it could also include the signed documents in the email. This essentially makes it, so the package creator only needs to log onto a single email page to collect the signed documents involved in the transaction.
It is important to note, however, that this email template doesn't provide a link to the Signing Ceremony or Web Portal. 
In total, you have three choices to determine how to notify sender the completion of an e-transaction, and it's very flexible depending on your requirement.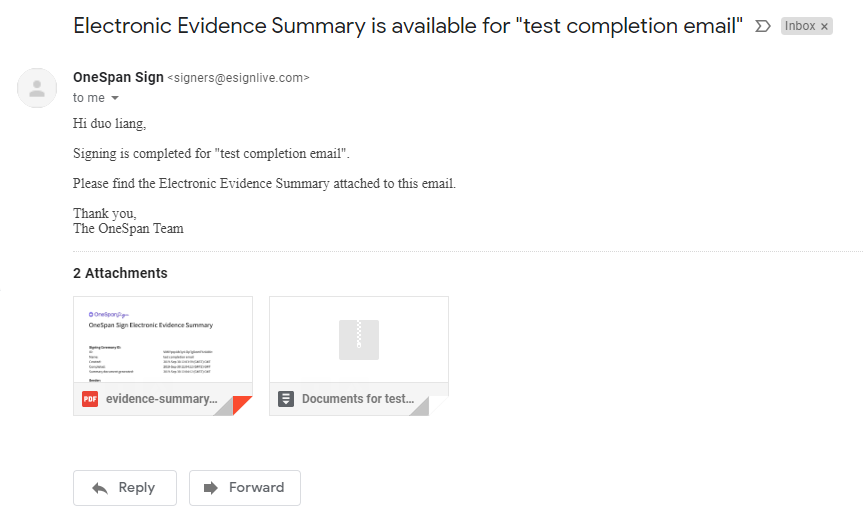 Rebranded Email Templates
As you may have noticed, all default email templates, including the ones above, are all rebranded. All the logo, colors, and content are transferred from eSignLive to OneSpan to provide a more consistent experience. If you already have your email customizations, these changes won't affect your existing settings.
If you have any questions regarding this blog or anything else concerning integrating OneSpan Sign into your application, visit the Developer Community Forums. Your feedback matters to us!