Permanently Delete Paper from Your Spring Cleaning Ritual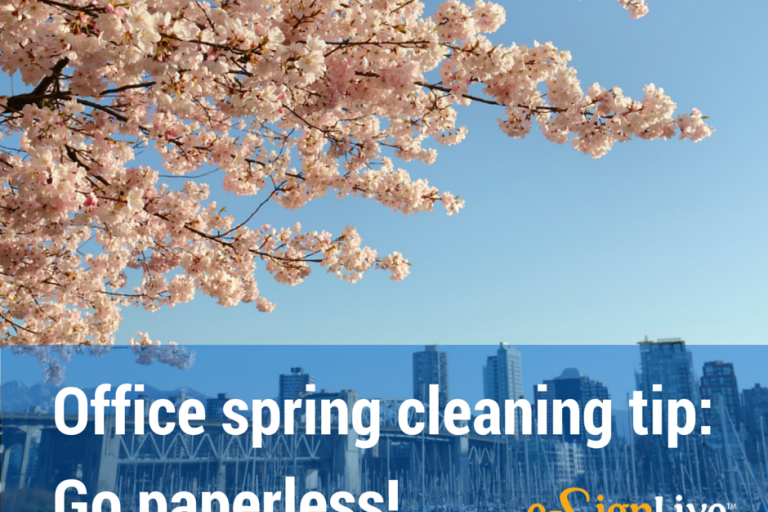 The sun is shining and the temperatures are rising. As the season changes so does the need to clean out the old and bring in the new.
Spring-cleaning brings up thoughts of raking up the leaves and removing the dust that has settled over the long winter months but the annual ritual is also applicable in the workspace. Instead of repeatedly going through piles of paper documents that have accumulated, go digital. It permanently deletes the need to deal with the overwhelming task.
Digital-enabling technologies such as e-signatures are helping organizations of all sizes automate their business processes and develop all-digital workflows to help satisfy rising consumer expectations.  The good news is that going digital isn't as difficult as it may sound. A quick and easy way to get started is to add e-signatures to your core business processes.
For instance, e-SignLive for Box is an app for preparing and sending documents for e-signature directly from Box. By ensuring that the process stays 100% digital and never falls to paper, you can help keep your business and projects moving. What's more, by adding e-signatures to your documents in Box, you'll be able to automate business processes and more easily collaborate with your fellow employees, customers, partners and suppliers.
Another option is to use Microsoft SharePoint, a content management system that provides a central, web-based storage and collaboration space for documents. By pairing e-signature capability with SharePoint, business users can truly go paperless. With e-SignLive™ for SharePoint, you can quickly obtain secure, legal and compliant e-signatures for contracts, documents and forms of all kinds.
Salesforce is another option to pair e-signatures with a cloud-based CRM system. Pairing e-signatures with Sales Cloud, reps allows managers and executives to truly go paperless. With e-SignLive for Salesforce, sales teams can quickly obtain secure, legal and compliant e-signatures for contracts, documents and forms of all kinds.
e-SignLive has a number of out-of-the-box integrations with third-party business tools.   We also have REST API calls and a mobile SDK iOS and .Net and Java SDKs to integrate e-signatures into other existing applications.
To learn more about e-signatures download the whitepaper Beginner's Guide to Electronic Signatures or call us at 1-888-745-2647 to find out how we can help you with your specific needs.