Redefining the Digital Account Opening and Onboarding Customer Journey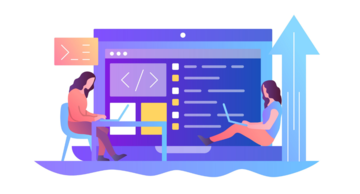 Financial institutions (FIs) have known for quite some time that they need to step up their digital game. Digital banking experiences in the retail industry are putting enormous pressure on banks and other FIs to innovate and deliver better digital account opening and onboarding experiences that can be completed in a single-sitting. 
Today, the "digital branch" is essential to the sale of financial products and services. Online and mobile channels not only represent an opportunity to drive engagement with existing customers, but they are also key channels that enable instant account openings for checking, savings, and credit card accounts for net-new customers. In a recent webinar poll, FIs indicated that "growing online and mobile channels" was the #1 driver for transforming the current experience.
The challenge is that the digital account opening and onboarding customer journey involves a number of different steps that require attention (Figure 1). For remote, unmediated channels where the applicant is not face-to-face with a banking employee, creating a straight-through digital experience can further complicate an already complex process.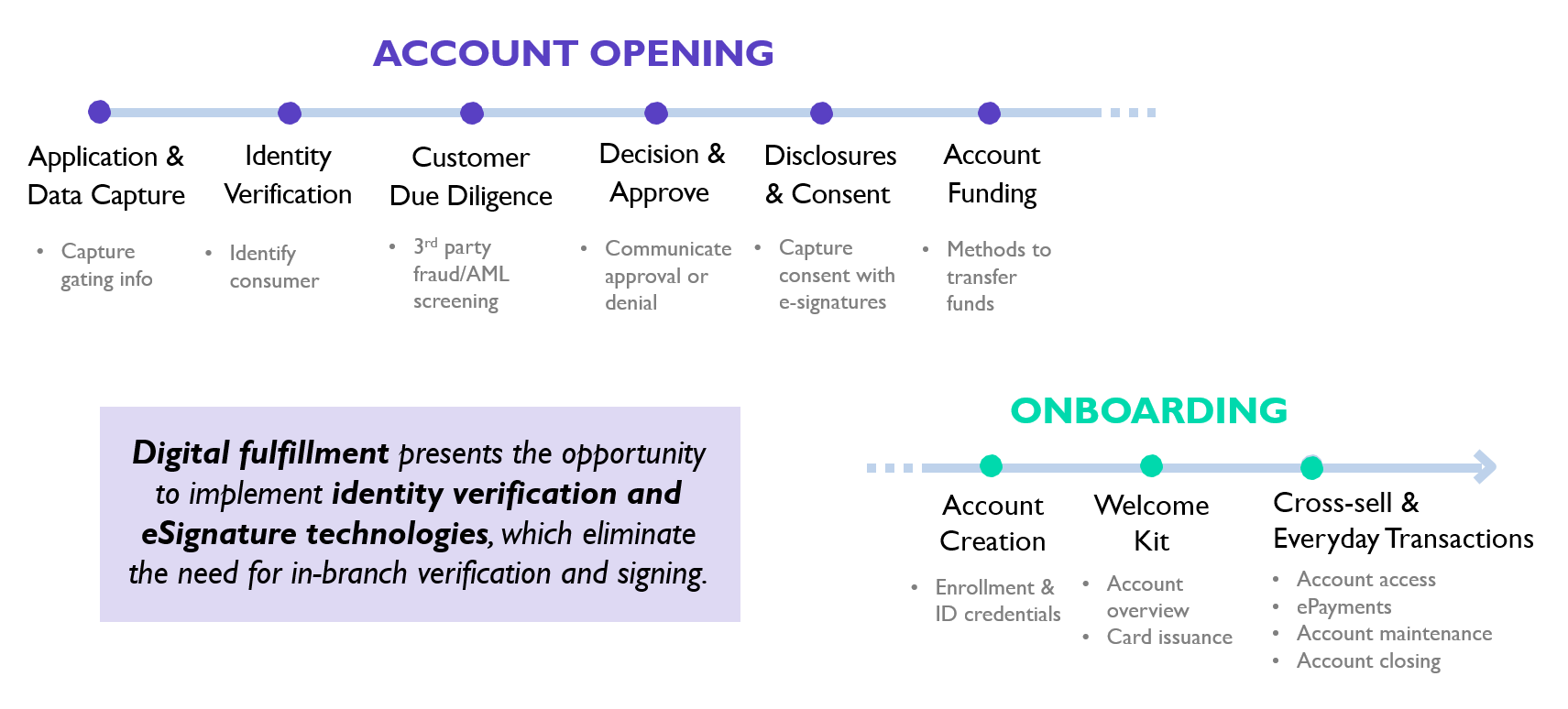 Despite the push for end-to-end digitization of digital account opening and onboarding processes, banks and other FIs are still dealing with legacy systems and apps that present a functionality barrier to accelerating their digital projects. The result is a lengthy, semi-digital process that is often difficult to get through. According to Sr. Analyst, Tiffani Montez at the Aite Group, "application abandonment rates are still between 65% and 95%, depending on the product." This means that the majority of applicants abandon the process and either switch to another channel (e.g., branch, call center) or look for another FI that enables them to complete the application process in a single-sitting. 
The good news is new and innovative approaches to digital fulfillment with identity verification and e-signature technologies present an opportunity to eliminate the need for in-branch verification and signing.\
Challenges and Opportunities for Digital Account Opening and Onboarding Customer Journeys
Transforming the customer journey wasn't as easy as we thought
The account opening and digital onboarding process in retail banking represents the first critical impression for both applicants and customers. This, coupled with the fact that consumers are increasingly migrating to online and mobile channels, is driving banks to modernize their existing account opening applications. To do this, organizations are using digitization and automation solutions, such as electronic signature, to create and streamline a true remote onboarding experience for new hires/new employees and new customers. 
While banks are addressing the need for an end-to-end digital account opening process and digital onboarding solution, the larger issue is that most of the digital application experiences built today do not use a digital- and mobile-first approach. Instead, they simply move their branch and offline forms to the web and mobile and let their risk and compliance groups drive the customer onboarding process. This often leads to an overly lengthy, time-consuming application process.
Current approaches to identity verification lead to drop-off
The financial services industry invests massive amounts of money every year to attract and acquire new customers. Unfortunately, much of the dollars spent getting applicants to respond to marketing offers falls to the wayside once the applicant hits a barrier during the account opening process. This friction point is often the upfront identity verification step. Here, the FI needs to carry out Know Your Customer (KYC) checks, the KYC process will ensure the applicant is who they say they are and that they are not attempting to enter into a financial agreement illegally or fraudulently. 
Today, identity verification approaches in the financial services industry fall into two main camps:
In-person verification
Many financial institutions force online and mobile applicants to come into the branch to verify their identity and sign documents. This means applicants are unable to complete the process in a single-sitting. As you can imagine, introducing this type of friction – forcing them to switch channels – increases the risk of abandonment, because it creates a break in the digital customer journey. An end-to-end online process and digital customer onboarding avoids this point of friction.

If you're an FI that enables applicants to initiate the process online or on a mobile device but still requires in-person ID verification and/or signatures ask yourself. Was this process built to benefit your institution or the customer? How does this impact the customer experience during an otherwise online onboarding process?
 
Knowledge-based Authentication (KBA)
Some financial institutions have implemented online verification methods to meet their KYC requirements for their digital channels. The most common method is the use of Knowledge-based Authentication or KBA, which involves queries to credit bureaus and verifying identity data with third-party databases. Unfortunately, KBA is viewed as a high-friction process requiring applicants to remember and answer personal questions based on public data. According to Gartner analyst, Avivah Litan, "most KBA failures are experienced by legitimate users who cannot answer the questions, because they cannot remember the answers, or because the public records are lacking or incorrect."

Furthermore, KBA has become less reliable due to large scale data breaches that have occurred in recent years. Fraudsters are now better equipped than ever to successfully answer KBA questions based on personal data from data breaches as well as information posted on social media or obtained from phishing attacks. 
Real-time government ID verification
New and modern approaches to digital identity verification offer a strong alternative to traditional and in-person verification methods, enabling organizations to keep the workflow 100% digital and reduce abandonment as a result.
The use of mobile identity document capture and verification is gaining momentum and increasingly backed by laws and regulations such as the MOBILE Act in the U.S. This technology not only allows banks and other FIs to validate the authenticity of a document but also enables them to pull information from the ID document (e.g., name, date of birth, address, etc.) and pre-fill the data directly into the digital application. According to the Aite Group, 90% of the 30 financial institutions surveyed indicated that they would likely or very likely implement mobile data capture / identity document verification for their demand deposit and credit card account opening processes in 1-2 years. 
Automating this process using cloud-based services to scan the ID document and look for identifiers of a fraudulent document is now an accepted way to complete the verification process. Moreover, machine learning continues to play an important role here in driving better and more accurate real-time verification results.
Redefining Digital Account Opening and Onboarding IS within Reach
Forcing a prospective customer to switch channels (i.e., coming into a branch) or using a dated identity verification approach creates an opportunity for frustration that can lead to eventual abandonment and even negative word-of-mouth. In the wake of the pandemic, it is essential that organizations respond to changing customer demand by offering a user experience built around digital channels. Whether opening a bank account, employee onboarding, client onboarding, or other forms of first day processes and customer acquisition, financial service providers must embrace a digital transformation initiative, optimize, and deliver an exceptional digital onboarding experience.
The good news is that there are modern and effective approaches to KYC – available in the market today – that not only prevent application fraud from happening but also do not add unnecessary friction to your digital services and the customer journey. The last thing you want is to move to an all-digital process that results in the same abandonment rates that you experienced with your traditional account opening processes.