This Salesforce Customer Experience Has Nothing to Do With Technology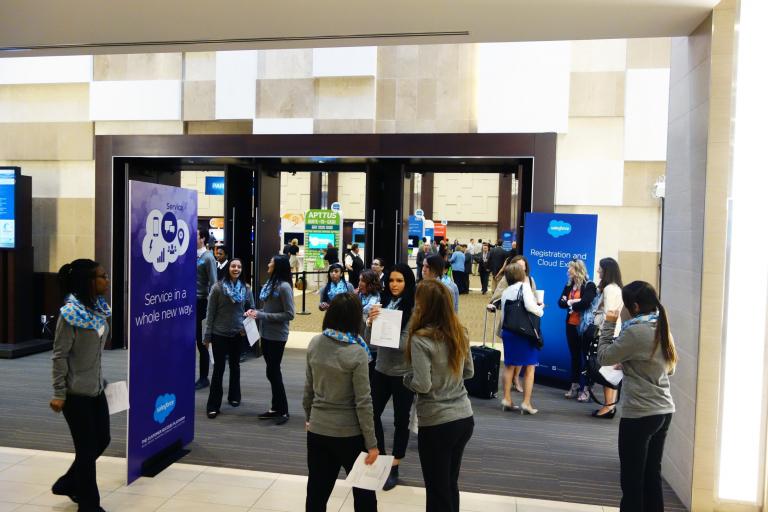 I step out of my car and there she is. The smiling, grey-sweatered representative, waving a logoed paddle directing me to the show. Like a personal GPS, several others are posted along the route to make sure I reach the Toronto Salesforce City Tour expo without having to think or look up.
That wasn't my first encounter with Salesforce's "We're glad you're here. We've been expecting you." experience. Within an hour of my registration for the event, I get a personal phone call inviting me to lunch and a networking opportunity, both targeted to marketing folks like me. Immediately the email hits my inbox. Two clicks later I am on the list.
Salesforce wants us to know that they have revolutionized the way software is delivered, invented Customer Success and coined the term "Customers for Life", an homage to the entire customer lifecycle. Where they've also changed the game is how they've absolutely nailed being gracious hosts.
At the venue, scores of other welcoming grey-sweatered reps make sure I am cheerfully shepherded through Security and Registration. In fact, an email offers a QR code to expedite the process. My tea ends up on the wrong side of the screening gate while my bag is being checked. It's immediately retrieved and handed to me. Servers ferrying trays of warm muffins float by wishing everyone a cordial "Good morning" as we settle at the eSignLive exhibit station.
There must be a dozen company ambassadors for every attendee at this trade show. Or it just feels like it. In what I believe to be an actual hiccup, I can't seem to download the event app. No worries. In a booth not 10 feet away, not one, but two helpful company employees put their heads together to get me set up. They even suggest a work-around for the slightly overburdened wifi. To boot, I am treated to a quick demo of something new because the helpful person I am standing next to is excited to share.
At 9:45 I am on my way to the keynote. More ambassadors with fluttering paddles (and smiles) usher me up the escalator. In a feat of logistical finesse, until I am seated, I have no idea that I'm in the "overflow" room and will be watching the event on screen. These folks think fast and move even faster. Participants are oblivious to the rejigged arrangement but all's well. Everyone who wants to attend the session can.
Back on the very busy show floor, it's approaching lunchtime. Another pleasant surprise awaits. No lining up at the trough to eat. Scores of wait staff wend their way through the crowd with trays of bite-sized luncheon foods. Down lunch and demo without ever missing a beat. I'm pretty sure that's the point. Salesforce wants me to maximize time with prospects. As the day winds down, wine and beer (and leads) in hand, I am invited to provide feedback in exchange for a branded t-shirt. Almost without thinking, I follow the ubiquitous grey sweaters and paddles. A row of tablets is lined up neatly at the ready. When I'm done, I learn that there are no more shirts; however, they hope a $5 gift card to Starbucks will suffice as consolation. It does.
Salesforce ambassadors have drunk the kool-aide and it's called "customer experience". A palatable concoction of sweetness and support that leaves every individual feeling they are expected, welcome and appreciated.
Lou Carbone, the man hailed as the father of the experience movement would be very proud.