For a Successful E-Signature Project, Look for a Partner – not a Vendor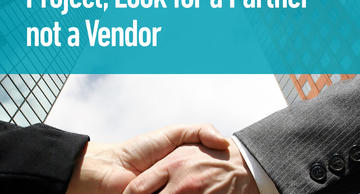 A successful e-signature project depends on a true partnership with your vendor. On the vendor's side, that requires a company culture of service where employees and representatives are mandated to go above and beyond the terms and conditions in a contract. Business leader and author Betsy Sanders said it well: "Service, in short, is not what you do, but who you are. It is a way of living that you need to bring to everything you do, if you are to bring it to your customer interactions."
Giving customers the best experience ever in every interaction with us is a strategic goal that we champion internally from the top down. Our CEO personally sits down with new hires over breakfast to talk about customer experience. In fact, our senior management has been tasked with inspiring employees to take responsibility for providing a great customer experience.
That's not to say things will always run smoothly. We know there will be bumps in the road, but what matters is how we handle them. Here's what one customer said about how we manage issues: "e-SignLive has been a powerful tool in our arsenal of keeping track of our sales cycle. We have had some issues with the system, but the support at Silanis has been amazing. They have been with us every step of the way." (Austin Cantrell, SFDC AppExchange)
No matter what the issue, no matter how complex, e-SignLive is in it for the long haul and will stand by customers until they are successful with e-signatures. G2 Crowd, a business software review site, described our team as "willing to go the extra mile for customers"—pointing to our focus on customer service and satisfaction as a core differentiator in the e-signature market.
A solid partnership built on experience
In over two decades of business we've seen it all, from the most simple to the most complex e-signing requirements, making our level of expertise second to none and contributing to the industry's highest customer satisfaction ranking. We help organizations identify their top use cases and define metrics to measure success. And once they're ramped up with proven ROI, we help drive expansion of use cases throughout the department, line of business or enterprise to help cut costs associated with paper, reduce errors and risks, and enhance your customers' experience.
We continue to be the leader in customer satisfaction against heavyweights DocuSign and Adobe Document Cloud across all customer segments (enterprise, mid-sized and small businesses). That's why companies choose e-SignLive as their company-wide e-signature solution and stay with us longer than most of our competitors have been in business.
But don't take our word for it! See what customers are saying about us:
We are vested in your success: "e-Signlive is a great partner, with genuine interest in the success of the goals of our business. (Administrator with large bank)
We listen to your needs: "e-SignLive partners closely with our organization. They listen to our suggestions for future product features and work closely with us to ensure enhancements support our needs." (Dave B., RBC)
Our experienced staff will help you along the way: "The sales team is genuinely interested in solving problems and is unmatched to any other vendor I've been in contact with." (User in pharmaceuticals)
A crowdsourced peer review report from G2 Crowd was just released. It ranks e-signature vendors based on more than 1,300 user reviews voicing opinions on everything from features to quality of service. To see how e-signature vendors rank, download it here.